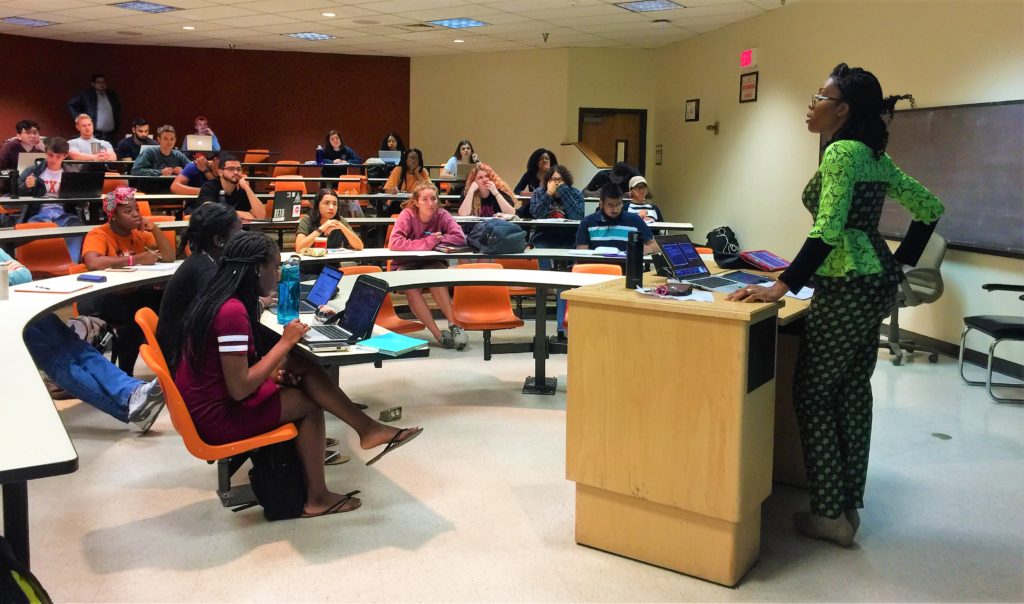 Visiting Professor/Practitioner Program
As part of our project on studying the use and potential of human rights law and discourse to address economic inequality and its structural causes, the Rapoport Center invites affiliated faculty to submit applications for scholars or practitioners critically engaged with these issues to spend 1-2 weeks in residence at UT as a Visiting Professor/Practitioner (VPP). Ideally, affiliates will apply to bring individuals with whom they and their students would like to have interaction or collaboration.
Spring 2019
Dr. Serges Djoyou Kamga, Associate Professor of Law, Thabo Mbeki African Leadership Institute, University of South Africa
Nominated by Toyin Falola (History)
Past VPPs
Fall 2018: Dr. Olajumoke Yacob-Haliso, "Mothers, Mothering and Survival in a Post-conflict African Context" and "The US and Other External Actors in the Liberian Conflict and Peace"
Nominated by Toyin Falola (History)
To view photos from Professor Yacob-Haliso's visit, please click here.

Spring 2018: Dr. Bonny Ibhawoh, "Nationalism, Socialism and Human Rights: Assessing the Leadership Politics of Kwame Nkrumah and Julius Nyerere," and "Truth Commissions and the Politics of National Reconciliation: Limits and Possibilities for Post-Conflict Peace-building"
Nominated by Toyin Falola (History)
Fall 2017: Elizabeth Doud, "Scenes from the Mermaid Tear Factory: Policy and Performance in the Age of Climate Change"
Nominated by Paul Bonin-Rodriguez (Theatre and Dance)
Spring 2017: Khushi Kabir, "Where Are We Heading?: The State of Democracy and Rights in Bangladesh"
Nominated by Jason Cons (Anthropology)