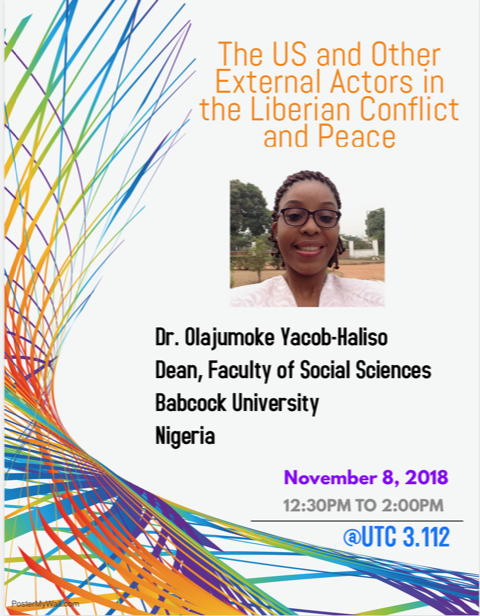 The US and Other External Actors in the Liberian Conflict and Peace
Speaker:
Olajumoke Yacob-Haliso

Associate Professor, Department of Political Science and Public Administration, Babcock University, Nigeria
Olajumoke Yacob-Haliso is Associate Professor of Political Science at Babcock University in Nigeria. She holds a PhD in Political Science from the University of Ibadan, Nigeria. Dr. Yacob-Haliso's research over the years has explored the positions of women in conflict and postconflict situations in Africa, with a particular focus on refugee and displacement concerns. She has conducted extensive fieldwork in Liberia, and some in Nigeria and Geneva. Dr. Yacob-Haliso has also researched broader issues in relation to the comparative politics of African states.
Dr Yacob-Haliso is co-editor of four books including Gendering Knowledge in Africa and the African Diaspora: Contesting History and Power (Routledge 2017) and Africa's Big Men: Predatory State-Society Relations in Africa(Routledge, 2018). She is also editor of the Journal of International Politics and Development, and co-editor of the Journal of Contemporary African Studies.
Dr. Yacob-Haliso currently serves as the acting Dean of the Veronica Adeleke School of Social Sciences at Babcock University, where she also teaches courses in international relations, peace and conflict studies and comparative politics. She is a visiting professor for the Fall 2018 semester on the Visiting Professor/Practitioner Program of the Bernard and Audre Rapoport Centre for Human Rights and Justice at the University of Texas at Austin. Read more about her and her work here.
Supporters
Dr. Yacob-Haliso's participation in the Rapoport Center's VPP Program was made possible through a nomination by Professor Toyin Falola (History).