Bernard Rapoport's Parents: David Rapoport and Riva Feldman
"During my Childhood, my father taught me Marxism and hard work. My mother taught me to love learning. To know these simple facts is to know much about who I am and why I have led my life the way I have."
– Bernard Rapoport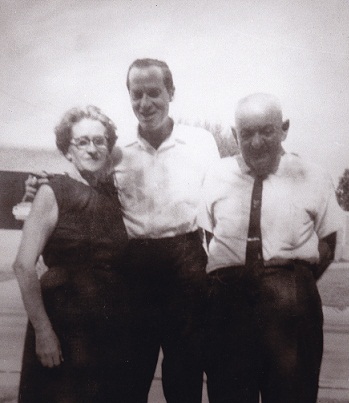 B Rapoport attributes much of his life's work to the experiences, political activism, and values of his parents, David Rapoport and Riva Feldman. Though they met in San Antonio, Texas, both Riva and David were first generation Jewish Russian immigrants to the United States, arriving in 1908 and 1913, respectively.
When David was a teenager in Russia, he joined in anti-czarist activism after military forces murdered hundreds of peaceful demonstrators in 1905, on the day that came to be known as Bloody Sunday. He was later arrested, at the age of seventeen, for distributing propaganda against the czar. He was sentenced to hard labor in a Siberian labor camp and permanently exiled to northeastern Siberia. He escaped and ultimately fled to San Antonio, Texas.
In Texas, David initially made his living selling blankets from a pushcart in San Antonio, and learned Spanish before he learned English. David joined the Socialist Party, thrilled that in his new country he could voice his political opinions without government retribution. He exercised that freedom by holding small fundraisers for political causes at his house and making speeches on soap boxes in Milam Square in downtown San Antonio, where he attracted many Mexican laborers. According to B, his father advocated a socialist utopia and emphasized concerns about injustices resulting from the unregulated capitalist economy. "Workers of the world unite" was a slogan commonly heard in David Rapoport's speeches.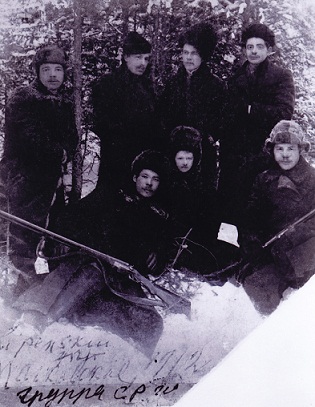 As a child, B Rapoport watched his father's fundraisers, and was impressed that other immigrants, often on the edge of poverty themselves, could be so generous in their support of others and of social justice causes they believed in. Similarly, the soap box speeches fueled B's interest in politics. As B himself has put it, "Growing up in such a politically charged environment, I cannot remember a time when I have not had an interest in politics and public affairs."
B Rapoport's mother, Riva Feldman, encouraged his commitment to his Jewish roots and education. Riva's parents were Hasidic Jews that valued their religion as a path to help humanity and promote knowledge. Those lessons were passed down through Riva to B Rapoport. He recalls one phrase of his grandfather's that has always guided him, "Wisdom is the unspotted mirror of the power of God and the image of His goodness. Knowledge is the path to wisdom." Riva's lessons emphasized education and encouraged academic pursuits, thus giving B an intense dedication to learning. Despite any hardships they faced, both B's parents ingrained an intellectual confidence in Bernard. For example, when he was young, they constantly discussed the future occasion when B would attend college, rather than if he would attend college.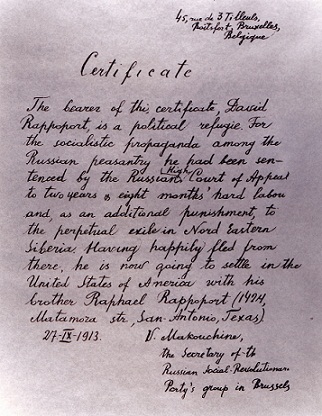 As immigrants with little financial resources, B Rapoport's parents taught him the value of hard work. The family was, at one point, evicted from their house and suffered more setbacks during the Great Depression. Unveiled anti-immigrant sentiments proliferated San Antonio during B Rapoport's youth. As a result, B Rapoport says, "My father never let me forget that coming from a Jewish revolutionary family meant that I would have to work twice as hard to get half as far." Of course, B Rapoport overcame any setbacks that faced him, building the American Life Insurance Company into a giant in its niche, and using his success to further the political activism and philanthropy instilled by his parents.
Shadows of many of the lessons B's parents taught emerge not only in B's life, but also in the Rapoport Center's work. The Center has maintained a long affinity for research and advocacy on refugee and immigrant worker's rights, as well as on the human rights of and U.S. foreign policy toward the countries from which so many immigrants to the United States originate. The Center's commitment to being a "partner for change at the intersection of academics and advocacy," self-consciously attempts to recreate the legacy of B's parents.
Bibliography
Rapoport, Bernard, as told to Don Carleton. Being Rapoport: Capitalist with a Conscience, 1st ed. Austin: The University of Texas Press, 2002. Print.