Mapping the Impacts of COVID-19 on Farmworkers in Immokalee, Florida
BETTY AKOH and SEAN HANSEN (Northeastern University)
CATRIONA BARR, GUY PRIVER, MARCUS MITCHELL, and MARY GALSTIAN (Harvard University)
July 2020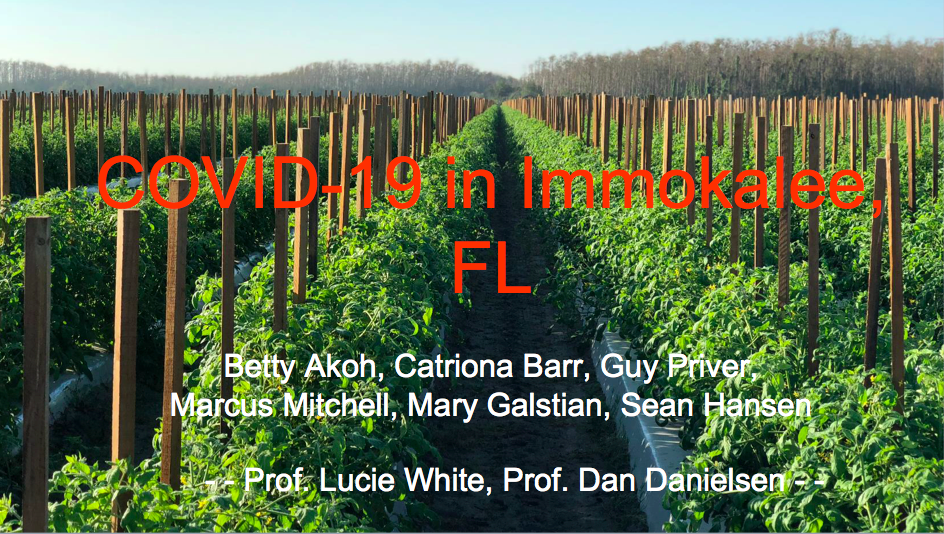 COVID-19 has had a disparate effect across racial and ethnic groups in the community of Immokalee, Florida. Immokalee residents are mostly Latinx, while Collier County is a majority white county. There are 15,000 to 20,000 migrant farmworkers in Immokalee – a statistical outlier when compared to Collier County as a whole. Immokalee, an agricultural community home to many farmworkers, has experienced a disproportionate number of COVID-19 cases compared to the rest of Florida.
Farmworkers were deemed "essential workers" by Florida governor Ron DeSantis and have thus been required to work throughout the pandemic. Why is it that despite being one of the most significant contributors to the US agricultural economy and food/retail sector, the Immokalee community of farmworkers were thrown into the line of fire during the pandemic? Immokalee remains one of the most significant COVID-19 epicenters in the United States. As "essential workers" on the frontlines, it is imperative that we fully understand the legal and economic conditions that explain why Immokalee farmworkers lacked access to legal protections and to care. Why does this matter? What can Immokalee reveal about the shared challenges facing workers during the pandemic across the United States and beyond? How have advocacy efforts of prominent organizations such as the Coalition of Immokalee Workers (CIW) fared during this time of crisis and what must be done to strengthen emergency response during the pandemic?
On this page:
Key Insights and Further Research
Community Engagement
Any further research or policy recommendations concerning the COVID-19 outbreak amongst Haitian and Latino farmworkers in Immokalee would require input, engagement, and ultimately leadership from farmworkers themselves.
How do we ensure a higher degree of coordination with community partners in Immokalee who are much better situated to interview, interact, and develop true solidarity with farmworkers who have borne the brunt of the COVID-19 outbreak in Southwestern Florida.
What are the impacts of the fact that farmworkers have since traveled north to states like Michigan and New Jersey on organizing?
What are the effects of a lack of a centralized authority which truly acts on behalf of the people of Immokalee?
Refocus on Structural Policies
Structural policies have shaped Immokalee over the past decades and have produced an environment ripe for the spread of a disease like COVID-19.
How do we add nuance and counteract traditional media narratives to critically examine structures of inequality in places like Immokalee?
What are the long term effects of the state and federal government's failure to consider structural issues?
Beyond WSR Campaigns
The Worker-Driven Social Responsibility organizing model, remarkably successful in improving working conditions on Florida farms, requires long and hard fought campaigns in conjunction with consumer solidarity to pressure buyers and growers economically.
How do we formulate emergency responses that don't rely on consumer solidarity and long term campaigning efforts?
Would worker-driven initiatives for municipal incorporation be a successful strategy to to serve the people of Immokalee rather than business interests?
Would the extension of accessible legal services to cover fields other than Immigration improve housing standards, decrease the prevalence of wage theft, and make other improvements in the fields of Southwest Florida which could mitigate the effects of disasters like COVID-19?
Future of the NRLA and Labor Legislation
Many advocates seek to amend the NLRA to extend organizing protections to farmworkers.
Although many rights enshrined in the NLRA have been eroded considerably in the past 30 years, this important step would make health and welfare plans a mandatory subject of bargaining for employers.
However, if inclusion of farmworkers in the NLRA was truly on the table, could it be paired with an amendment to legalize secondary boycotts?
Farmworkers gained rights under 1966 Amendments to the FLSA and the 1983 Migratory Farmworker Act, but how can these rights be enforced without a proper enforcement mechanism and access to that mechanism for plaintiffs?
Policy Recommendations
Promoting the provision of stimulus paychecks to all "essential" frontline workers who carry out services within the US
Further research into Florida state and local government law, especially tax law and the effects of incorporation in reinvesting profits from agriculture in Immokalee into the community.
Annotated Bibliography
Sections
Background and History of Immokalee 
WGCU Public Radio. "Immokalee, Florida: Evolving Opportunities." Youtube, 2019.
This is a short documentary detailing the history of Immokalee. Although it is produced and filmed mostly from the perspective of the growers rather than the workers, it is useful in understanding the history of Immokalee and the rise of agribusiness in the region.
WGCU Public Radio. "Immokalee, Florida: Outpost of Opportunity." Youtube, 2019. 
Part II of a short documentary detailing the history of Immokalee.
Collier County. "Immokalee Rural Enterprise Zone (EZ)." Immokalee Area CRA, accessed October 5, 2020. 
Immokalee Area Community Redevelopment Agency (CRA) update on efforts to revitalize business and the economy.
Stanley, Greg. "Feeling Left behind, Immokalee Chamber to Push for Incorporation." Naples News, September 4, 2016. 
Immokalee Chamber pushes for Incorporation in order to provide access to resources the region is not currently entitled to.
Regional Economic Research Institute. Immokalee Economic Overview, 2019. Fort Myers: Florida Gulf Coast University, 2019.
The report describes Immokalee's economy compared with other areas within Collier County. It also provides very recent socio-economic data for Immokalee.
Coalition of Immokalee Workers (CIW) Advocacy/Sources
Asbed, Greg, and Steve Hitov. "Preventing Forced Labor In Corporate Supply Chains: The Fair Food Program And Worker-Driven Social Responsibility." Wake Forest Law Review 52 (2017): 497-531.
Legal analysis of CIW and its success in organizing farm workers, highlighting its "smart mix" of monitoring tools and enforcement strategies and its potential for tackling human trafficking throughout the world.
Coalition of Immokalee Workers. "Boycott the Bell! End Sweatshops in the Fields! Boycott Brief." CIW – Taco Bell Boycott Headquarters, 2001.
Petition by CIW to Taco bell demanding better wages and working conditions in the tomato picking industry. One of the measures called for was to draft a code of conduct which could be used to hold employers accountable.
Coalition of Immokalee Workers. "Worker-Driven Social Responsibility (WSR): A New Idea for a New Century." Coalition of Immokalee Workers, 21 May, 2015. 
Outlining the fundamentals of WSR and CIW's vision of how it will promote a more accountable framework for worker rights.
Dias-Abey, Manoj. "A Socio-Legal History of the Coalition of Immokalee Workers." In Theorising Labour Law in a Changing World. Edited by Alysia Blackham, Miriam Kullmann, and Ania Zbyszewska. Oxford: Hart Publishing, 2019.
This chapter examines the CIW's remarkable rise to power through a review of the organization's history, its use of legal regimes, its determination to change powerful industry structures, and its ability to connect with the public.
Dias-Abey, Manoj. "Justice on Our Fields: Can 'Alt-Labor' Organizations Improve Migrant Farm Workers' Conditions?" Harvard Civil Rights-Civil Liberties Law Review 53 (2018): 167-211.
This article examines how non-traditional labor organizations, also known as "alt labor," can improve the working conditions of migrant farm workers in the United States and Canada. The author considers the work of three labor organizations–the Agricultural Workers Alliance, Justice in Motion, and the Coalition of Immokalee Workers, by exploring the variety of legal mechanisms that these organizations have deployed to create better working conditions for migrant farm workers.
Coletta, Amanda and Gabriela Martínez. "Migrant Farmworkers Die in Canada, and Mexico Wants Answers." Washington Post, June 19, 2020.
Mexican government as the provider of care to groups/essential workers during COVID.
Marquis, Susan. I Am Not a Tractor!: How Florida Farmworkers Took On the Fast Food Giants and Won. Ithaca: Cornell University Press, 2017.
Susan L. Marquis highlights past abuses workers suffered in Florida's tomato fields, including toxic pesticide exposure, beatings, sexual assault, rampant wage theft, and modern-day slavery. Marquis also provides a detailed background of the rise of the Coalition of Immokalee Workers.
Oxfam America. "Like Machines in the Fields: Workers without Rights in American Agriculture." Make Trade Fair, 2004.
Oxfam report detailing working conditions of farm workers across the United States, but paying particular attention to successful advocacy efforts by CIW in Immokalee as an exemplary case of both exploitative practices, and potential for future organizing.
Sean Sellers and Theresa Haas. "The Worker-Driven Social Responsibility Model," Counter Human Trafficking Compliance Solutions (CHTCS), January 23, 2018.
This article reviews the rise of the Coalition of Immokalee Workers, with a focus on their organizing model, Worker-Driven Social Responsibility. It outlines the necessary social conditions from which WSR can emerge, revealing limitations on the scalability and replicability of the model.
Fair Foods Standard Council. "Fair Food Code of Conduct, Overview." Accessed October 5, 2020.
Evolving document drawing on negotiations among stakeholders on the standards that employers will adhere. Participating buyers have agreed to give purchasing preference to those companies operating by these established guidelines.
COVID-19 Coverage
Asbed, Greg. "What Happens If America's 2.5 Million Farmworkers Get Sick?" New York Times, April 2, 2020.
Greg Asbed, Founder of CIW reflects on the effects of COVID on agricultural workers in the United States.
Artiga, Samantha and Matthew Rae. "The COVID-19 Outbreak and Food Production Workers: Who Is at Risk?" KFF, June 3, 2020. 
Brief overview of the food production industry, and the consequences of being designated as "essential workers" by Trump's Executive Order, and key statistics related to the food production workforce.
Democracy Now. "Doctors Without Borders Warns of Spike in Coronavirus Cases Among Florida Farmworkers." May 28, 2020.
MSF active in Immokalee at the onset of the outbreak warns about the spike in coronavirus cases among farmworkers.
Denz, Jacob. "Weekend News & Commentary-June 14, 2020." OnLabor, 15 June 2020. 
National labor activists pay particular attention to the vulnerabilities of Immokalee farmworkers' including the lackluster measures taken by meat processing plants to protect workers, and the fact that migrant workers are particularly over-represented among this demographic.
Feliz, Mariano. "Life after the Virus: Social Reproduction in a Post Pandemic World." Futures of Work, 14, June 5, 2020. 
Arguing that COVID is not just part of a regular cycle of capitalistic crises, but is specifically a crisis of "social reproduction and care work." The long term trend of financializing and privatizing social networks and care has weakened the resilience of families to handle the pandemic.
Florida Deptartment of Health. "Florida's COVID-19 Data & Surveillance Dashboard." Accessed October 5, 2020. 
Data demonstrating that in Collier County where Immokalee is located, Latinx populations have the highest rate of infection by ethnicity.
Doctors without Borders (MSF). "Florida: MSF and Local Health Partners Bring COVID-19 Testing and Mobile Health Clinics to Migrant Farmworkers." May 18, 2020.
Doctors Without Borders announcement on ramping up activities in Immokalee.
Crampton, Liz. "In Absence of Federal Action, Farm Workers' Coronavirus Cases Spike." Politico, June 9, 2020.
Lack of government efforts to provide relief to farm workers.
Mazzei, Patricia. "Florida's Coronavirus Spike Is Ravaging Migrant Farmworkers." New York Times, June 18, 2020.
Immokalee-specific farmworkers' vulnerability due to working conditions.
Reiley, Laura. "Migrant Farmworkers, Many Coronavirus Positive, Move North from Florida to Other States." Washington Post, June 11, 2020.
Article about Immokalee farmworkers becoming the epicenter of COVID-19 in Florida, and describes the internal migration of workers from Florida northwards to work on other tomato fields in Georgia, Carolina, and Virginia. 
Sugar, Rachel. "The Scramble to Feed the Kids Left Hungry by the Coronavirus Crisis." Vox, April 17, 2020.
A snapshot of various initiatives across the country to provide lunch to school children during the lockdown.
Data, Statistics, and Official Sources
The New York Times. "Coronavirus in the U.S.: Latest Map and Case Count." Maps and Cases, Accessed October 8, 2020.
A general map of COVID-19 cases across the US updated regularly. 
Ron Desantis, 46th Governor of Florida. "COVID-19 Resources." Florida COVID-19 Resource Center, accessed October 5, 2020.
Florida Covid-19 Center with periodic updates about meetings, presentations, task force findings, and public announcements from the office of Ron Desantis.
USCIS. "USCIS Temporarily Amends Certain H-2A Requirements During COVID-19 Public Health Emergency." H-2A Temporary Agricultural Workers, April 21, 2020.
Updates on new measures taken by the Department of Homeland security to amend, clarify, or revoke rules around the H-2A temporary agricultural worker visa category, including details of employers and workers rights and obligations under this category.
Florida Department of Health. "Florida's COVID-19 Data & Surveillance Dashboard." Accessed October 5, 2020. 
Data demonstrating that in Collier County where Immokalee is located, Latinx populations have the highest rate of infection by ethnicity. 
Douglas, Leah. "Mapping Covid-19 Outbreaks in the Food System." Food and Environment Reporting Network. July 31, 2020. 
Interactive map of COVID outbreaks among farmers and other food systems.
Ewg. "Farmworkers Are at Heightened Risk of COVID-19." Interactive Map, accessed October 5, 2020.
Interactive map of COVID hotspots specifically for farmers. This map includes county level data highlighting areas where farm labor is concentrated, and numbers of reported COVID cases in those areas.
Racial Dimensions
Cooper, John L. The Police and the Ghetto. New York: Kennikat Press, 1980.
Highlighting the troubled history of the ghetto in the United States today and the role of the police in maintaining systems of oppression that keep black people segregated, and marginalized.
Leong, Nancy. "Racial Capitalism." Harvard Law Review 126, no. 8 (2013): 2151-2226.
Nancy Leong discusses how capitalism derives economic and social value from the racial identity of non-white people. We relate this insight to the long term exploitation of first black, and now Latinx farmworkers in Immokalee.
Perea, Juan F. "The Echoes of Slavery: Recognizing the Racist Origins of the Agricultural and Domestic Worker Exclusion from the National Labor Relations Act." Ohio State Law Journal 72 (2010): 95-138.
Article examining the historical conditions of farm workers in the United States tracing it back to the enactment of the NLRA during the New Deal Era.
Powell, Jim. "Why Did FDR's New Deal Harm Blacks?" Cato Institute, December 3, 2003.
Explanation of the historical circumstances surrounding the New Deal and the role of social and racial tensions of the time that permeated the legal entitlements and policy measures that emerged out of this "reform" moment.