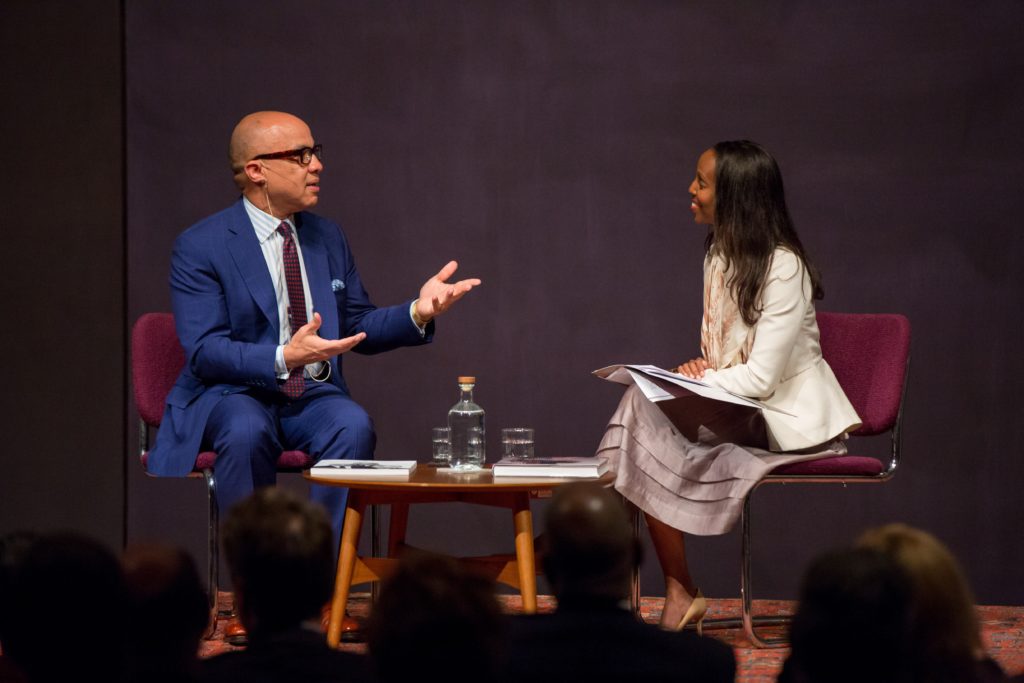 Darren Walker: "Yes Justice, Yes Peace: The Role of Art in Confronting Inequality"
"What a joy to be in this room to celebrate the incomparable, indefatigable, the inimitable, legendary Sissy Farenthold." With this statement, and identifying Sissy as "a lone star north star," Darren Walker, president of the Ford Foundation and University of Texas graduate (JD '86; BA, BS '82), opened the Frances Tarlton "Sissy" Farenthold Endowed Lecture in Peace, Social Justice and Human Rights. The second annual lecture, a partnership between the Rapoport Center and the Rothko Chapel, was hosted in early October at the Rothko Chapel.
In his lecture, Walker invoked the Rothko Chapel as an embodiment of the symbiotic relationship between art and social justice. He quoted from Domenique de Menil's description of the purplish color that "slowly emerges from the darkness" in Rothko's paintings as a way to understand and perhaps see some light in the "many kinds of darkness" we experience in our world today.
For Walker, art serves a dual role: it forces us to confront and think radically about "the uncomfortable truths about privilege and injustice and inequality in our daily lives," while opening our imaginations "so that we can experience and see ourselves in the place of others." It is through this deepened understanding that we can begin to tackle structural inequalities that undergird our shared experience.
But art, like society, has its own inequalities. In pushing for adequate representation, he stressed that, "We have to model the equality we wish to see in our world and elevate voices and visions different from our own." He concluded by elucidating the complex relationship between artistic expression, compassion, and human rights: "Without art, there is no empathy. And without empathy, there is no justice."
After his initial remarks, Walker sat down in conversation with Sarah Lewis, bestselling author, curator, and Assistant Professor at Harvard University. Lewis recently guest-edited an issue of Aperture entitled "Vision and Justice," which was dedicated to the photography of the African American experience. When she asked Walker about his own belief in the power of art, he referenced artists of color who use art as a way of sharing and controlling their own narratives as a model of "dealing with inequality and justice in our society."
The conversation between Lewis and Walker covered a lot of ground. When Lewis asked about the Ford Foundation's focus on inequality and its relationship to philanthropy, Walker noted the importance – for himself as well as for others – of moving away from the "idea of generosity, to the idea of justice." Because "justice makes us feel uncomfortable," it demands that we ask ourselves why economic inequity exists in the first place, he continued.
In a discussion with Lewis about the inclusion and exclusion of historically marginalized groups in US institutions, Walker said that he does not like using the word diversity because it "concretizes our historic racialized hierarchy in this country." What he stresses instead is equity, which implies an institutional transformation, providing representation to the voices of the unheard. He acknowledged that achieving equity is much harder than diversity because it is fundamentally an acquiescence that "something is fundamentally wrong."
In response to an audience question about how to navigate the anger one feels when confronting injustice, Walker said that, for himself, "every day is a calibration of rage and hope." He stressed that, while attending to injustice does and should come with a feeling of rage, it's important to remain constructive. Lewis added that navigating rage is "how we transform heat into light."
******
To read Mr. Walker's remarks as prepared, please click here.
For more on the lecture series, please click here. To donate, please click here.