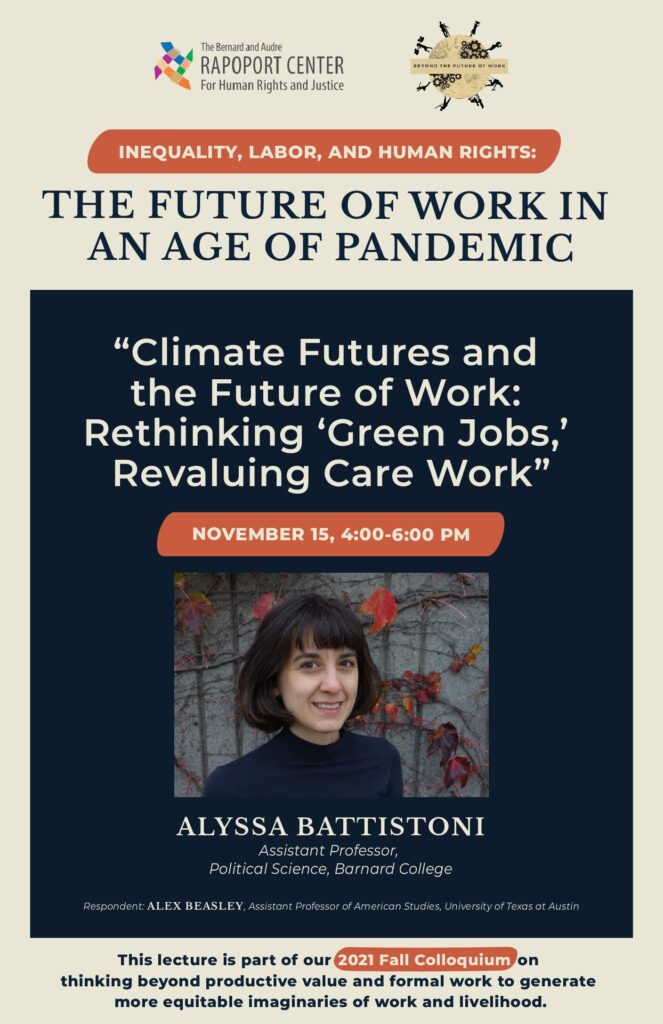 Alyssa Battistoni: "Climate Futures and the Future of Work: Rethinking "Green Jobs," Revaluing Care Work"
This colloquium is co-sponsored by the Sissy Farenthold Fund for Peace and Social Justice 
Abstract: This paper considers possible futures of work in relation to the climate crisis. In response to a perceived conflict between the demands of decarbonization and the livelihoods of workers, particularly in fossil fuel and other extractive sectors, "green jobs" have become the rallying cry of climate activists—and, increasingly, of politicians. (Take Joe Biden's line: "when I think climate change, I think jobs.") Meanwhile, the Covid-19 pandemic has drawn new attention to the importance of care work—both in the guise of the "essential work" of health care workers and the unwaged work done, particularly by women, within the home. This paper brings these two discourses on work together, drawing on socialist feminist thought to make the case for seeing care work as a form of "green job." It then considers the political implications of this view, focusing on the challenges to valuing this kind of work under capitalism and the racial and gender disparities which structure the politics of care.
*A working draft of this paper is available upon request. Please email nebner@utexas.edu to receive a copy. **Please do not circulate.
Alyssa Battistoni is Assistant Professor of Political Science at Barnard College. She is a political theorist working on topics related to political economy, environmental politics, feminism, and the history of political thought. She is co-author of A Planet to Win: We Need a Green New Deal (Verso, 2019) and has published several academic articles on the history of basic income and the idea of natural capital. She also writes frequently on related topics for publications such as the Nation, Dissent, n+1, Boston Review, and Jacobin. Her book manuscript in progress, Free Gifts: Capitalism and the Politics of Nature, theorizes the place of nature in capitalism and offers a novel reading of twentieth century political economic thought informed by feminist and ecological perspectives.
B. Alex Beasley (Respondent) is Assistant Professor in the Department of American Studies at the University of Texas at Austin. An interdisciplinary scholar of capitalism, U.S. empire, and the environmental humanities, he has published on the history of labor, business, gender and sexuality, cities, and international relations.  He is currently finishing a book manuscript,  Expert Capital: Houston and the Making of a Service Empire, under contract with Harvard University Press.
Registration instructions for joining the zoom meeting:
Please note that registration is required for the Zoom webinar. Register here for the Zoom webinar.
You will need to be signed-in to your Zoom account before you join the event and you will need to sign in with the same email account that you used to register for the program.
If you have difficulty registering, please contact Nina Ebner, nebner@utexas.edu.
If you do not have a Zoom account, you may watch this event on our
YouTube channel
.
Respondents
B. Alex Beasley

Assistant Professor, Department of American Studies, University of Texas at Austin