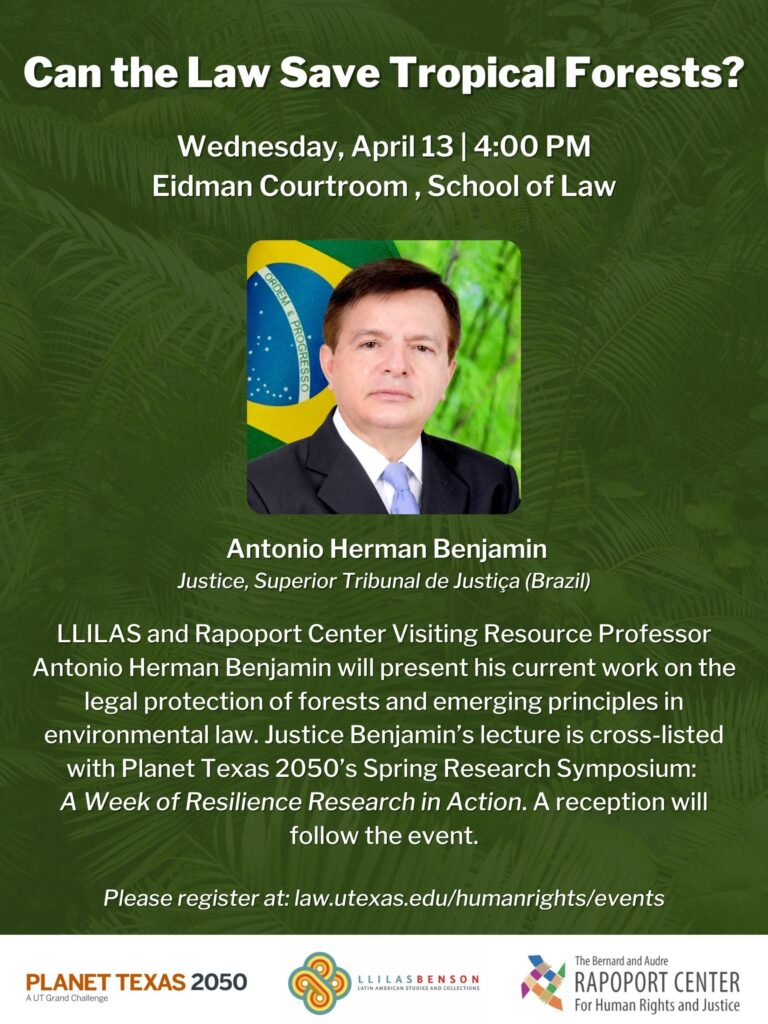 Can the Law Save Tropical Forests?
Location:
Eidman Courtroom (CCJ 2.306) - School of Law
This event was co-sponsored by the Teresa Lozano Long Institute of Latin American Studies (LLILAS), the LLILAS Benson Brazil Center, and Planet Texas 2050.
LLILAS and Rapoport Center Visiting Resource Professor Justice Antonio Herman Benjamin presented on his current work on the legal protection of forests and emerging principles in environmental law. Justice Benjamin's lecture was cross-listed with Planet Texas 2050's Spring Research Symposium: A Week of Resilience Research in Action.
About Justice Antonio Herman Benjamin
Antonio Herman Benjamin is a minister (justice) on the Superior Tribunal de Justiça (STJ), the National High Court of Brazil. He was appointed to the court in 2006 by President Luiz Inácio Lula da Silva. A global leader in the environmental law community, Justice Benjamin is the president of the Brazilian Environmental Forum of Judges, director of the LLM Program on Justice at the National Judicial Academy of Brazil (Escola Nacional de Formação e Aperfeiçoamento de Magistrados—ENFAM), chair emeritus of the World Commission on Environmental Law (WCEL), president of the Global Judicial Institute on the Environment, and secretary-general of the International Advisory Council for Environmental Justice of the United Nations Environment Programme (UNEP). He is also a member of the UN Secretary General Legal Expert Group on Crimes against the Environment, and for a decade Councilor of the Brazilian Environmental Council.
Justice Benjamin was a visiting professor in Environmental Law at the University of Texas School of Law for seventeen years, and he has published extensively in Brazil and abroad on environmental law, consumer law, and access to justice. He is also the former president of the Brazilian Fulbright Alumni Association. Justice Benjamin has received several awards, honors, and other recognitions in Brazil and abroad. He is a Knight (Chevalier) of the National Order of the Legion of Honour (Ordre National de la Légion d'Honneur) of France and a Commander (Commandeur) of the Order of King Leopold of Belgium. He is the recipient of the 2015 Elizabeth Haub Prize for Environmental Law, awarded by Stockholm University and considered the most prestigious international distinction conferred upon an environmental legal expert. He is a Goodwill Ambassador for Environmental Justice of the Organization of American States (OAS). In 2020, Brazilian scientists named after him a newly discovered species of orchid from the Amazon Rainforest: Bulbophyllum antoniobenjaminii.
Justice Benjamin received his LL.B. from the Federal University of Rio de Janeiro, his LL.M. from the University of Illinois, and his PhD from the Federal University of Rio Grande do Sul.