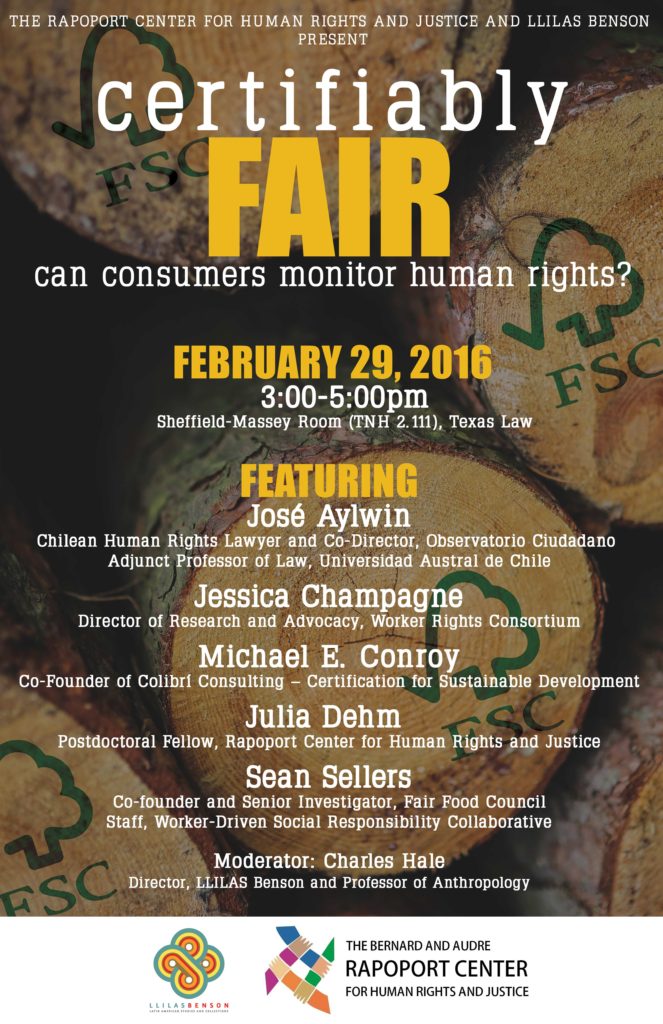 Certifiably Fair: Can Consumers Monitor Human Rights?
In areas ranging from food to forestry, third-party certification programs have emerged to attest that products should protect indigenous rights and adhere to certain labor and environmental standards. What role should these certification systems, and the consumer response on which many rely, play in the enforcement, adjudication, and realization of human rights?
In February 2016, the Rapoport Center brought together advocates who have helped design or use third-party certification processes in a variety of contexts including agriculture, the garment industry, forestry, and carbon offsets.
Michael Conroy (Founder, Colibri Consulting – Certification for Sustainable Development) cited an eBay experiment showing that people were willing to pay up to 50 percent more for a polo shirt manufactured in a way that protected workers' rights. But he and other panelists questioned the extent to which human rights enforcement should be voluntary and dependent upon consumer choice.
Two panelists, Sean Sellers (Co-founder, Fair Food Standards Council) and Jessica Champagne (Director of Research and Advocacy, Worker Rights Consortium), recounted success stories. Sellers conveyed how pressure from the Coalition of Immokalee Workers led to 14 major supermarket chains requiring their producers to comply with the Fair Food Program through legally binding agreements. Champagne described the Accord on Fire and Building Safety in Bangladesh, which monitors garment factories and resulted from advocacy and publicity after high-profile building collapses in the country.
Two other panelists, focusing on forestry, considered some of the limits of certification systems. José Aylwin (Co-director, Observatorio Ciudadano, Chile), describing complaints Chilean indigenous communities have brought to the Forest Stewardship Council (FSC), expressed concerns about the private enforcement of indigenous right claims. "I disagree that the FSC is a valid court of appeal to adjudicate human rights violations in the context of forestry," he said. Julia Dehm (Rapoport Center) articulated similar concerns about various climate and biodiversity certification programs.
Charles Hale (Anthropology, LLILAS) asked the panel whether, given the many different types of certification mechanisms, there might be "important distinctions that need to be made in terms of efficacy, outcomes, and political values." Panelists agreed on the need to distinguish between those certification processes that, as Dehm put it, "operate as corporate forms of neoliberal self-regulation, and worker or social movement driven schemes that empower people to enforce their rights." As such, the Rapoport Center is planning further research to explore what certification models might be most effective in promoting the enforcement of human rights.
In concluding remarks, Conroy referred to the roundtable as the "richest conversation on these topics" that he has had in many years.
Respondents
Charles Hale

Professor of Anthropology and Director, LLILAS Benson
Supporters
Co-sponsored with LLILAS Benson