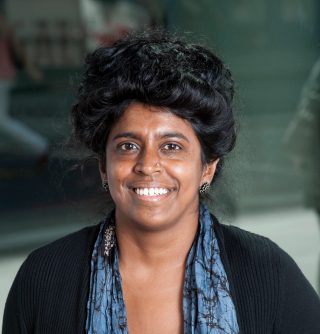 Economic Empowerment in the Global Periphery: Leaning in to Credit, Property, and Entrepreneurship
Speaker:
Vasuki Nesiah

Associate Professor of Practice, Gallatin School of Individualized Study, New York University
Vasuki Nesiah is Associate Professor of Practice at the Gallatin School of Individual Study at New York University. Nesiah's research interests include international human rights, law and social theory, and the politics of war and memory. She has taught at Brown University, where she served as Director of International Affairs, and Columbia University's School of International and Public Affairs. She was also a Senior Fellow at Melbourne Law School. A founding member of Third World Approaches to International Law (TWAIL), Nesiah has published widely on the history and politics of human rights, humanitarianism, international criminal law, international feminisms, and colonial legal history, with a particular focus on transitional justice and reparations. She is co-editor of A Global History of Bandung and Critical Traditions in International Law (2017). Before entering the academy full time, Nesiah practiced at the International Center for Transitional Justice (ICTJ). She holds a BA in Philosophy and Government from Cornell University, and both a JD and SJD from Harvard Law School.
Mónica Jiménez is Assistant Professor of African and African Diaspora Studies at The University of Texas at Austin. Her research explores the intersections of law, race and nationalism in US empire building in Latin America and the Caribbean. Jiménez's book manuscript, American State of Exception: Race and Law in the Making of Puerto Rico, offers a legal history of race and exception in US empire building and centers on the place of Puerto Rico within that historical trajectory. She has received fellowship support from the Ford Foundation, the Puerto Rican Studies Association, the Institute for Global Law and Policy at Harvard Law School and the University of Texas at Austin. Formerly, Jiménez taught History and Latin American and Latino Studies at the University of Illinois at Chicago. She holds a BA in Classical Civilizations from Yale University and an MA in Latin American Studies, as well as a JD and PhD in History from The University of Texas at Austin.
Political leaders across the spectrum have called economic inequality a defining challenge of our time. Our Fall 2019 colloquium will explore the legal, historical, and political drivers and dynamics of deeply entrenched inequality, within as well as across countries. The Colloquium presents an interdisciplinary group of scholars who will consider how law allocates resources in ways that maintain and reproduce historical patterns of domination, subordination, and accumulation. Speakers will apply these questions to a range of geographical locations as well as to a variety of issues at the intersection of inequality and human rights, including incarceration, land distribution, social welfare, and debt.
Respondents
Mónica Jiménez

Assistant Professor, African and African Diaspora Studies