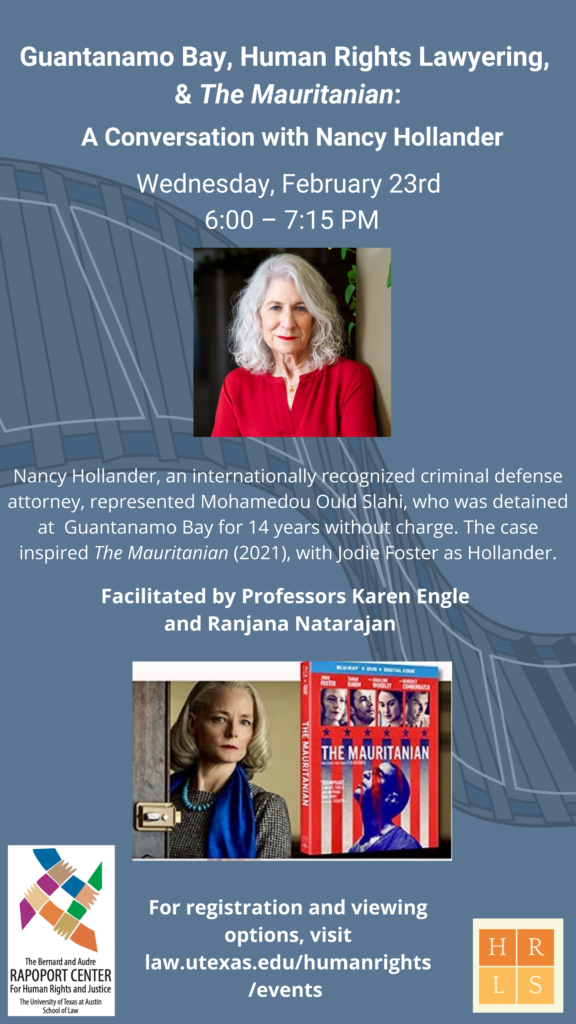 Guantanamo Bay, Human Rights Lawyering, and The Mauritanian: A Conversation with Nancy Hollander
The Rapoport Center and the Human Rights Law Society welcomed criminal defense lawyer Nancy Hollander on February 23rd, 2022 to discuss her illustrious career. Prior to the event, we encouraged participants to watch The Mauritanian, which depicts Hollander's representation of Guantanamo detainee, Mohamedou Ould Slahi (Jodie Foster won a Golden Globe for her performance as Hollander). The film sparked a discussion about the role of criminal defense lawyers in protecting human rights at Guantanamo Bay and beyond.
UT students, staff, and faculty can access The Mauritanian for free using the following link. All others can view the movie for a fee through streaming services such as Hulu, Showtime, YouTube, Apple TV, and Amazon Prime. Learn more about the movie here. *Please note that the film is rated R and contains some scenes of graphic violence (from 1:28-1:43).
Nancy Hollander is an internationally recognized criminal defense attorney, well-known for representation of individuals and organizations accused of crimes the government deems related to national security. In addition to Ould Slahi, whose release she secured after fourteen years of detention at Guantanamo Bay, Hollander's clients include Chelsea Manning and Abd Rahim Al-Nashiri. Though she has successfully represented Al-Nashri twice before the European Court of Human Rights, he is currently detained in Guantanamo Bay where he faces the death penalty. Hollander is a partner at Freedman, Boyd, Hollander & Goldberg P.A in Albuquerque, NM, an associate tenant at London's Doughty Street Chambers, and of counsel with Savolainen Avocats, a Geneva-based firm.
The discussion was moderated by Professors Karen Engle and Ranjana Natarajan. Professor Natarajan is the director of the Civil Rights Clinic at Texas Law and has been involved in representation of Guantanamo detainees and other post 9/11 national security litigation. Professor Engle is Minerva House Drysdale Regents Chair in Law and co-directs the Rapoport Center. She has written critically about the human rights movement's reliance on criminal prosecution as its principal enforcement mechanism.