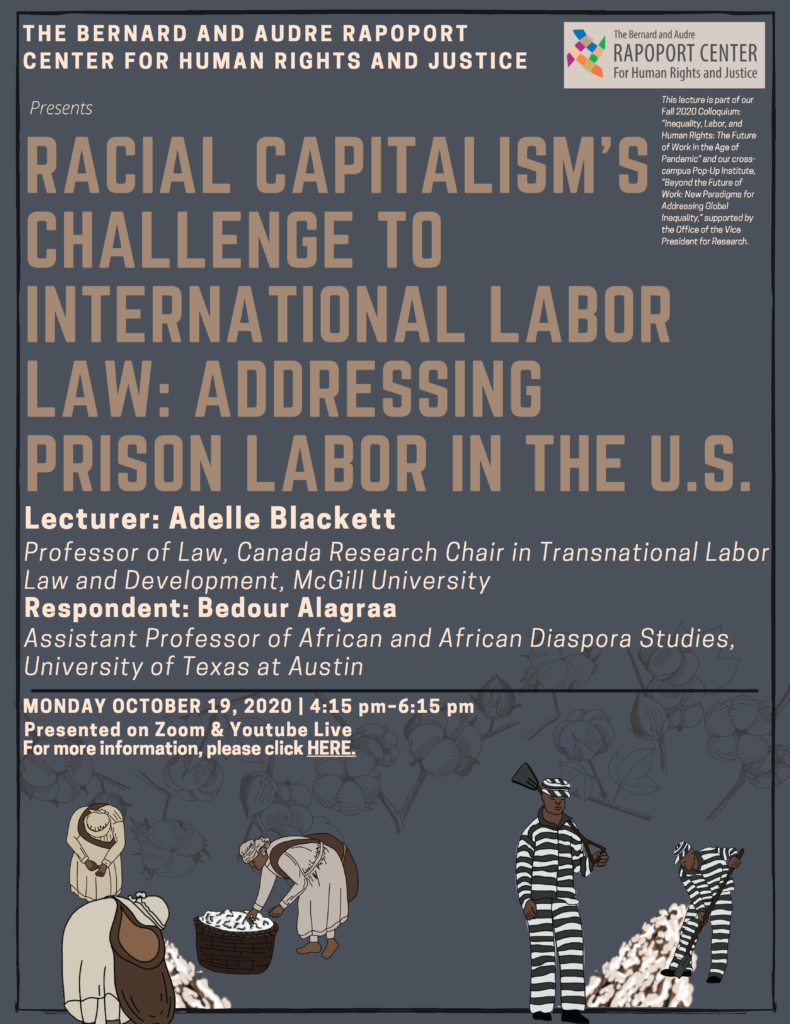 Adelle Blackett: "Racial Capitalism's Challenge to International Labor Law: Addressing Prison Labor in the U.S."
Speaker:
Adelle Blackett

Professor of Law, Canada Research Chair in Transnational Labor Law and Development, McGill University
Location:
Zoom & YouTube Live
This was the third lecture in our Fall 2020 Colloquium, "Inequality, Labor, and Human Rights: The Future of Work in the Age of Pandemic," and part of the interdisciplinary and cross-campus Pop-Up Institute, "Beyond the Future of Work: New Paradigms for Addressing Global Inequality," supported by the Office of the Vice President for Research.
Abstract: Slavery is not a metaphor, yet the implications of the centuries long transatlantic slave trade, and the literature on the Black Atlantic, are mostly ignored in the fast and furious international legal invocations of modern slavery. Through an analysis of International Labor Organization-US dialogue on racial disparities in forced labor in US prisons, Blackett will argue that transnational labor law is deeply rooted in the persisting presence of a racial capitalism that is too easily relegated to a distant past. Reflecting on insights generated through this historical account, Blackett will comment on debates about forced labor in our current moment, as we confront prolonged and intractable crises during COVID-19.
Adelle Blackett is Professor of Law and Canada Research Chair in Transnational Labor Law and Development at McGill University, where she teaches and researches in the areas of labor and employment law, trade regulation, law and development, critical race theory, and slavery and the law. Blackett has widely published in English, French, and Spanish in the field of transnational labor law. She is author of Everyday Transgressions: Domestic Workers' Transnational Challenge to International Labour Law (Cornell University Press, 2019) and co-editor of the Research Handbook on Transnational Labour Law (Edward Elgar Publishing, 2015). Blackett holds an LLM and doctorate in law from Columbia University, a BA in History from Queen's University, and civil law and common law degrees from McGill University.
Bedour Alagraa is Assistant Professor of Political and Social Thought in the Department of African and African Diaspora Studies at the University of Texas at Austin. She is interested in Black Political Thought, especially Caribbean political thought, African anti-colonial thought, and Black Marxism(s). Her book manuscript is entitled The Interminable Catastrophe: Fatal Liberalisms, Plantation Logics, and Black Political Life in the Wake of Disaster, and charts a conceptual history of catastrophe as a political category/concept (rather than Event), via its inauguration in early modern natural science and empiricist debates, and subsequent crystallization as a concept on the plantation. Alagraa received her PhD from the department of Africana Studies at Brown University, her BA in Political Science from the University of Toronto, and her Masters in Race, Ethnicity, and Post-Colonial Studies from the London School of Economics.
Respondents
Bedour Alagraa

Assistant Professor of African and African Diaspora Studies
Supporters
Office of the Vice President for Research