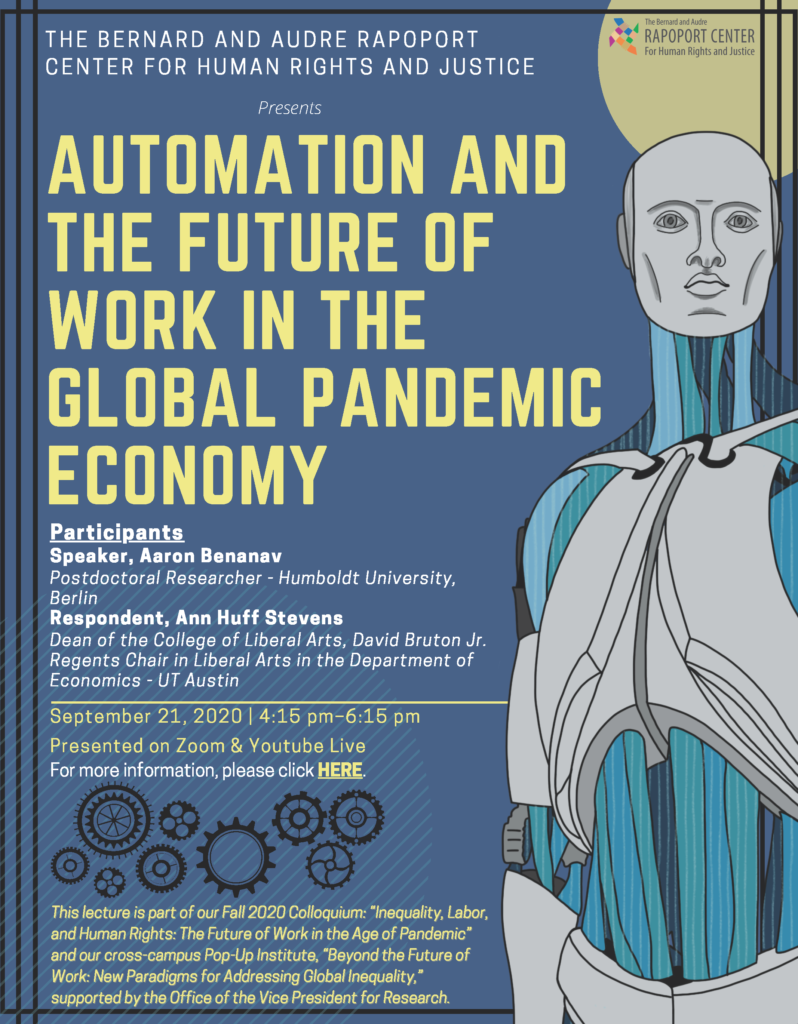 Aaron Benanav: "Automation and the Future of Work in the Global Pandemic Economy"
Speaker:
Aaron Benanav

Postdoctoral Researcher, Humboldt University, Berlin
Location:
Zoom & YouTube Live
Register Here for Zoom | Click Here for YouTube Live
This is the first lecture in our Fall 2020 Colloquium, "Inequality, Labor, and Human Rights: The Future of Work in the Age of Pandemic." It is part of a new inter-disciplinary and cross-campus Pop-Up Institute, "Beyond the Future of Work: New Paradigms for Addressing Global Inequality," supported by the Office of the Vice President for Research.
Aaron Benanav is an economic and labor historian who holds a postdoctoral researcher position at Humboldt University in Berlin and is the academic coordinator for the research unit, "Re-Allocation," in the Cluster of Excellence "SCRIPTS: Contestations of the Liberal Script," a seven-year project funded by the German Research Foundation. His research interests include nineteenth- and twentieth-century global economic history, employment and unemployment, deindustrialization, informality, inequality, labor market dynamics, population growth, and urbanization. Benanav's first book, Automation and the Future of Work, is forthcoming from Verso Books in fall 2020. He is now working on a second book project on the global history of unemployment since World War II. Before joining Humboldt, he was a Harper-Schmidt Fellow in the Social Sciences Division at the University of Chicago. Benanav holds a PhD and an MA in History from the University of California, Los Angeles, and a BA in History from the University of Chicago.
Ann Huff Stevens is Dean of the College of Liberal Arts and David Bruton Jr. Regents Chair in Liberal Arts in the Department of Economics at the University of Texas. Her research focuses on workers and labor markets, the incidence and effects of job loss across generations, and poverty and safety net dynamics. Her current work examines returns to career and technical education programs, earned income tax credit eligibility and deep poverty, and aspects of rising male non-employment. The founding director of the Center for Poverty Research at UC Davis, she has served as an investigator on numerous grants from agencies including the National Science Foundation, the U.S. Department of Health and Human Services, and the Institute for Education Sciences. She received a B.S. in Economics and Political Science from American University and Ph.D. in Economics from the University of Michigan.
Two Ways to Watch:
Zoom Meeting: Please note that registration is required for the Zoom meeting. Register here. You will need to sign up for a Zoom account and sign in to Zoom before you join the meeting. Q&A will take place via chat and "in person," as audience members will have the opportunity to ask their questions live on camera.
YouTube Live: You can watch the lecture live on our YouTube channel. YouTube Live does not require registration. Audience members who join via YouTube Live will be able to post questions and comments via chat but will not be able to ask their questions live on camera.
Respondents
Ann Huff Stevens

Dean, College of Liberal Arts and David Bruton Jr. Regents Chair in Liberal Arts in the Department of Economics, University of Texas at Austin
Supporters
Office of the Vice President for Research