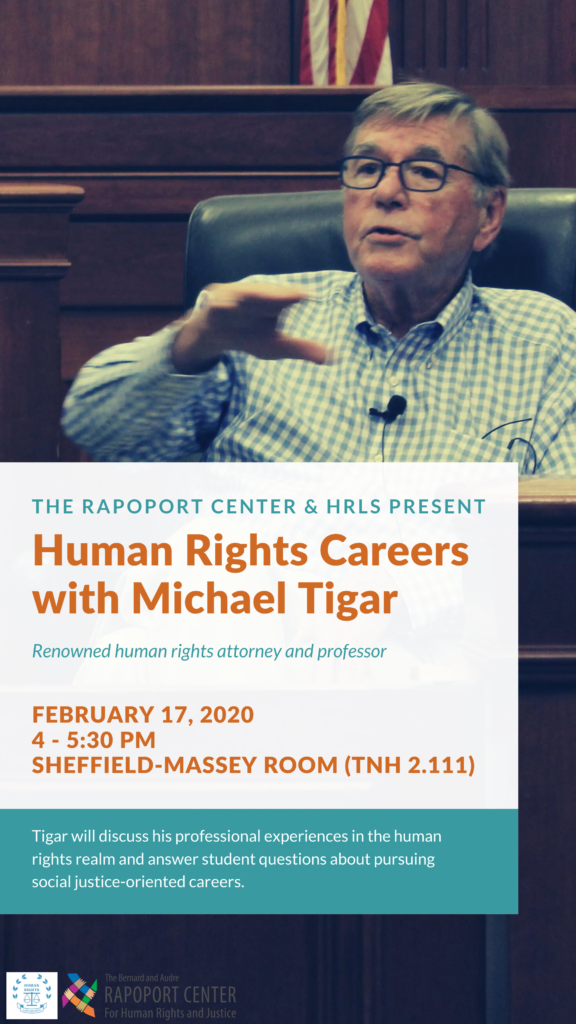 Human Rights Career Talk with Michael Tigar
Speaker:
The Rapoport Center, along with the Human Rights Law Society, is happy to host renowned human rights attorney and professor Michael Tigar. Tigar will discuss his professional experiences in the human rights realm and answer student questions about pursuing social justice-oriented careers.
Michael E. Tigar is Emeritus Professor of the Practice of Law at Duke University School of Law and Professor Emeritus of Law at American University Washington College of Law. His work focuses on constitutional law, criminal law and procedure, the French legal system, and human rights. He has written extensively about litigation, trial practice, criminal law, and criminal defense. He is the author or editor of more than a dozen books, including Thinking About Terrorism: The Threat to Civil Liberties in Times of National Emergency (American Bar Association, 2007), Fighting Injustice (American Bar Association, 2003), and Law and the Rise of Capitalism (2d ed., Monthly Review Press, 2000). Tigar has taught at the University of Texas School of Law, where he held the Joseph D. Jamail Chair in Law, at UCLA School of Law, and at Faculté de Droit et des Sciences Politiques, Université Paul Cezanne, Aix-en-Provence. In addition to his extensive work as a legal scholar, he has had a long and distinguished career as a litigator. He has argued seven cases before the U.S. Supreme Court and over one hundred appellate cases. He has represented many notable clients, including The Washington Post, John Connally, Sen. Kay Bailey Hutchison, Scott McClellan, Rep. Ronald Dellums, Mobil Oil, Fernando Chavez, Lynne Stewart, and Terry Lynn Nichols. He was an associate and a partner at Williams & Connolly, and a partner in his own firm, Tigar & Buffone. Tigar earned a B.A. and J.D. from the University of California at Berkeley.
Tigar's digital archive is available at the Rapoport Center. Read his full bio here.