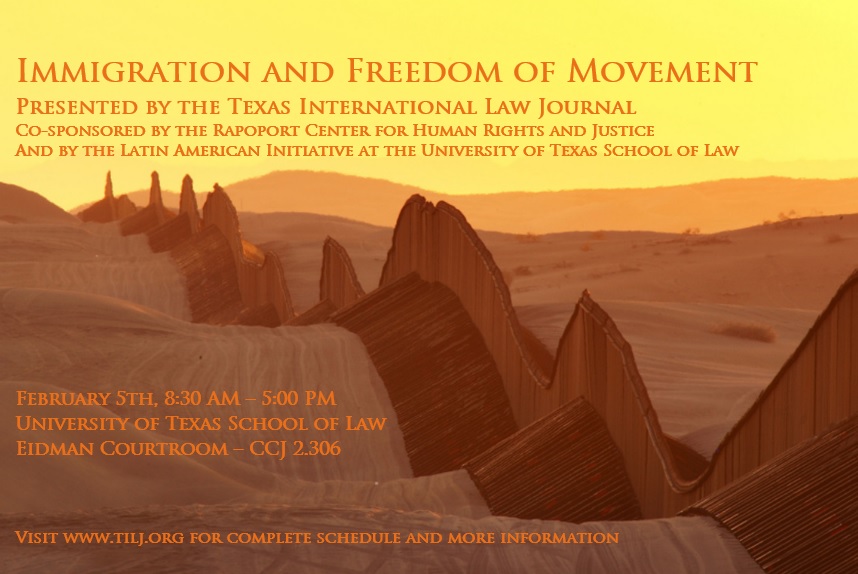 Immigration and Freedom of Movement
Location:
Eidman Courtroom CCJ 2.306
Each year, the Texas International Law Journal organizes a symposium related to a developing area of international law. This year, the journal has selected "Immigration and Freedom of Movement" as our topic. The symposium will be held at the Eidman Courtroom at the University of Texas School of Law on February 5, 2015. We are excited to announce that this year's symposium will be one of the largest in the journal's history, with ten speakers from three countries. We aim to explore issues concerning international trade and migrant workers; immigration detention and other restrictions on movement; and international human rights. We will additionally host a lunchtime roundtable discussion on recent developments in domestic immigration policy and its impact on Texas. We are also proud to welcome Professor Hiroshi Motomura from the University of California at Los Angeles to deliver our keynote address.
For details, visit http://www.tilj.org/past-symposia/
Supporters
Co-sponsored by the Bernard and Audre Rapoport Center for Human Rights and Justice and the Latin American Initiative at the University of Texas School of Law.