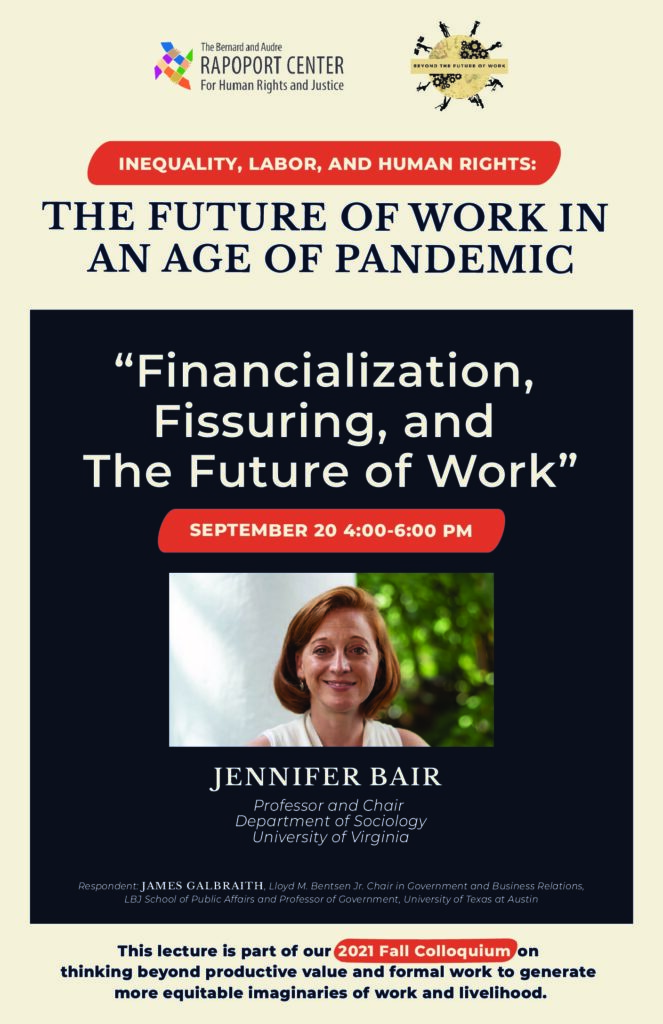 Jennifer Bair: "Financialization, Fissuring, and the Future of Work"
Speaker:
Jennifer Bair

Professor and Chair of the Department of Sociology, University of Virginia
Abstract: Over the past thirty years, the labor share of income has declined in tandem with the proliferation of global value chains. Two intertwined dynamics underlie this trend: fissuring and financialization. This paper argues that to imagine possible futures of work, we must contend with these dynamics and the profound distributional consequences they cause, as they shift economic surplus towards intangible activities at the expense of tangible production, capital at the expense of labor, and the global North at the expense of the global South.
Jennifer Bair is Professor and Chair of the Department of Sociology at the University of Virginia. Her research interests are at the intersection of global political economy, work, and development, and she has written extensively about global value chains and world-systems theory. She is co-editor of Putting Labour in its place: Labour Process Analysis and Global Value Chains (Palgrave, 2015), editor of Frontiers of Commodity Chain Research (Stanford, 2008), and the author or co-author of numerous influential articles. In addition to a collaborative book project on supply chain labor organizing, Prof. Bair is currently studying efforts to ensure human rights protections for migrant workers in U.S. agriculture. She is the former chair of the ASA's section on the Political Economy of the World System.
James Galbraith is Lloyd M. Bentsen Jr. Chair in Government/Business Relations and Professor of Government at the Lyndon B. Johnson School of Public Affairs at the University of Texas at Austin. Galbraith was executive director of the Joint Economic Committee of the U.S. Congress in the early 1980s. He chaired the board of Economists for Peace and Security (1996–2016) and directs the University of Texas Inequality Project. He is a managing editor of Structural Change and Economic Dynamics. He has authored or co-edited six books and two textbooks, including Welcome to the Poisoned Chalice: The Destruction of Greece and the Future of Europe (2016); Inequality: What Everyone Needs to Know (2016); and The End of Normal: The Great Crisis and the Future of Growth (2014). Galbraith writes frequently for policy magazines and the general press, and is a senior scholar of the Levy Economics Institute.
Registration instructions for joining the zoom meeting:
Please note that registration is required for the Zoom webinar. Register here for the Zoom webinar.
You will need to be signed-in to your Zoom account before you join the event and you will need to sign in with the same email account that you used to register for the program.
If you have difficulty registering, please contact Sabrina Barton, Sabrina.Barton@austin.utexas.edu.
If you do not have a Zoom account, you may watch this event on our
YouTube channel
.
Respondents
James K. Galbraith

Lloyd M. Bentsen Jr. Chair in Government/Business Relations & Professor of Government