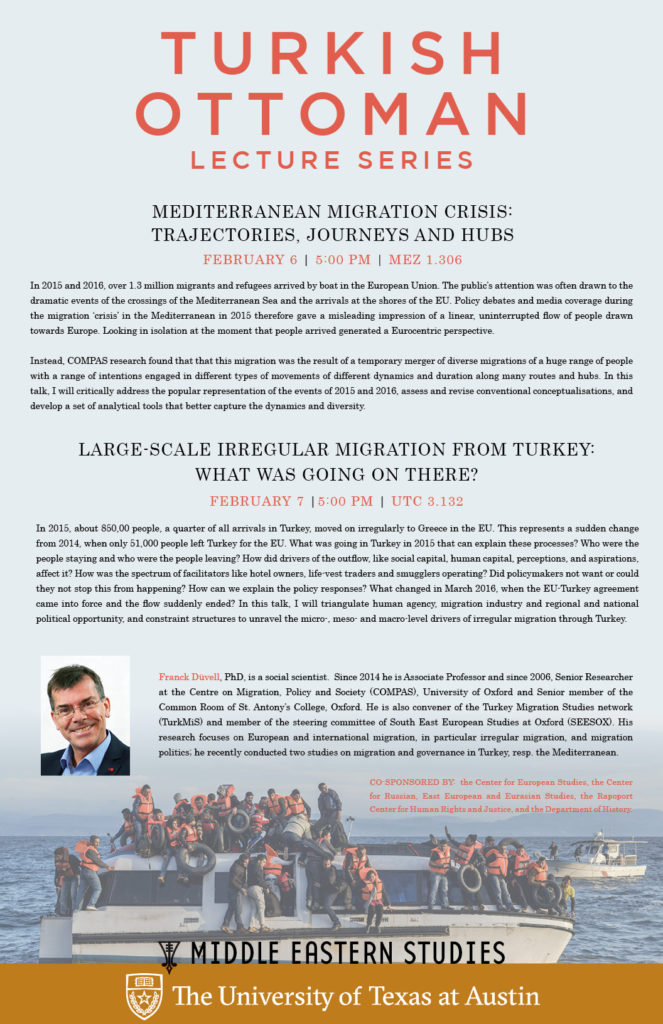 Mediterranean Migration Crisis: Trajectories, Journeys and Hubs
Speaker:
Franck Düvell

Associate Professor and Senior Researcher, Centre on Migration, Policy and Society (COMPAS), University of Oxford
In 2015 and 2016 over 1.3 million migrants and refugees arrived by boat in the European Union. The public's attention was often drawn to the dramatic events of the crossings of the Mediterranean Sea and the arrivals at the shores of the EU. Policy debates and media coverage during the migration 'crisis' in the Mediterranean in 2015 therefore gave a misleading impression of a linear, uninterrupted flow of people drawn towards Europe. Looking in isolation at the moment that people arrived generated a Eurocentric perspective.
Instead, COMPAS research found that that this migration was the result of a temporary merger of diverse migrations of a huge range of people with a range of intentions engaged in different types of movements of different dynamics and duration along many routes and hubs. In this talk, I will critically address the popular representation of the events of 2015 and 2016, assess and revise conventional conceptualisations, and develop a set of analytical tools that better capture the dynamics and diversity.
This event is part of the Turkish Ottoman Lecture Series.
Supporters
Hosted by Middle Eastern Studies and co-sponsored by the Center for European Studies, the Center for Russian, East European and Eurasian Studies, the Rapoport Center for Human Rights and Justice, and the Department of History.