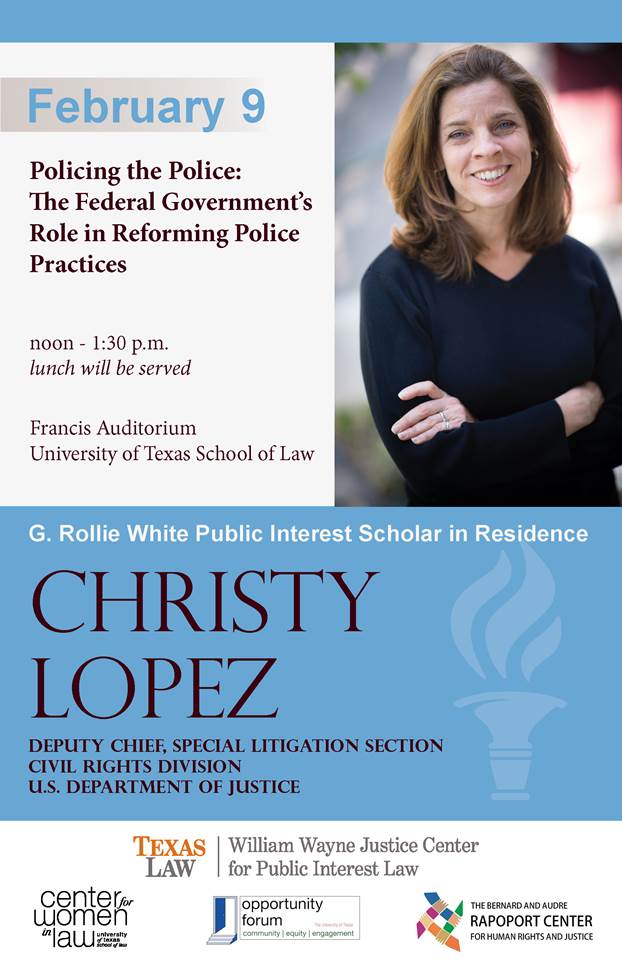 Policing the Police: the Federal Government's Role in Reforming Police Practices
Speaker:
Christy E. Lopez

Deputy Chief, Special Litigation Section, Justice Department Civil Rights Division
Please join us for a talk by Christy Lopez, a national expert on policing who led the DOJ's investigation of the Ferguson, Missouri, police department.
Lopez's visit as a G. Rollie White Public Interest Scholar is supported by a generous gift from the G. Rollie White Trust. The program brings outstanding legal scholars, practitioners and advocates from the field of public service to Texas Law to foster discussion of issues related to public interest law, to raise the profile of lawyers working in this area, and to encourage students to view public service as an honored and expected part of every legal career. Lopez is Texas Law's fifth G. Rollie White Public Interest Scholar.
Supporters
Presented by the William Wayne Justice Center and co-sponsored by the Rapoport Center, the Center for Women in Law, the UT Opportunity Forum, the Chicano/Hispanic Law Students Association, the Public Interest Law Association, the Thurgood Marshall Legal Society, and the Texas Journal of Civil Liberties and Civil Rights