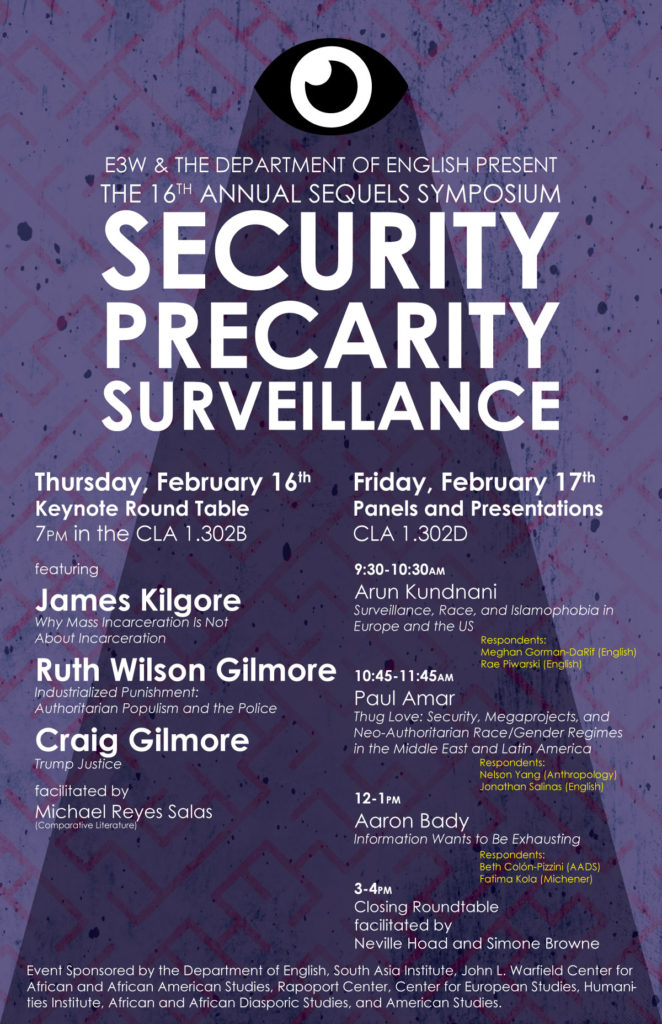 Security, Precarity, Surveillance
"No fly, no buy" emerged as a slogan animating the gun control movement that found renewed emphasis following the massacre on Latino night at the Pulse nightclub in Orlando, Florida, in the early morning hours of June 13, 2016. Catchy as the slogan may have been, its reference to the controversial "no fly list" maintained by the US government's Terrorist Screening Center (TSC) went largely unscrutinized. There were exceptions, to be sure, such as postings on The Intercept website (founded by investigative journalist and writer Glenn Greenwald). Indeed, The Intercept, in its compelling reporting on the US drone program had already published a secret document, "Watchlisting Guidance," whose 166 pages outlined the tell-tale traits and counter-terrorism tactics that underwrite the "no fly list," with implications too for the even more notorious "kill list" maintained by President Obama of individuals designated for targeting – and extrajudicial assassination/execution – by drone.
Watchlisting is perhaps symptomatic, if not symbolic, of the spiraling crises – global, regional, national, and local – of precarity, security, and surveillance that this symposium proposes to address through a series of interdisciplinary and cross-regional panels and papers. From austerity programs imposed on Greece in 2015 to the recent Brexit referendum in the UK, from targeted killings by drone in Pakistan and Yemen to police shootings of black men on US streets and political assassinations in Bangladesh, from failed states to "rogue" presidential candidates, the current social, political and cultural conjuncture would seem to warrant concerted and combined re-examination of discipline-, nation- and region-bound studies toward new research parameters and renewed pedagogical initiatives.
Keynote Speakers:
Ruth Wilson Gilmore is Professor of Earth & Environmental Sciences, and American Studies at the Graduate Center at the City University of New York. She has many honors and awards, and has delivered invited lectures at universities and cultural institutions around the world. Among many publications, her prize-winning book is Golden Gulag: Prisons, Surplus, Crisis, and Opposition in Globalizing California (2007). Current projects include a second edition of Golden Gulag, as well as several other book projects: Fatal Couplings: Essays on Motion, Racial Capitalism, and the Black Radical Tradition; and Big Things: Reconfigured Landscapes and the Infrastructure of Feeling. She is a member of the Executive Committee of the Institute for Research on the African Diaspora in the Americas and The Caribbean (IRADAC), and serves on the boards of many social justice, cultural, and scholarly formations in the US, Europe, and West Asia. She was a founding member of Critical Resistance, California Prison Moratorium Project, and other grassroots organizations.
Craig Gilmore has been organizing against the prison-industrial complex for 20 years, principally through the California Prison Moratorium Project, which he co-founded in 1998.  His work has centered on reducing state capacity for the violence of policing and imprisonment and broadening the base of the anti-PIC movement through outreach to other movements, especially environmental justice and public sector unions. He co-edited Prison Focus, published a few essays and co-authored (with Kevin Pyle) Prison Town, one of the award-winning Real Cost of Prisons Comix (2009).
James Kilgore is an activist, a novelist, a former political prisoner and a research scholar in African Studies at the University of Illinois, Urbana Champaign. He is the author of We Are All Zimbabweans Now (2009), Freedom Never Rests: A Tale of Democracy in South Africa (2012) and Prudence Couldn't Swim (2012), and a recent study of mass incarceration – Understanding Mass Incarceration: A People's Guide to the Key Civil Rights Struggle of Our Time (2015).
Supporters
Presented by E3W & the Department of English. Co-sponsored by the South Asia Institute, the John L. Warfield Center for African and African American Studies, the Rapoport Center, the Center for European Studies, the Humanities Institute, African and African Diasporic Studies, and American Studies.