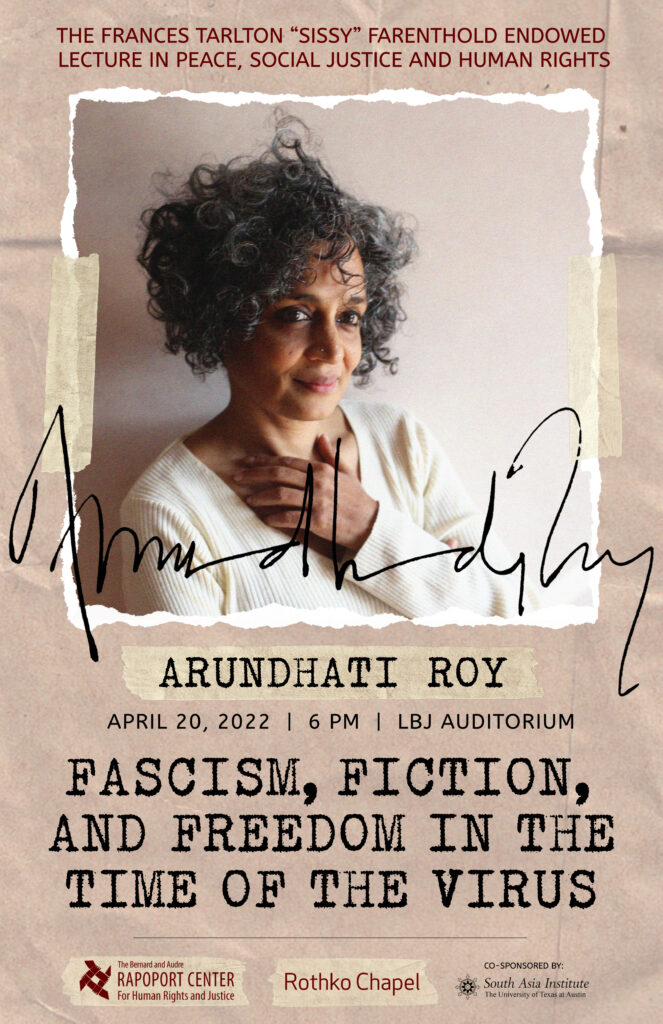 Arundhati Roy: "Fascism, Fiction, and Freedom in the Time of the Virus"
Frances Tarlton "Sissy" Farenthold Endowed Lecture Series in Peace, Social Justice and Human Rights | Presented in partnership with the Rothko Chapel
The seventh annual Sissy Farenthold Lecture (2021-2022) featured renowned political activist and author Arundhati Roy. LBJ School professor Raj Patel engaged Roy in a conversation about "Fascism, Fiction, and Freedom in the Time of the Virus."
Read Arundhati Roy's lecture here.
About Arundhati Roy
Arundhati Roy is an author and activist who has long advocated for justice, equality, and political transformation. She is a preeminent critic of the economic, social, and political inequalities produced by neoliberal globalization. Her work includes leadership on environmental causes, opposition to India's policies on nuclear weapons, and critiques of imperialist military interventions. 
Roy is the author of two novels, The God of Small Things (1997), winner of the Booker Prize, and The Ministry of Utmost Happiness (2017), selected for the Booker Prize Long List and a finalist for the National Book Critics Award Circle. She has published twenty nonfiction books, most recently Azadi: Freedom. Fascism. Fiction. (2020), My Seditious Heart: Collected Non-Fiction (2019), and Capitalism: A Ghost Story (2014). An expanded second edition of Azadi will be published as Azadi: Fascism, Fiction, and Freedom in the Time of the Virus on April 26, 2022. Roy has been honored with the Lannan Foundation's Cultural Freedom Award (2002); the Sydney Peace Prize (2004); the George Orwell Award from the National Council of Teachers of English (2004); and the Norman Mailer Prize for Distinguished Writing (2011). In 2014, she was featured in TIME 100: The Most Influential People.
About Raj Patel
Raj Patel is an author, filmmaker, and academic whose work focuses on the world food system and its alternatives. He is a research professor in the LBJ School of Public Affairs at The University of Texas at Austin, a senior research associate at the Unit for the Humanities at Rhodes University, and serves on the International Panel of Experts on Sustainable Food Systems. His latest book, co-authored with Rupa Marya, is Inflamed: Deep Medicine and the Anatomy of Injustice (2021). 
About the Frances Tarlton "Sissy" Farenthold Endowed Lecture in Peace, Social Justice and Human Rights
Named in honor of Sissy Farenthold (1926-2021), who dedicated her life to exposing and responding to injustices as a lawyer, legislator, and global leader in human rights, the lecture series inspires audiences to think and act creatively in response to the greatest human rights challenges of the 21st century. Past lecturers include Charles Blow, New York Times Op-Ed Columnist; Ruth Wilson Gilmore, Professor of Earth and Environmental Sciences and Director of the Center for Place, Culture, and Politics at The Graduate Center, City University of New York; Elizabeth Yeampierre, Executive Director of UPROSE and Co-Chair of the Climate Justice Alliance; Ai-jen Poo, Executive Director of the National Domestic Workers Alliance; Darren Walker, President of the Ford Foundation; and journalist Mark Danner, Professor at the University of California Berkeley and at Bard College. Read more on the lecture series.
This event was sponsored by the South Asia Institute at UT Austin.
View the lecture recording