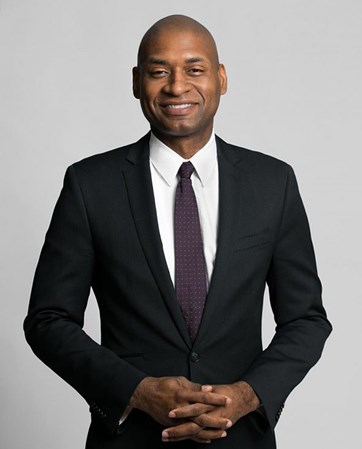 Charles M. Blow: "Is this really a racial reckoning?"
Speaker:
Charles M. Blow

New York Times Op-Ed Columnist, Author of "Fire Shut Up in My Bones"
Location:
Vimeo Livestream
Frances Tarlton "Sissy" Farenthold Endowed Lecture Series in Peace, Social Justice and Human Rights | Presented in partnership with the Rothko Chapel in Houston
After the killing of George Floyd, millions of people, of all races and ethnicities, in America and around the world, poured into the streets as part of historic protests to demand racial justice. Some began to call those protests a major civil rights moment, a long-overdue, honest dealing with racial justice and equality. But, as months have passed, as progress has stalled and protests narrow, we are forced to wrestle with the question: Is this really a racial reckoning? 
The Rothko Chapel in Houston and the Bernard and Audre Rapoport Center for Human Rights and Justice at the University of Texas at Austin hosted the 6th annual Frances Tarlton "Sissy" Farenthold Endowed Lecture in Peace, Social Justice and Human Rights.
The 2020 Farenthold Lecture kicked off a series of Rothko Chapel programs exploring the past, present, and future of civil and human rights in this country. For the Rapoport Center, the lecture continued ongoing inquiry into the logics and history of racialized inequality.
A moderated Q&A session by ABC13's news anchor Melanie Lawson followed the lecture.
About Charles M. Blow
Charles M. Blow is an Op-Ed columnist at The New York Times, where his column appears on Mondays and Thursdays. Mr. Blow's columns tackle hot-button issues such as social justice, racial equality, presidential politics, police violence, gun control, and the Black Lives Matter Movement. Mr. Blow is also a CNN commentator and was a Presidential Visiting Professor at Yale, where he taught a seminar on media and politics. He is the author of the critically acclaimed New York Times best-selling memoir, Fire Shut Up in My Bones. The book won a Lambda Literary Award and the Sperber Prize and made multiple prominent lists of best books published in 2014. People Magazine called it "searing and unforgettable."
Mr. Blow joined The New York Times in 1994 as a graphics editor and quickly became the paper's graphics director, a position he held for nine years. He then went on to become the paper's design director for news before leaving in 2006 to become the art director of National Geographic Magazine. Before coming to The Times, Mr. Blow had worked at The Detroit News. He graduated magna cum laude from Grambling State University in Louisiana, where he received a B.A. in mass communications, and he holds an honorary doctorate from Massachusetts College of Art and Design in Boston. He lives in Brooklyn and has three children.
About Melanie Lawson
Melanie Lawson is a native Houstonian and award-winning journalist. She started first as a full-time general assignments reporter at Channel 13, then went on to become the co-anchor of Live at 5 and Channel 13's midday show, Eyewitness News at 11am. Melanie also hosts a weekly Community Affairs program called "Crossroads", focusing on issues and events around Houston. She has won numerous awards for her reporting, including an Emmy for her coverage of President Clinton's visit to South Africa, the only local reporter in the nation to make the trip. Lawson has interviewed a range of notable figures, including three U.S. Presidents, Henry Kissinger, the Dalai Lama, poet Maya Angelou, Destiny's Child, George Foreman, Spike Lee, and Barbara Walters.
About the Frances Tarlton "Sissy" Farenthold Endowed Lecture in Peace, Social Justice and Human Rights
Named in honor of Sissy Farenthold, who has dedicated her life to exposing and responding to injustices as a lawyer, legislator, and global leader in human rights, the lecture series inspires audiences to think and act creatively in response to the greatest human rights challenges of the 21st century. Past lecturers include Ruth Wilson Gilmore, Professor of Earth and Environmental Sciences and Director of the Center for Place, Culture, and Politics at The Graduate Center, City University of New York; Elizabeth Yeampierre, Executive Director of UPROSE and Co-Chair of the Climate Justice Alliance; Ai-jen Poo, Executive Director of the National Domestic Workers Alliance; Darren Walker, President of the Ford Foundation; and journalist Mark Danner, Professor at the University of California Berkeley and at Bard College.
Read more on the lecture series here.