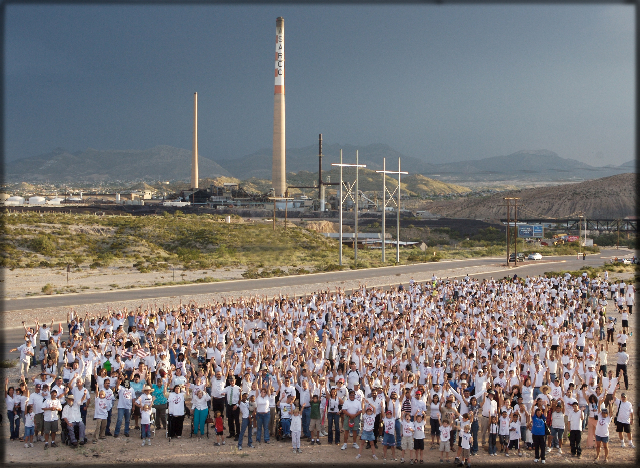 Film Screening: Under the Stack
"We believe that corporations must be made accountable–to their workers and to the communities in which they are located, as well as to public policies designed to protect human health, safety and the environment." – Anne Fischel & Lin Nelson
Meet the directors and join us for a screening of Anne Fischel and Lin Nelson's documentary, "Under the Stack." What began as a class project for Fischel and Nelson, two professors from Evergreen State College, grew into a multi-media project that documents the experiences of three communities with prolonged relationships with the American Smelting and Refining Company (ASARCO). Through research, film, photography, oral history, analytical writing, a website, and their documentary, Their Mines, Our Stories document the experiences and struggles of these communities, left to deal with the fallout of ASARCO smelter's decades of unregulated pollution once they closed their doors and filed for bankruptcy. Following the film, Fischel will facilitate a panel discussion featuring individuals with expertise and experience on the subjects included in the film.
Light refreshments will be provided at 5:30pm and the screening will begin at 6:30pm in the Avaya Auditorium (POB 2.302). The panel discussion and reception will take place in the connecting lobby.
Daniel Arellano is an ex-ASARCO worker. He grew up in Buena Vista, an El Paso, neighborhood close to the ASARCO smelter. A member of the United Steelworkers Union, Arellano worked at the smelter for 24 years, serving as a Motorman and a Slag Return man at the reverberatory furnace before being promoted to Acid Plant Operator. Arellano was a leader in the struggle to prevent ASARCO from re-opening in El Paso, and has been a persistent voice calling for justice for ASARCO's workers since the smelter closed in 1999.
Dave Cortez is the Central Texas Beyond Coal Organizer for the Sierra Club. He oversees the Sierra Club's Lone Star Chapter's Alliance Program, organizes with Moody for El Paso, and works with Texas Renewable Energy Industries Association Austin (TREIA), and EcoNetwork.
Anne Fischel is a documentary filmmaker and member of the faculty at the Evergreen State College in Olympia, Washington where she teaches programs in Documentary Media and Community Studies. She is co-director of No Borders: Work, Environment and Justice in ASARCO-impacted Communities, and has worked extensively with local communities, unions and environmental groups.
Kelly Haragan is a clinical professor and Director of the Environmental Clinic at Texas Law. Prior to joining the Clinic, Haragan worked as legal counsel for national nonprofits including: the Environmental Integrity Project in Washington DC, Environmental Defense Fund in Austin, and Public Citizen's Austin office. She also worked at the Austin firm Henry, Lowerre, Johnson, Hess & Frederick, representing citizen and environmental groups in permitting and enforcement matters. Haragan specializes in Clean Air Act permitting and enforcement.
Lin Nelson is a writer, researcher and faculty emeritus at the Evergreen State College, where she taught programs in Environmental Health and Community Studies. She is co-director of No Borders: Work, Environment and Justice in ASARCO-impacted Communities. Lin has served on the board of the Washington Toxics Coalition and is the former co-director of the Central New York Committee on Occupational Safety and Health.
Carlos Rodriguez is a community activist and an ex-ASARCO worker. A lifelong resident of El Paso, he worked for the company for 32 years as an electrician, while serving as chief steward for his union, the United Brotherhood of Electrical Workers. Rodriguez was a leader in the struggle to prevent ASARCO from re-opening in El Paso. Since its final closure, he has been active in seeking medical monitoring and compensation for ASARCO's workers.
Supporters
Presented by the Humanities Institute as part of the "Controversy and Conversation" film series, with support from the Rapoport Center, the Austin Public Library, Texas Law's Environmental Clinic, the Sierra Club, and Evergreen State College.