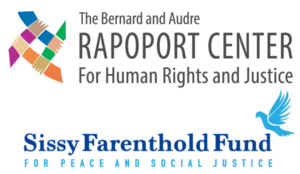 April 7, 2023: Attend the Rapoport Center Graduate Workshop in Human Rights and Social Justice
Call for Papers: Rapoport Center Graduate Workshop in Human Rights and Social Justice
Friday, April 7, 2023, 9 am - 4:30 pm, University of Texas at Austin Campus
Sign up to become a discussant!
The Rapoport Center for Human Rights and Justice invites UT graduate and professional students to discuss their work at a Spring 2023 inter-disciplinary workshop that will include graduate students and faculty members whose work relates to human rights and social justice. The workshop will connect students to peers working in other disciplines, as well as an interdisciplinary group of faculty members who will give substantive feedback on scholarly work. Workshop participation requires a "work-in-progress" relating to human rights or social justice. These can be class papers, draft articles or book chapters, a thesis or dissertation section or chapter, or other scholarly projects that participants intend to refine and publish. Discussion drafts of these papers should be 3000 to 5000 words long.
About the Graduate Student Workshop:
When: Friday, April 7 from 9:00 am to 4:30 pm (lunch provided)
Where: University of Texas at Austin campus
Participation:
Faculty members and other graduate students who will not present work are also invited to participate as discussant—meaning you can attend the workshop and participate in group discussions. To be a discussant at this workshop, please fill out the interest form and indicate that you are RSVP-ing as a graduate or faculty discussant.
Please
register
by March 31 at noon in order to be included on the workshop's lunch order.
For questions, contact Cooper Christiancy at cchristiancy@law.utexas.edu.