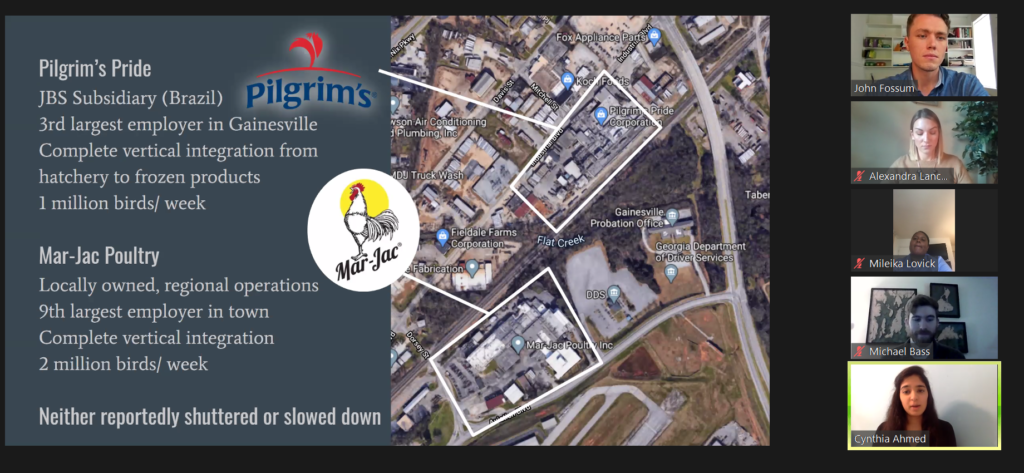 The Persistence of Inequality: "Essential" Work and COVID-19
NEW: Videos of research presentations posted below!
The deadly and debilitating impact of the COVID-19 pandemic can be felt in every community and country around the world, but it is not experienced equally. Using theoretical frameworks including racial capitalism, we begin to explain why racialized groups suffer disproportionately, particularly as they often work in low-paying and already dangerous jobs that have come to be deemed "essential" during the pandemic. In the United States, low-income Black and brown, often undocumented, workers in the construction, food, and care sectors have proven particularly susceptible to contracting and developing serious illness from coronavirus.
In conjunction with a new project on the future of work, Rapoport Center professors and co-directors Karen Engle and Neville Hoad have, with summer interns and fellows, teamed up with Professor Dan Danielsen and current and recently graduated law students from Northeastern Law School as well as Harvard Law Professor Lucie White and a number of students from around the Harvard campus. The resulting team, made up of over thirty researchers, is developing case studies about COVID-19 "hot-spots," mostly in the United States, in each of these sectors. The case studies focus on the economic, political, historical, and legal drivers of racial and ethnic inequality—such as law and regulations about immigration and migration, worker safety, fair labor standards, corporate governance, taxation, health care, and social provisioning—that negatively affect worker bargaining power, lived experience, and health outcomes. The studies include consideration of structural factors that make certain work "essential," such as urban growth policies in some cities that displace Latinx (and other low-income, often racialized, populations) while at the same time relying on them to provide labor for the growth. Together, these drivers show how the economic insecurity of affected workers was structurally established well-before COVID-19 emerged as an exacerbating circumstance. Yet, the pandemic makes it urgent that propose better legal and political interventions, not simply to address COVID-19 but to  target the underlying structural forces that render workers now deemed "essential"  so susceptible to its inequitable effects.
Research teams have developed case studies on the following sites:
Construction: Austin, Texas; San Francisco, California; and Pakistani migrants repatriated from the United Arab Emirates (UAE);
Care: Chelsea, Massachusetts;
Food Processing: Gainesville, Georgia; and
Food and Care: Immokalee, Florida
VIDEOS: RESEARCH TEAM PRESENTATIONS
COVID-19 Hot Spot Presentations I | July 27, 2020
Introductory Remarks (00:00)
Presentation: Food Processing Workers in Gainesville, Georgia (10:49)T
Cynthia Ahmed (Harvard), Michael Bass (Northeastern), John Fossum (Texas), Alexandra Lancey (Northeastern), Mileika Lovick (Northeastern), and Catie Barr (Harvard)
Q&A: Food Processing Workers in Gainesville, Georgia (36:33)
Presentation: Food and Care Workers in Immokalee, Florida (50:57)
Betty Akoh (Northeastern), Mary Galstian (Harvard), Sean Hansen (Northeastern), Marcus Mitchell (Harvard), Guy Priver Harvard), and Catie Barr (Harvard)
Presentation: Care Work in Chelsea, Massachusetts (1:29:12)
Oluwatobi Ariyo (Harvard), Kevin Chen (Harvard), Rebecca Horwitz-Willis (Harvard), Leanna Katz (Harvard), Orlando Ochoa, Jr. (Texas), Sanjana Singh (Harvard), Robin Woolford (Northeastern), and Sabrina Zhang (Harvard)
Q&A: Care Work in Chelsea, Massachusetts (1:51:13)
Day I Concluding Remarks (1:58:36)
COVID-19 Hot Spot Presentations II | July 29, 2020
Introductory Remarks (00:00)
Presentation: Construction workers in Austin, Texas (10:32)
Sam Tabory (Harvard), Jacob Blas (Texas), and Michael Bass (Northeastern)
Q&A: Construction workers in Austin, Texas (37:33)
Presentation: Construction workers in San Francisco, California (44:34)
Adaylin Alvarez (Texas), Angela Gichinga (Harvard), and Henry Sturm (Northeastern)
Q&A: Construction workers in San Francisco, California (1:03:33)
Presentation: Repatriated Pakistani construction workers from the UAE (1:19:56)
Paul Lyons (Northeastern), Gowthaman Ranganathan (Texas), Sarah Eleazar Sadiq (Texas), and Mishal Khan (Texas)
Q&A: Repatriated Pakistani construction workers from the UAE (1:45:30)
Day II Concluding Remarks (1:58:58)