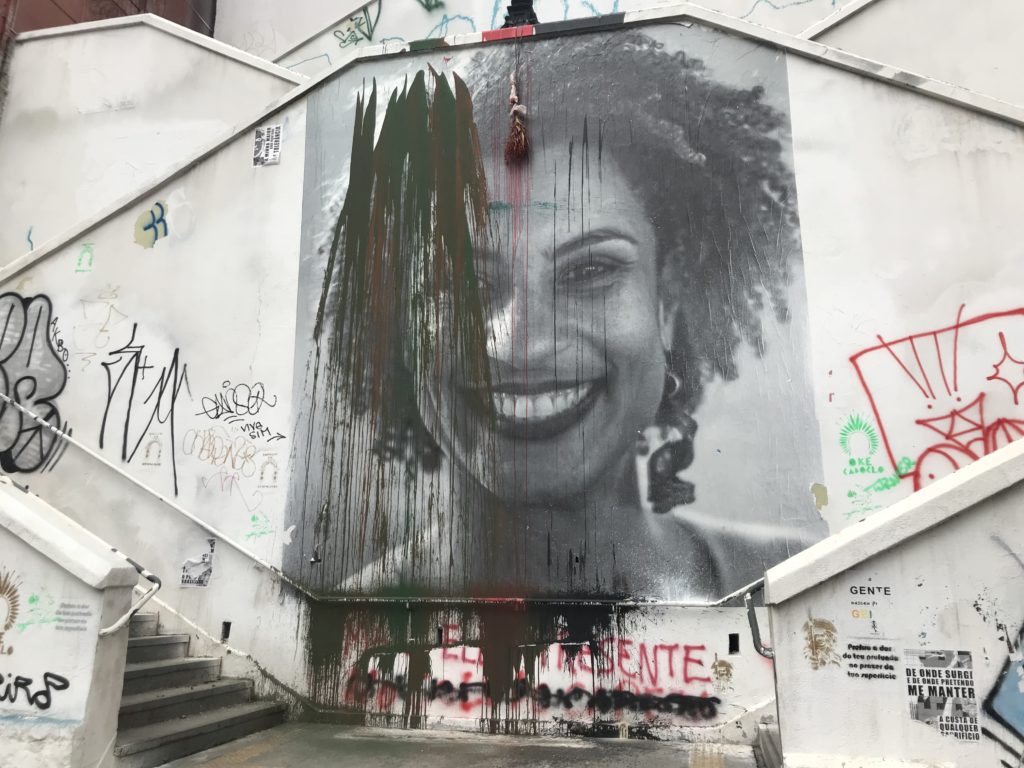 Marielle Franco and the Brazilian Necropolis: Assassination and After Lives
By Xavier Durham
On March 14, 2018, news of the murder of Rio de Janeiro Councilor Marielle Franco rocked Brazil. A queer black woman, mother, feminist, and champion of Rio's favela residents, Franco was an outspoken critic of police brutality. Her ascension as a human rights activist and elected representative gave hope for favela residents, especially Afro-Brazilian women vying for a voice in politics [1]. However, less than two years after her election, Marielle Franco was the victim of a coordinated assassination, along with her driver Anderson Pedro Gomes [2].
On March 12, 2019, the eve of the first anniversary of Franco's murder, federal investigators in Brazil arrested two former police officers—Ronnie Lessa and Elcio Vieira de Queiróz—for their involvement in the killings. Both suspects were members of the Escritório do Crime (Crime Office), a criminal organization run by former and current law enforcement officials in the Rio das Pedras neighborhood of Rio de Janeiro [3]. Franco's allies have long suspected that such groups, known in Brazil as militias, ordered her assassination. Their concerns held weight for four reasons: 1) Franco openly denounced former President Michel Temer's order to militarize the city of Rio de Janeiro in February 2018 [4]; 2) the recovered bullet casings belong to ammunition purchased by the Federal Police in 2006 (the bullets used to kill Franco were reportedly stolen from a post office) [5]; 3) five cameras (that belong to Rio's Security Department) along the route where Franco was assassinated were shut off anywhere between 24 and 48 hours prior to the killing [6]; and 4) extrajudicial killings and cover-ups involving police officers in Brazil rarely undergo investigation and point to a macabre, cyclical impunity [7]. Despite the arrests of Lessa and Vieira, Afro-Brazilians and the poor harbor serious doubts about obtaining justice, either for Marielle Franco and Anderson Gomes or the countless other black Brazilians killed by police every day.
Barbara Harlow's work on assassinations provides a useful frame for addressing the structural underpinnings of these killings. Instead of relying on the state to play "detective" and investigate crimes, we must understand how the state determines the nature of crime and those it criminalizes [8]. Afro-Brazilians take little solace in the Brazilian government's promise to prosecute those who pulled the trigger in Franco's case, given how the state continues to perpetuate an unwavering politics of death. As Harlow might ask, what hope for justice is there for any and all black victims given that the circumstances of Franco's death have been replicated time and time again [9]? Indeed, the very state that they uphold as an arbiter for justice is actually the conduit through which the most structural, anti-black sentiments proliferate and remain entrenched.
Franco's assassination reflects the violent, banal reality of police anti-blackness in Brazil. But it is also part of the quotidian nature of white supremacy and the attendant everyday experiences of anti-blackness that the spectacle of police violence obscures [10]. The spectacle of violence does not stop with the state as death squads [11]; indeed, private security also takes center stage [12]. After violent death has occurred, mourning friends and family remain vulnerable to threats and harassment from police to encourage absolute silence and deter investigation [13]. Thus, the emotional and psychological impact of anti-black state violence transcends the victims' families and bleeds out into their communities, corrupting the health and vitality of those stuck in a shadow of death (i.e., Afro-Brazilian mothers). Black execution is nothing short of genocide.
The violent cycle feeds into what anthropologist Jaime Alves calls the "Black Necropolis," whereby the interpellation of blackness excludes Afro-Brazilians from the rights of citizenship and, ultimately, their own lives [14]. Fatal interpellation and the direct connection to the Brazilian state is best summarized by the popular truism, "if you want to know who is black and who is not in Brazil, just ask the police" [15]. This axiom affirms that blackness is defined by its proximity to state violence and coercion. Alongside this sobering reality, Marielle Franco's assassination illuminates how the Brazilian state maintains control through a violent politics of death, and how state-centered justice is virtually unattainable, especially in the face of dissent.
By examining the assassinations of political dissidents and writers speaking out against state oppression, Harlow illuminated those who lived by the pen and died by the sword, all of whom were in the pursuit of radical justice. Her critical analysis of the complexity of assassinations, exposing the violent innerworkings of the state, translates to the circumstances surrounding Marielle Franco and anti-black violence in Brazil. Like dissidents before her, Franco was a threat to an established order that upheld the status quo and praised a neoliberal bent of progress. Her opposition is exemplified in her denouncement of former President Michel Temer's order to deploy federal troops to favelas under the guise of crime reduction and security [16]. For that, her silence was paramount within the particularities of a macabre, death-driven logic all too common to the Brazilian state's repertoire [17]. Indeed, to rely on the state to confront the pervasiveness of one of its foundational components through criminal investigation is to reinforce this component and uphold the state's legitimacy as it stands. Harlow understood the fraught nature of political dissent and how justice cannot come from the propagator of injustice lest we remain satisfied with cosmetic solutions to deeply-entrenched structural issues.
The Brazilian state cannot and will not provide the avenues necessary for justice, and until the Necropolis crumbles, convictions for the murders of Marielle Franco and Anderson Gomes are mere parodies. Therefore, activists carrying on the struggle today must reimagine the future of Brazilian governance through a radical and intersectional political agenda that honors Franco's legacy. Among the necessary components to this radical reimagining of Brazil, black life must be affirmed and elevated beyond mere survival; Afro-Brazilians must thrive. For now, the struggle continues as activists across Brazil rally against police brutality in a state where they were otherwise never meant to survive. Through these campaigns, Marielle Franco lives on.
#MariellePresente
#AndersonPresente
Xavier Durham was the inaugural Barbara Harlow Intern in Human Rights and Social Justice at the Rapoport Center, in Spring 2018. He will soon begin the second year of his PhD program in Sociology at the University of California, Berkeley. After studying Black Feminist activism in Rio de Janeiro in the Summer of 2016, Xavier hopes to return in the Summer of 2020 to resume his work on private policing, surveillance, and anti-black violence.
Bibliography
Theresa Williamson, "Marielle Franco's Legacy the the fight for Rio's, and Brazil's, Future," RIOONWATCH, March 21st, 2018, http://www.rioonwatch.org/?p=42394.
Dom Phillips, "Marielle Franco: Brazil's favelas mourn the death of a champion," The Guardian, March 17, 2018, https://www.theguardian.com/world/2018/mar/18/marielle-franco-brazil-favelas-mourn-death-champion.
Redação RBA, "'Escritório do Crime' está por trás do assassinato de Marielle," Rede Brasil Atual, March 12, 2019, https://www.redebrasilatual.com.br/politica/2019/03/escritorio-do-crime-esta-por-tras-do-assassinato-de-marielle.
Dom Phillips, "Brazilian army to take control of security in Rio as violence rises," The Guardian, February 16, 2018, https://www.theguardian.com/world/2018/feb/16/brazilian-army-rio-de-janeiro-michel-temer.
Leonardo Demori, Carolina Moura, Juliana Gonçalves, Yuri Eiras, and Bruna de Lara, "Who Killed Eduardo, Matheus, and Reginaldo?," The Intercept, March 21, 2018, https://theintercept.com/2018/03/21/marielle-franco-death-brazil-violence-police/.
teleSUR, "Brazil: Public Security Cameras En Route to Marielle Franco's Home Were Turned Off Before Assassination," May 4, 2018, https://www.telesurtv.net/english/news/Brazil-Public-Security-Cameras-En-Route-to-Marielle-Francos-Home-Were-Turned-Off-Before-Assassination-20180504-0002.html.
Human Rights Watch, Good Cops Are Afraid: The Toll of Unchecked Police Violence in Rio de Janeiro. São Paulo: Human Rights Watch, 2016: 5.
Barbara Harlow, After Lives: Legacies of Revolutionary Writing. New York: Verso, 1996: 22.
This question is a paraphrased re-wording of the next dilemma Harlow sees in the aftermath of assassination (See: After Lives, pg. 21).
Christen Smith, "Strange Fruit: Brazil, "Necropolitics, and the Transnational Resonance of Torture and Death." Souls 15, no. 3 (2013): 177–198.
Death squads are usually groups of vigilantes, current officers, and ex-military personnel that abduct and/or kill primarily Afro-Brazilians under the cover of night. The state's lack of investigation into cases involving alleged death squad participation highlights their complicity in the practice and reinforces its anti-black logic.
Martha K. Huggins, "Urban Violence and Police Privatization in Brazil: Blended Invisibility." Social Justice 27, no. 2 (2000): 113–134.
Christen Smith, "The Dangerous Game of Mourning the Dead: Police Violence and the Black Community in Brazil," Truthout, March 3, 2016, http://www.truth-out.org/speakout/item/35078-the-dangerous-game-of-mourning-the-dead-police-violence-and-the-black-community-in-brazil.
Jaime Alves, The Anti-Black City: Police Terror and Black Urban Life in Brazil. Minneapolis, MN: University of Minnesota Press.
Jaime Alves, "From Necropolis to Blackpolis: Necropolitical Governance and Black Spatial Praxis in São Paulo, Brazil." Antipode46, no. 2 (2014): 328 – 329.
Dom Phillips, "Brazilian army to take control of security in Rio as violence rises," The Guardian, February 16, 2018, https://www.theguardian.com/world/2018/feb/16/brazilian-army-rio-de-janeiro-michel-temer.
Ernesto Londoño and Lis Moriconi, "Ex-Officers Arrested in Killing of Marielle Franco, Brazilian Politician and Activist, https://www.nytimes.com/2019/03/12/world/americas/marielle-arrest-rio.html.
Related Faculty and Friends