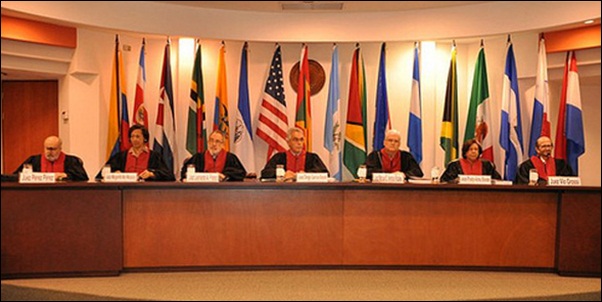 March 29, 2017
The Need To Increase Participatory Mechanisms at the Inter-American Court of Human Rights
by Karina G. Carpintero, an LLM student at Texas Law, concentrating in Human Rights and Comparative Constitutional Law, and member of the 2016-2017 Working Paper Series Editorial Committee.
The Inter-American Court of Human Rights has been subject to significant criticism regarding the absence of participatory mechanisms that allow societal actors to intervene in the inter-American process.  To some extent, these critiques reflect a similar demand that is occurring in the domestic realm.  Latin-American constitutional democracies present a scenario in which social movements, among many different types of other relevant stakeholders, aim to move forward toward more participatory schemes. Societies are beginning to challenge governments and institutions with demands for more transparency, accountability, and concrete deliberative mechanisms.
The Inter-American Court of Human Rights has just one available method for outside actors to participate in its international process: amicus curiae briefs. The process entails submitting a written brief before the hearing of an individual case or advisory opinion takes place. Unfortunately, the impact these briefs have is almost null. There is not necessarily any consideration of what the amicus argues, which can be understood as the 'claim of society' in an individual case. Because this is the only road to make societal voices heard, there is clear difficulty in accessing "inter-American justice."
However, realizing how narrow access to this international process is, and debating about it, does introduce an opportunity to start thinking about ways to improve it. The Court should reconsider its procedures in order to enact fruitful strategies that lead to more active participatory methodologies. In fact, there are some alternatives that the Court could take as steps towards that aim. One effective reform could be using a virtual platform, like the internet, as an accessible tool that aids in shortening distances and reducing the economic costs of international actions. Another pathway for reform could be holding an open call for hearings, not only for the parties of individual cases as it does in its ordinary period of sessions, but also to individuals, advocates or organizations that participate in amicus briefs. A bolder method of reform could be considering formal changes to the Court's rules of procedures to encourage more democratic practices.  Without doubt, engaging in effectively increasing the level of participation at the international order is a difficult challenge to implement, but it is clear that amicus curiae briefs are insufficient as the sole available tool.
All in all, if the Inter-American Court assumes the role of informing the regional consensus about how human rights should be interpreted, protected and guaranteed, more clarity on how these consensuses are reached should be guaranteed. So, the next step for the Inter-American Court, and human rights advocates generally, is to search for more participatory mechanisms to legitimize the creation of conventional meaning.