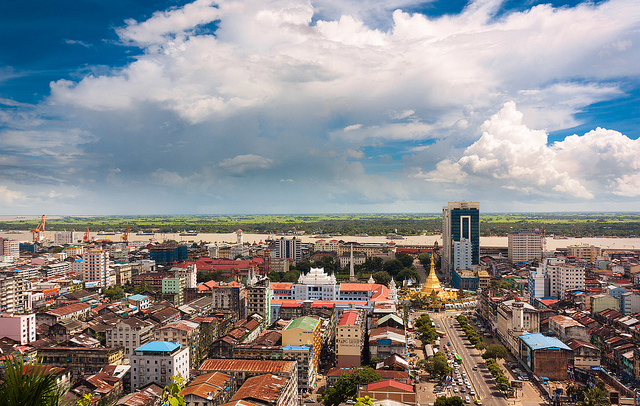 November 30, 2017
Shining Light on Bad Practices: Re-assessing Tools for Corporate Accountability in Burma
By Kate Taylor
Kate Taylor is a human rights lawyer and Postgraduate Fellow at the Rapoport Center for Human Rights and Justice, and is a member of the 2017-2018 Working Paper Series Editorial Committee. Her impressions in this post are drawn from her experience working in Burma on human rights reforms to the country's investment law regime. 
Over the last twenty years, transparency has become a watchword within international policy-making institutions. Specifically, enhanced transparency has emerged as a critical component in the pursuit of corporate accountability for human rights abuses. Transparency-enhancing initiatives related to corporate accountability have proliferated enormously over this period, and their various forms have diversified substantially — from voluntary codes of conduct to mandatory reporting requirements. Despite this breadth, nearly all transparency-enhancing initiatives, whether legally mandated by the state or voluntary private initiatives, push corporations to make periodic public disclosures of financial and non-financial matters (primarily regarding human rights, labor, environmental and anti-corruption).
For human rights advocates embracing transparency as an accountability tool in the business and human rights arena, the broadly stated theory of change is that shining light on bad corporate practices can lead to remedy and reform. Of course, human rights advocates who promote such transparency do not accept corporate disclosures at face value — and many are willing to scrutinize their veracity and completeness. Yet, in assessing advocacy and accountability tools in the business and human rights arena, it seems necessary to examine the opportunity cost of this focus on transparency, querying what it both overlooks and obscures.
Recent reforms to Burma's investment law illustrates the risks of over-emphasizing transparency as an accountability tool. Throughout 2016-17, the newly-sworn-in National League for Democracy (NLD) Burmese government rewrote its investment law, as well as its subordinate rules and regulations.  The reform process was undertaken by Burma's Directorate of Investment and Company Administration (DICA) with technical assistance from the International Finance Corporation (IFC).
Human rights NGOs provided feedback with the aim of embedding respect for human rights and the environment within Burma's new investment law regime. Ensuring that the Law and Rules incorporated rigorous transparency provisions was of fundamental importance to human rights advocates — bearing in mind the country's egregious legacy of business-related human rights abuses and the opacity which has long-characterized Burma's particular brand of crony capitalism.
Civil society feedback submissions covered a number of human rights issues and included transparency as a key concern. Notable among these suggestions was that the new government impose a set of "Responsible Investment Reporting Requirements," which would require businesses investing over a certain monetary threshold to publicly disclose an annual report addressing a wide range of issues, including human rights, environmental matters, labor rights, anti-corruption measures, property acquisition and military communications.
Ultimately, civil society submissions regarding transparency were among the few suggestions taken up by DICA and the IFC in the re-writing of the new Investment Law and Rules. The final iteration of the Rules requires basic project information to be publicly disclosed before the government makes large-scale investment decisions. Additionally, it requires investors to submit annual reports on certain financial and non-financial matters to the Myanmar Investment Commission (which the Commission may decide to make public), including details of the investments' impact on the environment and local community — but the disclosure requirements are bare-boned and are not accompanied by serious institutional buy-in on the part of the Myanmar Investment Commission. Ultimately, the drafters were hostile to rigorous human-rights based reporting requirements, which would have required due diligence on the part of companies, despite the urging of human rights NGOs. It seemed that the government, together with the IFC, was willing to incorporate only the smallest measure of transparency into the legal regime.
Without much more, embedding strong transparency requirements into Burma's new investment law regime would do little to rectify the serious pathologies which characterize its business and human rights landscape. Enhanced transparency in Myanmar's investment climate may begin to foster responsible business practices and encourage due diligence, but it does not promise to address broader structural issues that directly cause or exacerbate business-related human rights abuses extant in Burma, such as reckless investments in conflict-affected areas, systemic corporate tax avoidance, mammoth land grabs and displacement, and chronically weak labor-rights institutions.
Indeed, allowing irresponsible businesses to proceed as long as their disclosure requirements are met annually may actually legitimate a range of harmful business practices and obscure others that are undisclosed. Frequently, corporate disclosure efforts (especially in weak institutional contexts, where the prospects for audit and scrutiny are scarce) are little more than public relations exercises, with scant connection to the businesses' real impacts on the ground. By emphasizing transparency as a global governance tool, we risk allowing corporations to give the allure of being a 'rights-respecting' or 'socially responsible' entities, with no substantive responsibilities being met to those most affected by their operations.
The focus on enhancing transparency also fails to support local communities affected by large-scale investments that frequently face intimidation and repression for speaking out against projects. Merely having information does little to open up spaces for contestation and access to justice. In addition, without linkages to domestic or transnational advocacy networks, 'access to information' means little for impacted communities. In the case of highly technical corporate disclosures, such reports can easily become sites of exclusion. The disclosure of a company's Environmental Impact Assessment (EIA) is a salient example. EIAs are largely unintelligible for those untrained in environmental management (and in Burma, are frequently disclosed in languages and terms not understood by impacted communities). Yet, in producing and disclosing an EIAs, companies often claim to have met their obligations toward community consultation.
As a governance tool, information disclosure and transparency fit well within the prevailing neoliberal logic and its preference for due process rights over substantive equalities. Human rights advocates would be remiss in their work to solely focus on such tools. Transparency is a laudable beginning for investments in Burma, but it is the start, and not nearly the end of the broader accountability project. The risk that mere transparency is conflated with accountability and justice should not be overlooked.