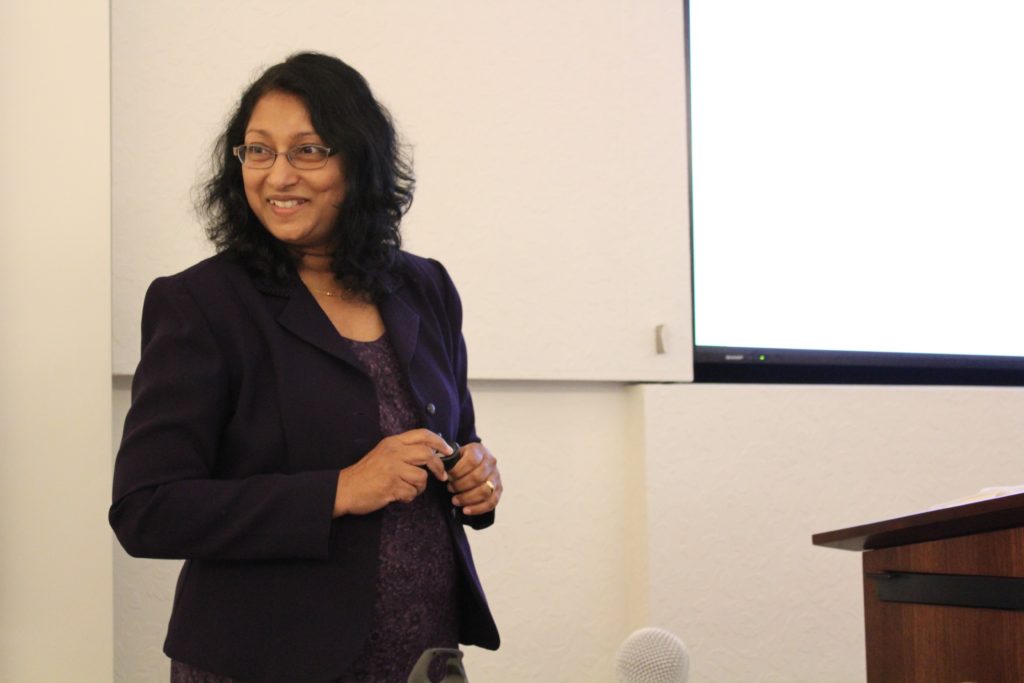 Extractive Industries and Inequality: Intersections of Environmental Law, Human Rights and Environmental Justice
Speaker:
Sumudu Atapattu

Director of Research Centers and Senior Lecturer, University of Wisconsin Law School
The Rapoport Center kicked off the Fall 2016 Colloquium on Natural Resource Governance, Inequality and Human Rights with a presentation on "Extractive Industries and inequality: Intersections of Environmental Law, Human Rights and Environmental Justice". The event featured Sumudu Atapattu, Senior Lecturer and Director of Research Centers at the University of Wisconsin Law School, and respondent James Cons, Assistant Professor of Anthropology at the University of Texas at Austin.
Following a welcome note and brief introduction by the Center's co-director Daniel Brinks, Sumudu Atapattu presented three case studies of human rights violations in extractive development: Shell Oil in Nigeria, Chevron in Ecuador and La Oroya Mining in Peru. In Nigeria, the oil consortium caused air, soil and water pollution which led to serious short- and long-term health impacts on locals, including skin infections, respiratory ailments and neurological and reproductive problems. Although the African Commission on Human and Peoples' Rights held that the practices of the Nigerian government fell short of the minimum conduct expected of governments to protect their citizens, the damage caused by private actors continues. Atapattu also highlighted suffering inflicted on people in Peru and Ecuador due to power asymmetries between large multinational companies and poor communities.
Atapattu situated the emergence of environmental human rights as a result of activism against the abuses caused in the exploitation of natural resources by private actors and failure of governments to prevent these. She emphasized two national level developments that contributed to their development at the international level: firstly, national level "environmental impact assessment process" and secondly, the environmental justice movement, first in the United States and around the world.
Atapattu pointed to several limitations of the current human rights framework for redressing violation of environmental rights. International law still does not recognize the right to a healthy environment as a stand-alone substantive right. Atapattu pointed to numerous challenges in realizing human rights, particularly the fact that transnational corporations are not subject to legally-binding human rights obligations, but only more voluntary standards and guiding principles.
She also complemented her analysis of environmental human rights with an environmental justice framework. In doing so, she drew on the "four-fold manifestation" of justice articulated by Robert Kuehn, addressing distributive, procedural, corrective and social justice. Atapattu stressed the need for an intersectional analysis in addressing violations of human rights. In conclusion, she stressed the need to address the underlying drivers producing the human rights violations that are too common in the extractive sector. Unless we do this, she suggested, "We will only be tinkering at the margins without achieving any real results."
Jason Cons response to the presentation raised four friendly provocations about the limitations of international human rights advocacy in an era of intensified resource extraction and climate change. He suggested that it might be productive to focus not just on the "extreme" cases of abuse, such as Shell in Nigeria, but also to examine more mundane forms of attritional environmental violence. Examining only the extreme cases, he suggested, "risks simplifying our notion of causality and narrowing our understanding of the process of resource exploitation". He also warned against a narrow focus on transnational corporations, reminding the audience that "extractive relationships are often predicated not simply on greedy corporate interests, but their deep seated relationships with both states and international development agencies such as the World Bank." Adding a caveat to Atapattu's positive assessment of the normalization of processes and procedures such as environmental impact assessment and stakeholder engagements, Cons warned that those technologies of accountability can have marked limits. He shared with Atapattu a concern about the limited effectiveness of legislation without a robust civil society and social movements to enforce and realize rights. He therefore asked what strategies could be developed by a community of internationally concerned citizens to help advance democratic engagement. In conclusion, Cons posited that discussions on environmental rights needed to be carried out in dialogue and in parallel with a project that rethinks and reinvigorates civil society.