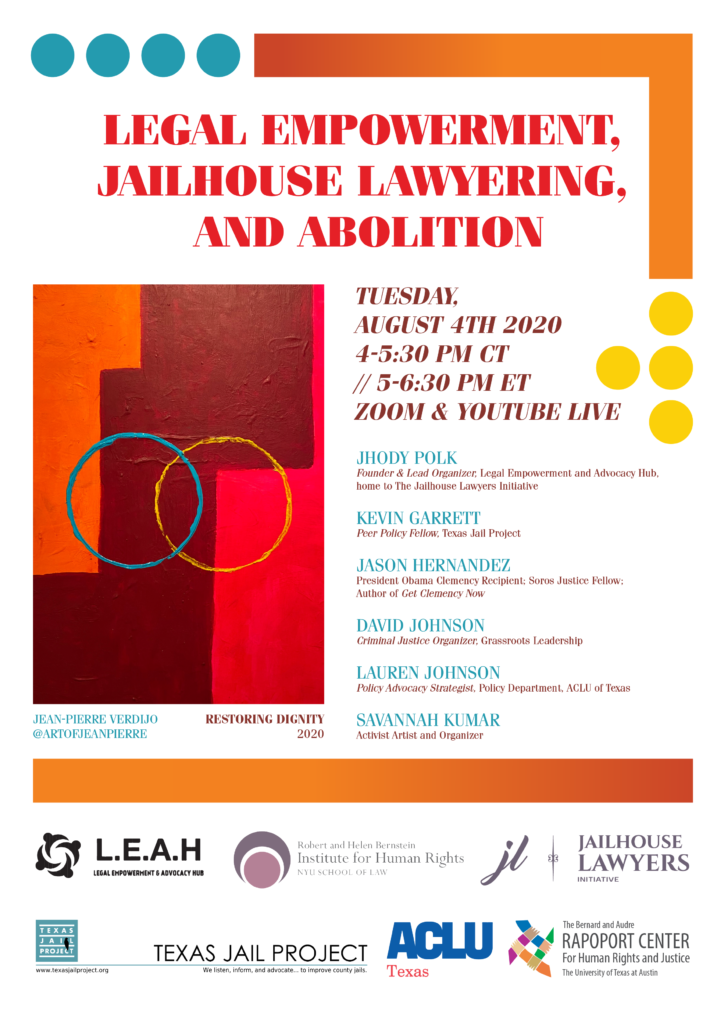 Legal Empowerment, Jailhouse Lawyering, and Abolition
Location:
Zoom & YouTube Live
In Fall 2019, the Rapoport Center's conference, "Prison Abolition, Human Rights, and Penal Reform: From the Local to the Global," featured a panel titled, "Legal Empowerment as Abolition." Panelists Jhody Polk, Kevin Garrett, Jason Hernandez, David Johnson, and Lauren Johnson joined in a conversation facilitated by Savannah Kumar.
On August 4, 2020, these six advocates reconvened to highlight the critical importance of engaging jailhouse lawyers–and incarcerated people generally–in the current movements for prison abolition and racial justice. Speaking from lived experience and advocacy, the panelists discussed issues such as legal empowerment, prison and jail conditions, parole, clemency, and re-entry.
Supporters
This webinar was co-sponsored by the Bernard and Audre Rapoport Center for Human Rights and Justice, Legal Empowerment & Advocacy Hub, the Robert and Helen Bernstein Institute for Human Rights, ACLU of Texas, Jailhouse Lawyers Initiative, and Texas Jail Project.