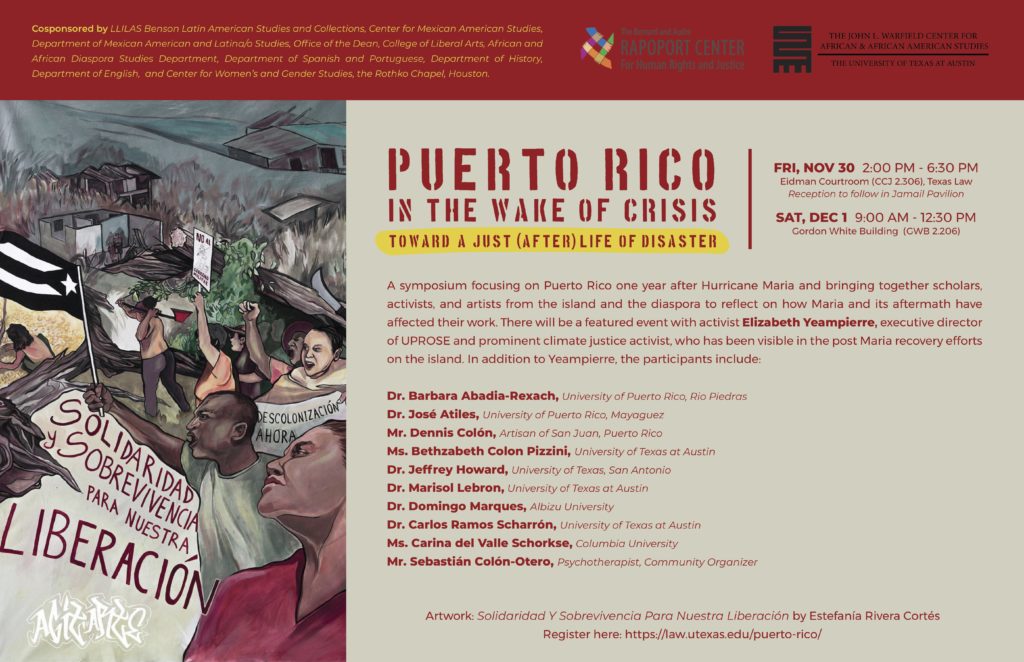 Puerto Rico in the Wake of Crisis: Toward a Just (After)life of Disaster
Location:
Eidman Courtroom (CCJ 2.306), Texas Law & Gordon White Building Multipurpose Room (GWB 2.206)
This symposium will focus on Puerto Rico one year after Hurricane Maria and will bring together scholars, activists, and artists from the island and the diaspora to reflect on how Maria and its aftermath have affected their work. Discussions will center around questions of equitable recovery, environmental and climate change related issues in the post-Maria landscape; the nexus of debt and colonialism and how that has been shaping the post-Maria moment; the mental health and mortality epidemics; energy and food sovereignty; and tourism. There will be a featured event with activist Elizabeth Yeampierre, executive director of UPROSE and prominent climate justice activist, who has been visible in the post Maria recovery efforts on the island. Yeampierre is also the 2018 Frances Tarlton "Sissy" Farenthold Endowed Lecture in Peace, Social Justice and Human Rights.
Supporters
The symposium is organized by Professor Mónica Jiménez (African and African Diaspora Studies; Rapoport Center Faculty Affiliate) and the Rapoport Center. Our generous co-sponsors include: the John L. Warfield Center for African and African American Studies, the Department of Mexican American and Latina/o Studies, LLILAS Benson Latin American Studies and Collections, the Center for Mexican-American Studies, the Dean's Office of the College of Liberal Arts, African and African Diaspora Studies Department, the Department of Spanish and Portuguese, the Department of History, the Department of English, the Center for Women's and Gender Studies, and Planet Texas 2050 at the University of Texas at Austin, and the Rothko Chapel in Houston.
Event Media
Related Files