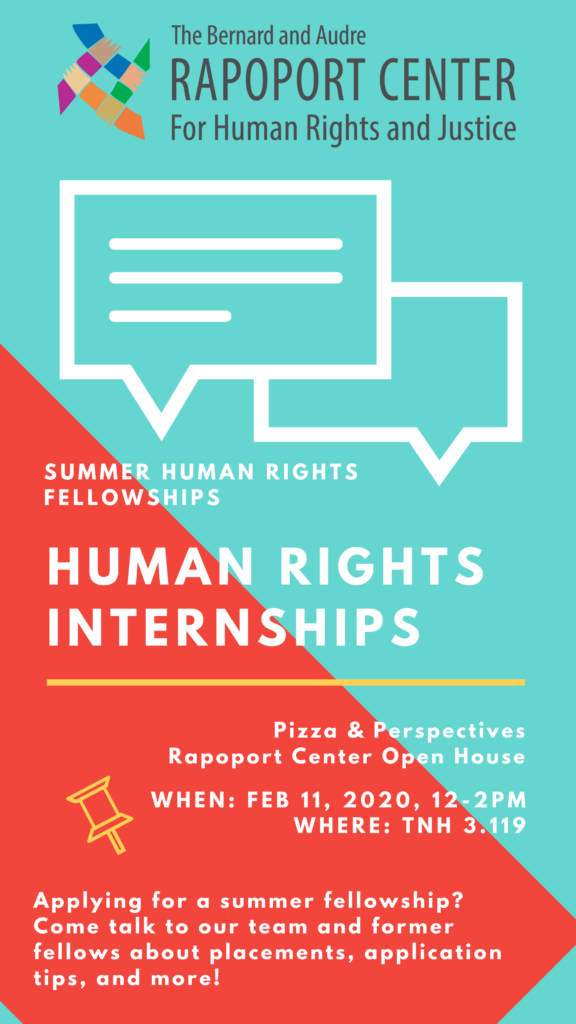 Summer Human Rights Fellowships | Pizza & Perspectives Open House
Applying for one of our summer human rights fellowships? Come talk to our team and former fellows about placements, application tips, and more!
On Tuesday, February 11, from 12:00—2:00pm, the Rapoport Center will host a human rights internship open house! We invite you swing by anytime during that window, to speak to Clinical Professor Ariel Dulitzky, Post-doctoral Fellow Eddie Shore, and a number of our former summer human rights fellows. Ask questions, pick their brains about placements, talk to us about how to strengthen your applications to organizations, and more! As the fellowship deadline of March 9 is approaching, we hope you'll take advantage of this opportunity. The following former fellows will be around to answer questions, and of course, we'll have pizza and drinks for everyone!
Kirsten Kumar, summer 2019 fellow at Refugee Services of Texas, Austin: 12:30pm—2pm
Enrique Ramirez-Martinez, summer 2019 fellow at ACLU of Northern California, San Francisco: 12—1pm
Ramsey Schultz, summer 2019 fellow at Juvenile Justice Advocates International, Mexico City: 12—1pm
Oriane Leake, summer 2019 fellow at Diocesan Migrant and Refugee Services, El Paso; and Reprieve, London, England: 12—2pm
Billy Pavord, summer 2019 fellow at Lawyers for Human Rights, Pretoria, South Africa: 12—2pm
Sadikshya Nepal, summer 2019 fellow at Center for Migration Studies, New York City: 12—2pm
Elizabeth Hamilton, summer 2019 fellow at Dentons, Port Louis, Mauritius
We hope to see you there!