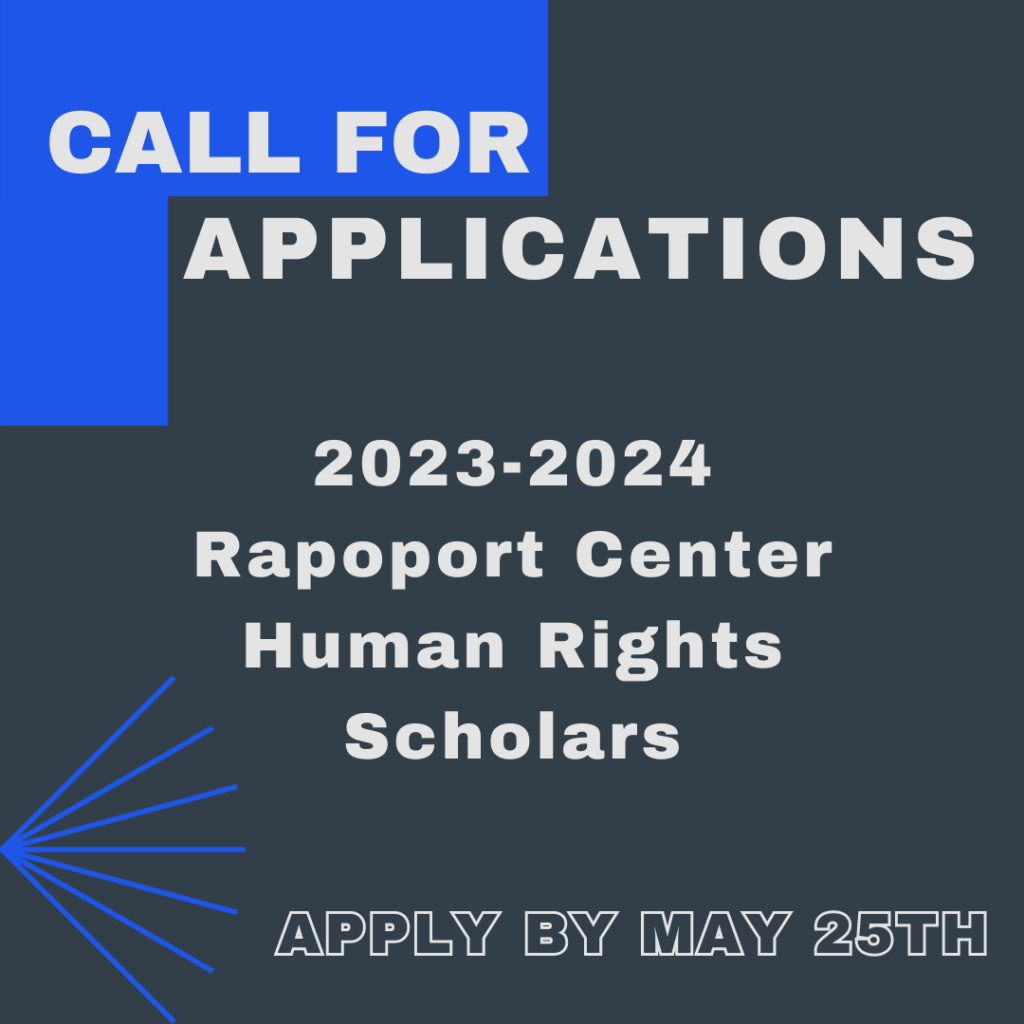 Rapoport Center Human Rights Scholars
Applications for the 2023-2024 academic year are now open. Apply by May 25, 2023.
The Bernard and Audre Rapoport Center for Human Rights and Justice at the University of Texas School of Law is now accepting scholarship applications from UT law students to serve as Human Rights Scholars for the 2023–24 academic year. The Rapoport Center serves as a vibrant, interdisciplinary institute at the intersection of academics and advocacy. Human Rights Scholars, as promising leaders in human rights and social justice, play a vital role in the Center's advocacy, research, outreach, and programs.
The Center plans to award three scholarships, at least one of which will be dedicated to work in reproductive justice. Each Human Rights Scholar will receive a $6,000 scholarship and spend an average of 10-12 hours/week at the Center over the course of the year. Rising 2Ls and 3Ls, as well as L.L.M. students, are eligible to apply.
Human Rights Scholars work to advance the Rapoport Center's human rights programming, promote connections with UT-Austin's interdisciplinary human rights community, and provide support for the Center's projects.
As part of their work with the Rapoport Center, Human Rights Scholars may:
provide legal and scholarly research support to Center staff;
serve on an editorial board for a working paper series reviewing professional scholarship;
help plan an academic conference, workshop, or speaker series, including the Center's Fall Colloquium on Reproductive Justice, Criminal Law, and the Carceral State;
provide new ideas for Rapoport Center programs;
collaborate with the Rapoport Center's partners on and off campus,
network with graduate affiliates and alumni; and
provide mentorship to undergraduate students.
At least one Human Rights Scholar will be designated as the Sissy Farenthold Scholar in Reproductive Justice. The Reproductive Justice Scholar will support Rapoport Center staff associated with the Sissy Farenthold Reproductive Justice Project. They will engage in research, advocacy, and programming at the intersection of criminal law and reproductive rights, with a particular focus on over-criminalized communities in Texas.