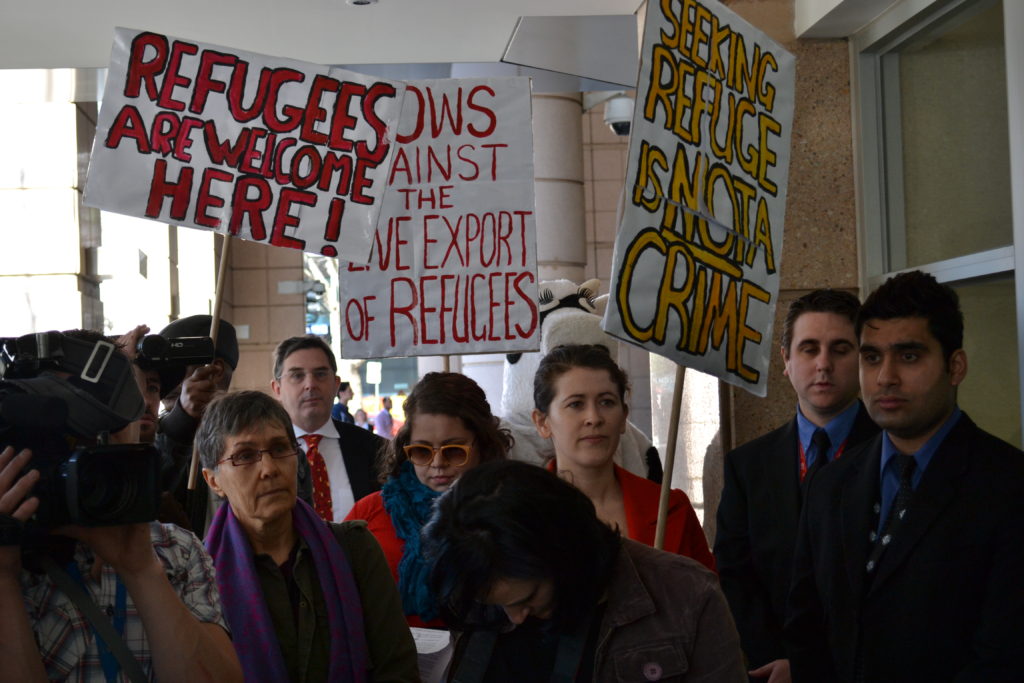 March 2, 2017
"Are Refugees Really Not Welcome?"
By Courtney McGinn and Reina Wehbi
"#RefugeesNotWelcome: Making Gendered Sense of Transnational Asylum Politics on Twitter" by Inga Ingulfsen is the winning paper of the 2016 Audre Rapoport Prize for Scholarship on Gender and Human Rights, an interdisciplinary writing competition organized by the Rapoport Center for Human Rights and Justice. In 2017, Ingulfsen wrote a follow-up article to #RefugeesNotWelcome  addressing why critical feminist scholarship is now more important than ever.
In this piece, Ingulfsen creatively uses new methodologies to explore the "contentious landscape of asylum politics" by analyzing the gendered discourses used by Twitter users who tweet with the hashtag #refugeesnotwelcome. In doing so, Ingulfsen unveiled that Twitter users justify refugee exclusion by imaging themselves as a "White Western Enlightened community" in binary opposition to refugees, who are deemed threats to their community. This process of binary construction is inherently gendered due to the fact that refugees (specifically Muslim refugees) are often depicted as barbaric, violent men who frequently objectify, abuse, and oppress women.
In the beginning, Ingulfsen gives insights into the evolution of contemporary asylum politics through history, statistics and a comparison of attitudes of different western communities towards asylum and immigration. She also showcases the increasing challenges faced by both refugees and asylum regimes who are sometimes unable to accommodate the large influx of migrants.
Since Twitter today serves as a platform for the "global flow of real-time reactions and opinions" worldwide, Ingulfsen sheds the light on users' different patterns of behavior. She describes the mainstream pattern as "unequal participation" because the majority of the content on Twitter is produced by a small group of opinion makers who shape the public discourse. The majority of Twitter users disseminate the material through "re-tweeting" what that small group of opinion leaders have to say. Throughout her argument, Ingulfsen reflects on the impact of such a course of online activity on the refugee crisis.
Ingulfsen then explores the gendered discursive strategies employed by Twitter users who 'imagine' refugees as 'not welcome.' Her research methodology focuses on analyzing English-language tweets with the hashtag #refugeesnotwelcome, guiding the reader into the steps of her analysis process. To explain her findings, Ingulfsen presents a set of tweets that perceive the Muslim migrants as culturally different, barbaric, and oppressive; thus justifying their exclusion. In the end, Ingulfsen stresses on the importance of deconstructing anti-immigrant rhetoric.
This piece comes at a very troublesome time for refugees and immigration in general. Recently, President Trump signed an executive order to keep refugees and immigrants from seven predominantly Muslim nations out of the United States for a specified period of time. Refugees and immigrants were banned from entering the country for 120 days. The countries affected are Iran, Iraq, Syria, Sudan, Libya, Yemen and Somalia. Even more daunting is the fact that the White House Chief of Staff, Reince Priebus, said more countries could be added to Trump's order in the future.
Although green card holders and individuals with valid visas were supposed to be excluded from the ban, that was not what actually played out. As reported by CNN, some travelers who were in the air when Trump signed the order were not able to enter the country when they landed. Some were detained and others were sent back to the country of origin. The confusion of who was included or excluded from the travel ban came from the fact that career homeland security staff were only allowed to see the final details of the order on the day it was signed by Trump. In the following days, airports struggled to adjust to the new directive. [1]
Although presidents have broad power in shaping immigration policy, many deem this executive order as unconstitutional based on its discriminatory nature. On its face, the order does not discriminate on the basis of religion or even mention Muslims. The Supreme Court of the United States has held that a facially neutral law may still be deemed unconstitutional based on the discriminatory intent of that law. In regards to Trump's intent, Professor Corey Brettschnieder from Brown University stated the following:
[A] closer look at the executive order's origins makes clear that it is a direct assault on the fundamental constitutional values of equal protection and religious freedom. How do we know this? Because Trump's adviser, former New York Mayor Rudy Giuliani, told us so.
Interviewed on Fox News on January 28, Giuliani explained how the administration's immigration policy morphed from one that was obviously unconstitutional to one that is more subtly so. Host Jeanine Pirro asked, "Does the ban have anything to do with religion?" In response, Giuliani said, "When [Trump] first announced it, he said 'Muslim ban.' He called me up, he said, 'Put a commission together, show me the right way to do it legally.'" "It," in this case, of course, is a ban on Muslims. Giuliani's admission is a textbook case of drafting an order in a way that avoids overt declaration of animus against a religious or ethnic group, while retaining the motive and much of the effect.[2]
Similarly, lower courts have already shown their resistance. In New York, a federal judge granted an emergency stay for citizens of the countries included in the ban and ruled they cannot be removed from the U.S. Similarly, in Boston, federal judges ruled officials cannot detain a person on the basis of Trump's executive order.[3] In Washington, a federal court issued a stay, which stopped detained travelers from being sent back to their home country. After the 9th Circuit Court of Appeals heard oral arguments over whether to lift the temporary halt to the travel ban, the three judge panel unanimously held that the travel ban will remained blocked.[4] Although there has been great opposition to the Trump Administration's actions thus far, things look far from over. On February 9, 2017, in response to the 9th Circuit's decision, Trump took to Twitter per usual, stating, "SEE YOU IN COURT, THE SECURITY OF OUR NATION IS AT STAKE!" Trump is expected to issue a replacement order in the near future.
Instigated by anti-immigration xenophobic rhetoric, hundreds of cases of hateful harassment or intimidation have been reported during the month after election day.[5] Hate speech and bias-related incidents took place on streets, schools and groceries.[6] According to CNN, overall reported hate crime rate spiked 6% since the elections. However, the actual rate could be higher since the majority of incidents go unreported.[7]
Due to today's current issues, Ingulfsen's emphasis on the importance of deconstructing anti-immigrant rhetoric could not be more appropriate. Inga Ingulfsen's presented her research to the data and research team at UN Women. You can view the complete published paper here.
Courtney McGinn is an LLM student at Texas Law, concentrating in Human Rights and Comparative Constitutional Law, and member of the 2016-2017 Working Paper Series Editorial Committee.
Reina Wehbi is a Fulbright grantee from Lebanon currently pursuing her LL.M in Human Rights and Comparative Constitutional Law at the University of Texas at Austin. She graduated with an LL.B from the Lebanese University in Beirut.
[1] http://www.cnn.com/2017/01/30/politics/trump-travel-ban-q-and-a/
[2] http://www.politico.com/magazine/story/2017/02/why-trumps-immigration-rules-are-unconstitutional-214722
[3] http://www.cnn.com/2017/01/30/politics/trump-travel-ban-q-and-a/
[4] http://cdn.ca9.uscourts.gov/datastore/opinions/2017/02/09/17-35105.pdf
[5] https://www.splcenter.org/hatewatch/2016/12/16/update-1094-bias-related-incidents-month-following-election
[6] http://www.cnn.com/2016/11/10/us/post-election-hate-crimes-and-fears-trnd/
[7] http://www.cnn.com/2016/11/10/us/post-election-hate-crimes-and-fears-trnd/