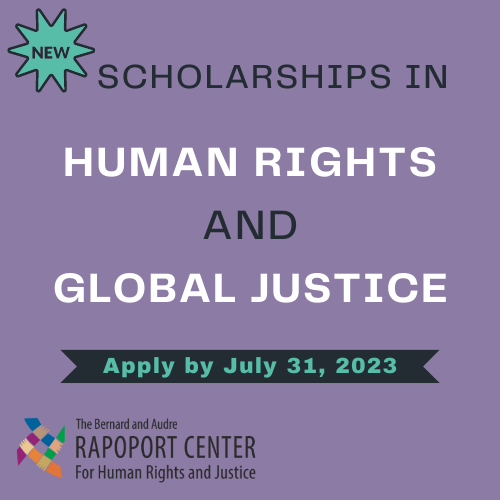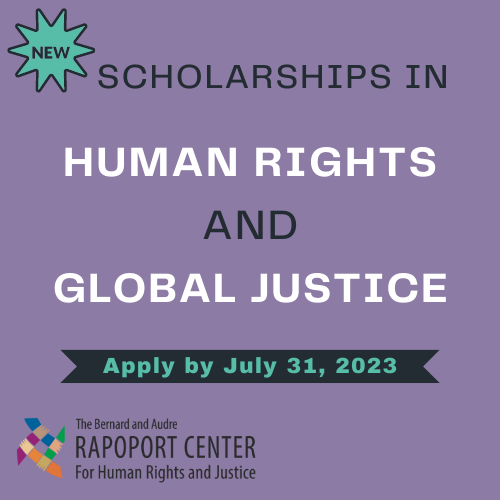 Graduate Student Human Rights Scholar
The Bernard and Audre Rapoport Center for Human Rights and Justice is seeking a current UT graduate or professional student to serve as its Graduate Human Rights Scholar for the 2023–24 academic year. The Rapoport Center serves as a vibrant, interdisciplinary institute at the intersection of academics and advocacy. The Graduate Human Rights Scholar will be responsible for coordinating the activities of Rapoport Center affiliated graduate students network; they will also work with Rapoport Center staff to coordinate interdisciplinary activities in human rights. The Center is particularly interested in Scholars who can support our work on our thematic priorities, including reproductive justice, environmental and climate justice, peace, and the gendered and racialized dimensions of work and livelihoods.
Applicants should be excellent communicators, writers, and organizers. They should be self-driven and passionate about working across academic silos. Prior experience organizing events and workshops at UT or other academic institutions is highly preferred.
As part of their position, the Graduate Human Rights Scholar may:
Help coordinate the Rapoport Center's Working Paper Series, recruit members for its editorial committee, and solicit works in progress for the Series;
Organize a panel to highlight research performed by the recipients of the Rapoport Center's Graduate Fieldwork Grants;
Plan and execute the Center's Spring Interdisciplinary Workshop, connecting graduate works-in-progress to peer and faculty respondents;
Coordinate and promote undergraduate research human rights and social justice;
Identify and pursue other opportunities for interdisciplinary exchange and human rights community-building at UT, as deemed necessary.
The Graduate Human Rights Scholar will be expected to work in-person at the Rapoport Center in the Law School for approximately 10-12 hours per week over the course of the 23-24 academic year. The Fellow will receive a $6,000 scholarship in recognition of their achievements and service to the UT scholarly community through the Rapoport Center.