Faculty Profile: Craig D Ball
Main Profile Content
Featured Work
Electronically Stored Information in Maryland Courts
Maryland State Bar Association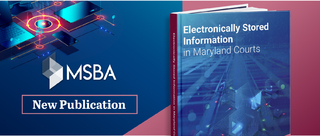 Craig Ball contributed two chapters to this encyclopedic publication.
Description: Both the law and the profession have raced to keep pace with technological changes that define the early 21st century. While these changes have had a profound impact on every practice area, issues inherent in the transition from hard-copy to electronically stored information (ESI) came quickly to the fore in the context of civil discovery. The ensuing chaos led to soaring litigation costs and struck terror into the hearts of attorneys traversing the previously uncharted terrain of ESI. After years of common law development, amendments to the rules of procedure, and sustained effort of practitioners, jurists, and academics to address these issues, a principled, rules-based discovery regime brought some order to the chaos. The journey, detailed in Electronically Stored Information in Maryland Courts, contains lessons for all.
Read more
Biography
Craig Ball is a Texas trial lawyer, certified computer forensic examiner, law professor and electronic evidence expert He's dedicated his career to teaching the bench and bar about forensic technology and trial tactics. After decades trying lawsuits, Craig limits his practice to service as a court-appointed special master and consultant in computer forensics and e-discovery. A prolific contributor to educational programs worldwide--having delivered more than 2,000 presentations and papers--Craig's articles on forensic technology and electronic discovery frequently appear in the national media. For nine years, he wrote the award-winning syndicated column on computer forensics and e-discovery for American Lawyer Media called "Ball in your Court." Craig Ball has served as the Special Master or testifying expert on computer forensics and electronic discovery in some of the most challenging, front page cases in the U.S. Craig Ball is the State Bar of Texas' 2019 recipient of the Gene Cavin Award for Excellence in Continuing Legal Education. For his articles on e-discovery and computer forensics, please visit www.craigball.com or his blog, www.ballinyourcourt.com.
EDUCATION Rice University (B.A., 1979, triple major); University of Texas (J.D., with honors, 1982); Oregon State University (Computer Forensics certification, 2003); EnCase Intermediate Reporting and Analysis Course (Guidance Software 2004); WinHex Forensics Certification Course (X-Ways Software Technology 2005); Certified Data Recovery Specialist (Forensic Strategy Services 2009); Nuix Certified E-Discovery Specialist (2014); numerous other classes on computer forensics and electronic discovery.
SELECTED PROFESSIONAL ACTIVITIES
Law Offices of Craig D. Ball, P.C.; Licensed in Texas since 1982.
Board Certified in Personal Injury Trial Law by the Texas Board of Legal Specialization 1988-2019
Certified Computer Forensic Examiner, Oregon State University and NTI
Certified Computer Examiner (CCE), International Society of Forensic Computer Examiners
Certified Data Recovery Specialist
Certified E-Discovery Specialist (Nuix)
Faculty, University of Texas School of Law, Adjunct Professor teaching Electronic Discovery & Digital Evidence
Faculty, Tulane University School of Law, Adjunct Professor teaching Digital Evidence
Faculty and Founder, Georgetown University Law Center, E-Discovery Training Academy
Admitted to practice U.S. Court of Appeals, Fifth Circuit; U.S.D.C., Southern, Northern and Western Districts of Texas.
Board Member, Georgetown University Law Center Advanced E-Discovery Institute and E-Discovery Academy
Board Member, International Society of Forensic Computer Examiners (agency certifying computer forensic examiners)
Member, Sedona Conference WG1 on Electronic Document Retention and Production
Member, Maryland Committee on Federal E-Discovery Guidelines, 2014-17 (civil and criminal committees)
Special Master, Electronic Discovery, numerous federal and state tribunals
Instructor in Computer Forensics and Electronic Discovery, United States Department of Justice
Lecturer/Author on Electronic Discovery for Federal Judicial Center and Texas Office of the Attorney General
Instructor, HTCIA Annual 2010, 2011 Cybercrime Summit, 2006, 2007; SANS Instructor 2009, PFIC 2010, CEIC 2011, 2012
Special Prosecutor, Texas Commission for Lawyer Discipline, 1995-96
Council Member, Computer and Technology Section of the State Bar of Texas, 2003-date; Chair 2015-2016
Chairman: Technology Advisory Committee, State Bar of Texas, 2000-02
President, Houston Trial Lawyers Association (2000-01); President, Houston Trial Lawyers Foundation (2001-02)
Director, Texas Trial Lawyers Association (1995-2003); Chairman, Technology Task Force (1995-97)
Member, High Technology Crime Investigation Association and International Information Systems Forensics Assn.
Member, Texas State Bar College
Member, Continuing Legal Education Comm., 2000-04, Civil Pattern Jury Charge Comm., 1983-94, State Bar of Texas
Life Fellow, Texas and Houston Bar FoundationsAdjunct Professor, South Texas College of Law, 1983-88