Faculty Profile: William E. Forbath
Main Profile Content
Featured Work
Op-Ed: "A New Type of Labor Law for a New Type of Worker"
The New York Times, September 4, 2017 (co-authored with Brishen Rogers)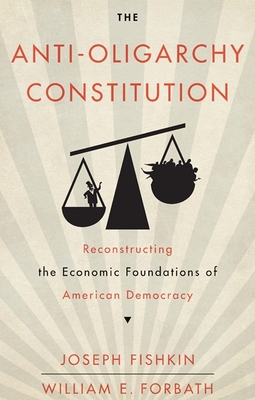 Organized and united under new labor laws that they had a hand in achieving, retail, hospitality, health care and other service workers could become a solid, multiracial working-class base for a progressive Democratic Party.
Read more
Biography
Professor Forbath came to Texas in 1997 after more than a decade on the faculties of law and history at UCLA. Among the nation's leading legal and constitutional historians, he is the author of Law and the Shaping of the American Labor Movement (Harvard, 1991), the forthcoming The Anti-Oligarchy Constitution (Harvard, 2018)(with Joseph Fishkin) and dozens of articles, book chapters, and essays on legal and constitutional history and theory. His scholarly work appears in Yale Law Journal, Harvard Law Review, Stanford Law Review, Law and Social Inquiry, and the Journal of American History; his journalism at Politico.com and in the New York Times, American Prospect and the Nation. His current research concerns social and economic rights in the courts and social movements of the Southern Hemisphere, and Jews, law and identity politics in the Progressive Era. Professor Forbath visited at Columbia Law School in 2001-02 and at Harvard Law School in 2008-09. He is on the Editorial Boards of Law & History, Law & Social Inquiry: Journal of the American Bar Foundation, and other journals, and on the Board of Directors of the American Society for Legal History, Texas Low-Income Housing Information Services, and other public interest organizations.
Here is a recent essay in the political theory journal NOMOS which distills many aspects of The Anti-Oligarchy Constitution, Wealth, Commonwealth, and the Constitution of Opportunity. And here is a forthcoming essay, which offers a preview of his work on Jews, law and identity politics a century ago, Constitutionalism, Human Rights and the Genealogy of American Jewish Liberalism: A Comment.
Professional Activities
2017
October 13-14, 2017
Paper Presentation
"The Half Life of New Deal Constitutional Political Economy," at Conference on "Understanding Constitutional Change: The State of the Field," Tulane Law School, New Orleans, LA, October 13-14, 2017
Download (PDF)
May 19-21, 2017
Workshop Leader
Principal Director & Convener - Open Society Foundation Project on Expanding the Scope for Social and Economic Rights Litigation in Ghana and South Africa: "Toward a New Constitutional Political Economy – Transition and Transformation," Cape Town, South Africa, May 19-21, 2017
Download (PDF)
March 5, 2017
Talk
"The Jewish Constitutional Moment," Conference on "Jewish Law in the Modern State," Yale Law School, New Haven, CT, March 5, 2017
Download (PDF)
February 10, 2017
Talk
"Law, Lawyering and the Labor Movement: Past, Present, Future," Conference on "Lawyers and Social Movements," UCLA, Los Angeles, CA, February 10, 2017
January 10-14, 2017
Conference Leader
Principal Director & Convener - Open Society Foundation Project on Expanding the Scope for Social and Economic Rights Litigation in Ghana and South Africa: "Equitable, Democratic and Sustainable Pathways of Oil Governance and Economic Development?" Accra, Ghana, January 10-14, 2017
Download (PDF)
2016
December 16, 2016
Featured Speaker
Featured speaker: The American Constitution Society for Law and Policy Presents: Is America Becoming a Plutocracy? Press Conference Call/American Constitution Society, December 16, 2016
September 22, 2016
Lecture
"The Jewish Constitutional Moment: Diaspora and Group Rights in the Making of American Jewishness and Modern Liberalism," Gabry Memorial Lecture, University of Virginia, Charlottesville, VA, September 22, 2016
April 19, 2016
Lecture
"The Future of Economic and Social Rights," Lecture at Boston College Law School, Chestnut Hill, MA, April 19, 2016
March 25, 2016
Featured Speaker
Fishkin & Forbath, The Anti-Oligarchy Constitution in draft - centerpiece of conference on "Constitution and Economic Inequality" at The Center for Constitutional Governance 2016 Annual Conference, Columbia Law School, New York, NY, March 25, 2016
January 28-30, 2016
Core Speaker and Text
Texas Law Review Symposium on "The Constitution and Economic Inequality" – core text Fishkin & Forbath, The Anti-Oligarchy Constitution in draft, with commentaries by Jack Balkin, Jeremy Kessler, Cynthia Estlund, Frank Michelman, Jed Purdy, & Reva Siegel, Austin, TX, January 28–30, 2016
2015
March 30, 2015
Paper Presentation
"Wealth, Commonwealth and the Constitution of Opportunity: A Story of Two Traditions," Harvard University Workshop on the History of Capitalism, Cambridge, MA, March 30, 2015 (with Joseph Fishkin)
March 18-19, 2015
Lecture
"The Jewish Constitutional Moment in the Early Twentieth Century," Lecture at Conference on "Jewish Rights, Minority Rights, Human Rights?" Tel Aviv University, Tel Aviv, Israel, March 18-19, 2015
2014
May 18-19, 2014
Seminar Leader
"Constitution, Courts, and the South African National Political Economy," (with Dennis Davis) at "Heterodox Innovations in Development Economics and Social and Economic Rights," sponsored by the Radcliffe Institute and the Ecole du Droit, SciencesPo, Paris, France, May 18-19, 2014