William E Forbath
Lloyd M. Bentsen Chair in Law
Faculty Profile: William E Forbath
Main Profile Content
Featured Work
Harvard University Press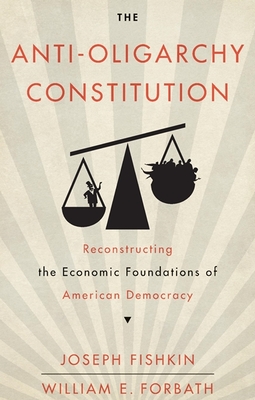 The Anti-Oligarchy Constitution: Reconstructing the Economic Foundations of American Democracy
Joseph Fishkin and William E. Forbath
"An important and stirring achievement. In this gold mine of historical discovery and legal insight, Fishkin and Forbath recover and renew the lost Constitution of strong democratic opportunity for all."
—Congressman Jamie Raskin
Oligarchy is a threat to the American republic. When too much economic and political power is concentrated in too few hands, we risk losing the "republican form of government" the Constitution requires. Today, courts enforce the Constitution as if it has almost nothing to say about this threat. But as Joseph Fishkin and William Forbath show in this revolutionary retelling of constitutional history, a commitment to prevent oligarchy once stood at the center of a robust tradition in American political and constitutional thought.
Fishkin and Forbath demonstrate that reformers, legislators, and even judges working in this "democracy of opportunity" tradition understood that the Constitution imposes a duty on legislatures to thwart oligarchy and promote a broad distribution of wealth and political power. These ideas led Jacksonians to fight special economic privileges for the few, Populists to try to break up monopoly power, and Progressives to fight for the constitutional right to form a union. During Reconstruction Radical Republicans argued in this tradition that racial equality required breaking up the oligarchy of the slave power and distributing wealth and opportunity to former slaves and their descendants. President Franklin Roosevelt and the New Dealers built their politics around this tradition, winning the fight against the "economic royalists" and "industrial despots."
But today, as we enter a new Gilded Age, this tradition in progressive American economic and political thought lies dormant. The Anti-Oligarchy Constitution begins the work of recovering it and exploring its profound implications for our deeply unequal society and badly damaged democracy.
Joseph Fishkin is a Professor of Law at UCLA. He spent a decade at the University of Texas at Austin, where he was the Marrs McLean Professor in Law. He is the author of Bottlenecks: A New Theory of Equal Opportunity. William E. Forbath holds the Lloyd M. Bentsen Chair in Law and is Associate Dean for Research at the University of Texas at Austin. He is the author of Law and the Shaping of the American Labor Movement.
Read more
Biography
Willy Forbath holds the Lloyd M. Bentsen Chair and is Associate Dean of Research at UT Austin School of Law; he is also a Professor of History at UT. He is the author of Law and the Shaping of the American Labor Movement, the forthcoming The Anti-Oligarchy Constitution: Reconstructing the Economic Foundations of American Democracy (February, 2022)(with Joseph Fishkin), and dozens of articles, book chapters, and essays on legal and constitutional history and theory and comparative constitutional law. He is completing a history of Jews, law and identity politics in the twentieth century and starting a history of socialist lawyering and legal imagination. He occasionally writes on legal and constitutional issues for the New York Times, the Nation and other outlets, and is on the boards of several Texas organizations devoted to social movements and advocacy for affordable housing and workers' rights. In addition to UT Austin, he has taught at UCLA, Sciences Po, Tel Aviv, Columbia, and Harvard.
Professional Activities
2019
April 1, 2019
Paper Presentation
"The Jewish Constitutional Moment," Princeton University, Public Seminar, Program in Law & Public Affairs, Princeton, N.J.
Download (PDF)
2017
May 19-21, 2017
Workshop Leader
Principal Director & Convener - Open Society Foundation Project on Expanding the Scope for Social and Economic Rights Litigation in Ghana and South Africa: "Toward a New Constitutional Political Economy – Transition and Transformation," Cape Town, South Africa, May 19-21, 2017
Download (PDF)
March 5, 2017
Talk
"The Jewish Constitutional Moment," Conference on "Jewish Law in the Modern State," Yale Law School, New Haven, CT, March 5, 2017
Download (PDF)
February 10, 2017
Talk
"Law, Lawyering and the Labor Movement: Past, Present, Future," Conference on "Lawyers and Social Movements," UCLA, Los Angeles, CA, February 10, 2017
January 10-14, 2017
Conference Leader
Principal Director & Convener - Open Society Foundation Project on Expanding the Scope for Social and Economic Rights Litigation in Ghana and South Africa: "Equitable, Democratic and Sustainable Pathways of Oil Governance and Economic Development?" Accra, Ghana, January 10-14, 2017
Download (PDF)
2016
December 16, 2016
Featured Speaker
Featured speaker: The American Constitution Society for Law and Policy Presents: Is America Becoming a Plutocracy? Press Conference Call/American Constitution Society, December 16, 2016
September 22, 2016
Lecture
"The Jewish Constitutional Moment: Diaspora and Group Rights in the Making of American Jewishness and Modern Liberalism," Gabry Memorial Lecture, University of Virginia, Charlottesville, VA, September 22, 2016
April 19, 2016
Lecture
"The Future of Economic and Social Rights," Lecture at Boston College Law School, Chestnut Hill, MA, April 19, 2016
March 25, 2016
Featured Speaker
Fishkin & Forbath, The Anti-Oligarchy Constitution in draft - centerpiece of conference on "Constitution and Economic Inequality" at The Center for Constitutional Governance 2016 Annual Conference, Columbia Law School, New York, NY, March 25, 2016
January 28-30, 2016
Core Speaker and Text
Texas Law Review Symposium on "The Constitution and Economic Inequality" – core text Fishkin & Forbath, The Anti-Oligarchy Constitution in draft, with commentaries by Jack Balkin, Jeremy Kessler, Cynthia Estlund, Frank Michelman, Jed Purdy, & Reva Siegel, Austin, TX, January 28–30, 2016
2015
March 30, 2015
Paper Presentation
"Wealth, Commonwealth and the Constitution of Opportunity: A Story of Two Traditions," Harvard University Workshop on the History of Capitalism, Cambridge, MA, March 30, 2015 (with Joseph Fishkin)
March 18-19, 2015
Lecture
"The Jewish Constitutional Moment in the Early Twentieth Century," Lecture at Conference on "Jewish Rights, Minority Rights, Human Rights?" Tel Aviv University, Tel Aviv, Israel, March 18-19, 2015
2014
May 18-19, 2014
Seminar Leader
"Constitution, Courts, and the South African National Political Economy," (with Dennis Davis) at "Heterodox Innovations in Development Economics and Social and Economic Rights," sponsored by the Radcliffe Institute and the Ecole du Droit, SciencesPo, Paris, France, May 18-19, 2014