Defending against Removal and Seeking Status for Migrants
Helping Asylum Seekers
The clinic handles asylum cases for immigrants seeking protection based on political, religious, or gender-based violence or other persecution in their home countries. Our asylum clients either are detained in Texas detention centers or are living in the Austin area.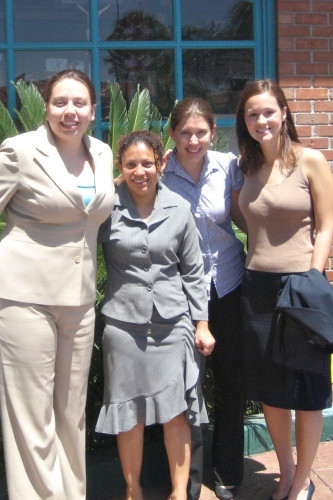 In recent years, clinic students handled several cutting-edge asylum claims from Mexico filed by individuals fleeing drug-related violence and government repression of human rights defenders. Most notably, in several hearings in the San Antonio Immigration Court over the period of a year, clinic students successfully represented more than a dozen members of a large family of Mexican activists from the Juarez Valley region of Mexico in their applications for asylum. The clinic has also participated in a national initiative to secure pro-bono representation for Mexican asylum seekers as well as provide documentation and expert witnesses to support these cases.
Assisting Victims of Domestic Violence and Other Crimes
The clinic assists immigrant crime victims obtain permission to remain in the United States. Through legislation passed in 2000 and the creation of the U visa, immigrant crime victims who have cooperated with law enforcement and who have suffered significant psychological or physical injury as a result of the criminal activity may be able to stay in the United States and eventually obtain residency.  The Violence Against Women Act also creates a path to stable immigration status for certain survivors of domestic violence.
The clinic successfully represented several DREAMers who were undocumented students at the University of Texas when they were injured in a serious car accident. Our clients obtained U visas as a result of the clinic students' advocacy and representation. Several other U visa applications are pending. The clinic has also achieved status for women and youth under the Violence Against Women Act and continues to handle several cases under its provisions.
Coming Out of the Shadows from The Daily Texan on Vimeo.
Cancellation of Removal and Adjustment of Status Claims
Clinic students represented individuals with long-time ties and family connections in the United States who are placed in deportation proceedings. For example, clinic students represented a single father in deportation proceedings before the San Antonio Immigration Court. The client had traveled to the United States from Mexico as a small child and had grown up in a small Texas town; he is currently raising two young daughters born here. The client could not regularize his status along with the rest of his family because of technicalities in the law and faced deportation proceedings after a traffic stop led to immigration detention. The student attorneys conducted a full-day hearing involving submission of evidence, direct examination of several witnesses and a closing argument. An immigration judge recently granted the client permanent resident status.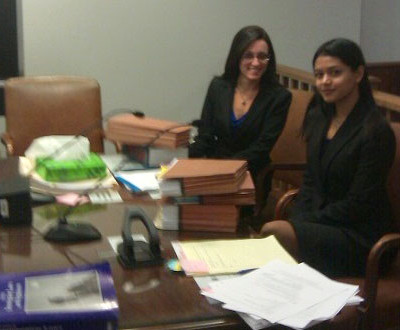 Citizenship Claims
The clinic represents clients who were born abroad but who are United States citizens through their parents when their status has not been recognized by immigration authorities. For example, clinic students successfully argued that an intending DACA applicant born in Mexico was actually a U.S. citizen. This young woman, born in Mexico to a U.S. citizen mother, now holds a certificate of U.S. citizenship. She has the stability she needs to raise her young child born in the United States. In another case, students obtained recognition of U.S. citizenship for a man born in Mexico who faced deportation.