Overview
The Cohort Program is a year-long test preparation and admissions support program designed for current-cycle law school applicants. Through its law school faculty and staff, law student and alumni mentors, and organizational partners, the Texas Law community will walk alongside cohort members through LSAT preparation and the entire law school admissions process. Cohort programming will include LSAT instruction, admissions coaching, law student and alumni mentoring, workshops presented by law school faculty and staff, and networking opportunities with practicing attorneys.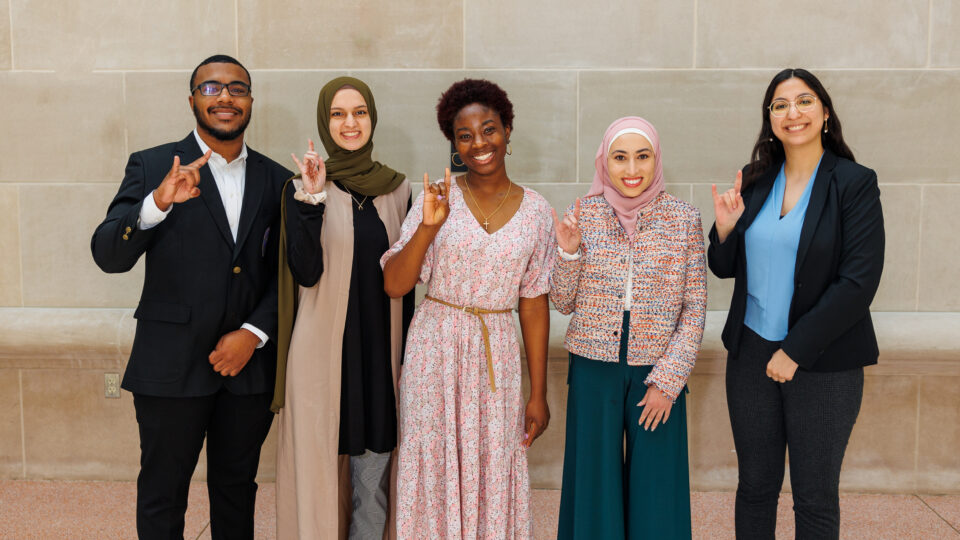 Full-Tuition Scholarships and Fee Waivers
All cohort members will receive application and CAS Report fee waivers to apply to Texas Law. Individuals who successfully complete the Cohort Program and are admitted to Texas Law will be eligible for full-tuition scholarships designated specifically for Cohort participants. Up to five full-tuition scholarships will be awarded to cohort members who join Texas Law's Fall 2024 entering class.
Schedule
Cohort participants must be available to attend all weekend academies and LSAT instruction sessions. The four academies will be held in person at Texas Law. The LSAT preparation course and all other programs will take place online. Travel stipends to attend the weekend academies will be available to cohort members who reside more than 100 miles (one way) from the UT Austin campus.
LSAT Prep Course Schedule
The online LSAT preparation course will include 72 hours of live instruction, three proctored practice exams, instructor-facilitated study groups, office hours, and more. The instruction sessions, which will run from May 22 to August 11, will be held on Mondays and Thursdays from 6:00 – 9:00 p.m. The proctored exams, study group sessions, and office hours will take place on select Tuesday and Wednesday evenings. The course will prepare cohort participants for the September 2023 LSAT administration.
Weekend Academy Schedule
The in-person weekend academies will include community building, mentoring, networking, admissions coaching, and presentations and workshops on law school admissions and the law school experience. Weekend academies will also provide an opportunity for Cohort members to reflect on the admissions cycle and develop relationships with one another.
Saturday, May 20, 2023: First Cohort Academy (Focus: Orientation; LSAT Preparation; Networking; Mindset; Kickoff Reception)
Saturday, September 23, 2023: Second Cohort Academy (Focus: Application Materials; Selecting Schools; Mentoring; Admissions Coaching)
Saturday, January 27, 2024: Third Cohort Academy (Focus: Career Exploration; Law School Preparation; Mentoring; Admissions Coaching)
Saturday, April 20, 2024: Fourth Cohort Academy & Cohort Graduation (Focus: Law School Preparation; Belonging; Mentoring; Cohort Graduation; Closing Reception)
Eligibility
To be eligible for the Cohort Program, an applicant must:
Be a first-generation college student or socioeconomically disadvantaged;
Be a college student or graduate who will apply to law school during the 2023-2024 admissions cycle (for the Fall 2024 entering class);
Possess a minimum undergraduate GPA of 3.0; and
Reside in Texas for the duration of the cohort year (May 2023 – April 2024)
Important Dates
Sunday, March 19, 2023: Cohort Program application window closes at 11:59 pm CT
Monday, April 17, 2023: Applicants will be notified of application status
Friday, April 21, 2023: Deadline for awardees to accept a seat in the Cohort Program by 2:00 pm CT
Saturday, May 20, 2023: First Cohort Academy
Monday, May 22, 2023: LSAT preparation course begins
Friday, August 11, 2023: LSAT preparation course ends
Saturday, September 23, 2023: Second Cohort Academy
Saturday, January 27, 2024: Third Cohort Academy
Saturday, April 20, 2024: Fourth Cohort Academy & Cohort Graduation