Texas Intellectual Property Law Journal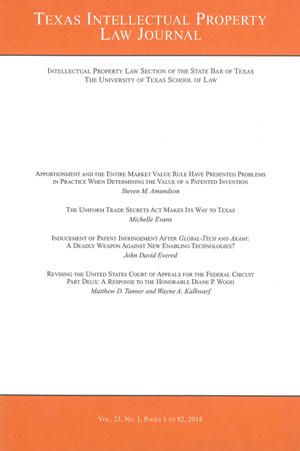 TIPLJ was started in 1991 by a group of University of Texas law students to provide intellectual property attorneys with a journal dedicated to the field. These students quickly realized that intellectual property is an increasingly important area of the law, but with few publications dedicated to the topic. TIPLJ seeks to fill this void by publishing insightful articles focusing on substantive legal issues and recent developments in the areas of patent, copyright, trademark, unfair competition, and trade secret law. The student editors also host a successful guest speaker series, an annual symposium on contemporary IP topics, and work closely with leading IP practitioners of the Intellectual Property Law Section of the State Bar of Texas.


About the Journal
ISBN:

1068-1000

Publication Schedule:

Fall, Winter, Spring

Year Founded:

1991

Primary Readership:

Constitutional Law
Law
Legal
Legislation
National
Professional
Scholarly
State
Ordering Information
Purchase a subscription and recent issues
Mail in Orders
Exclusive Back Issues Provider:
William S. Hein
1285 Main Street
Buffalo, New York 14209 U.S.A.
(800) 828-7571 or (716) 882-2600
Back Issues
Exclusive Back Issues Provider:
William S. Hein
24 East Ferry Street
Buffalo, New York 14209 U.S.A.
(800) 828-7571 or (716) 882-2600
Officers
Editor-in-Chief (2020-2021): Logan Young
Managing Editor (2020-2021): Caroline Burks
Executive Articles Editor (2020-2021): Eliza McDonald
Executive Submissions Editor (2020-2021): Ben Ediger