Texas International Law Journal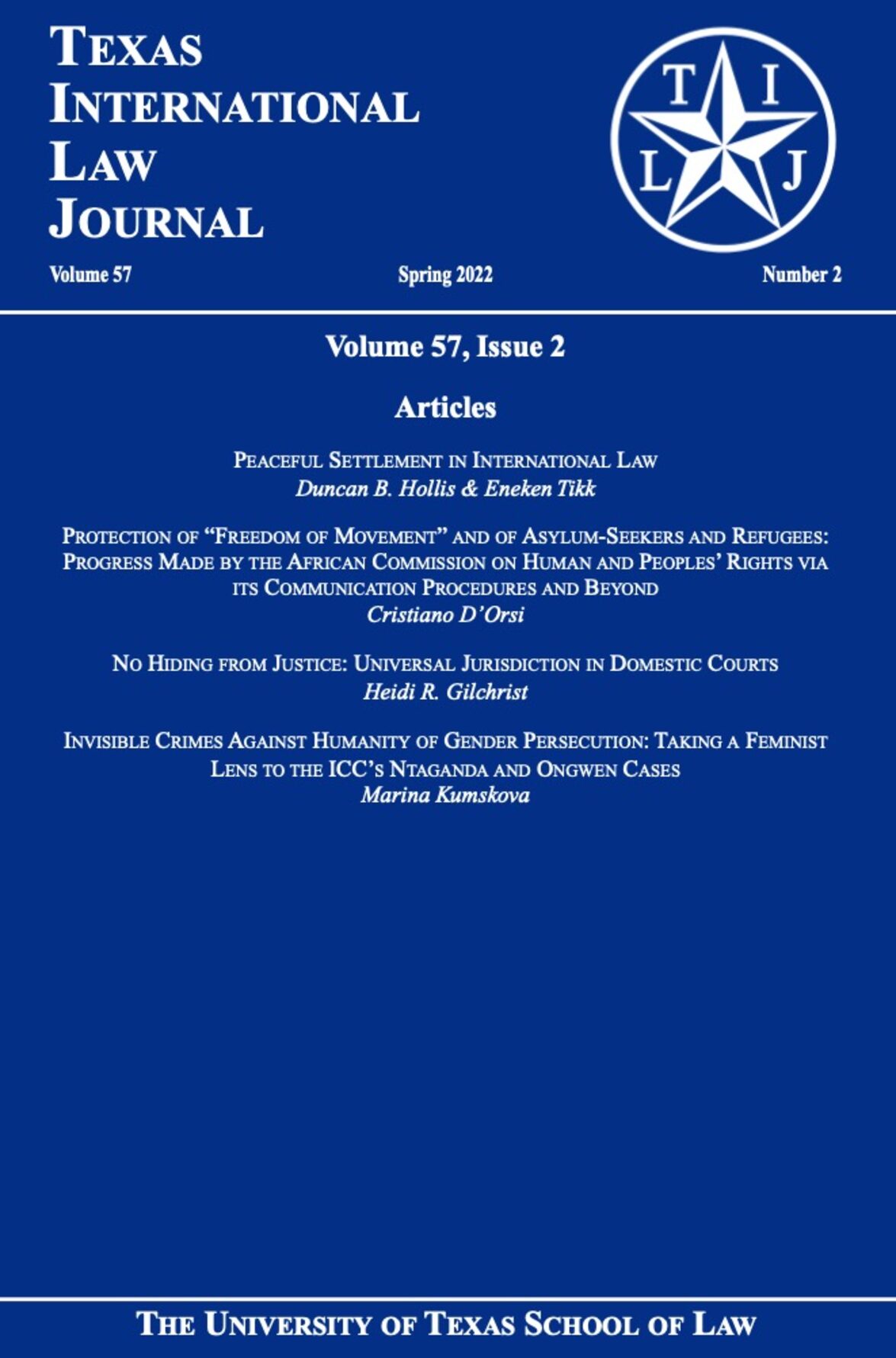 The Texas International Law Journal (TILJ) is proud to announce the availability of Volumes 56 and 57, with the opportunity to order Volume 58:1-3 (2022-2023). Please note our current rates: $20 for a single issue; $45 domestic subscribers; $50 international subscribers. TILJ is the second-oldest journal at UT Law and the fourth-oldest student-published international law journal in the United States. TILJ strives to advance an understanding of contemporary international legal issues through timely articles, and student notes. Past contributors to TILJ include preeminent scholars and practitioners such as Dean Rusk, Robert Reich, Louis Henkin, Charles Alan Wright, and W. Page Keeton.
About TILJ
In the rapidly expanding discipline of international law, the Texas International Law Journal (TILJ) helps readers stay abreast and informed of recent developments and new scholarship by providing access to leading international legal, theoretical, and policy analysis. TILJ publishes academic articles, essays, and student notes in the areas of public and private international law, international legal theory, the law of international organizations, comparative and foreign law, and domestic laws with significant international implications. The editors and staff aim to fulfill these needs by concentrating on groundbreaking articles that will be useful to both practitioners and scholars. TILJ is among the oldest and best-established student-published international law journals in the United States. In the wake of the Bay of Pigs disaster and the Cuban Missile Crisis, our publication began as an offshoot of the Texas International Law Society. In January 1965, under the guidance of Professor E. Ernest Goldstein, we planted the Texas flag in the international arena with our first issue, entitled The Journal of the University of Texas International Society. Publications thereafter were biannual, taking the name Texas International Law Forum until the summer of 1971, when TILJ adopted its present title and became a triannual publication. Over the years, TILJ staff has made the most of its established heritage. We have developed international repute by forging close ties with numerous scholars and authors worldwide. As a result, we receive more than six hundred unsolicited manuscripts each year and are extremely selective in our publication choices. This position has helped us develop one of the largest student-published subscription circulations of any international law journal in the United States. TILJ's subscription base includes law schools, government entities, law firms, corporations, embassies, international organizations, and individuals from virtually every state in the United States and more than forty-five countries. With approximately thirty editorial board members and one hundred fifteen staff members made up of full-time J. D. and LL.M. students, TILJ maintains a refined and well-organized editing process. As economic integration accelerates and nations forge closer ties in the new millennium, we are confident TILJ will continue to provide a significant contribution to the burgeoning field of international law. In an increasingly complex world, TILJ is committed to promoting international legal understanding and debate. With your support, TILJ will continue to bring a critical perspective to the questions and dilemmas confronting public and private actors around the globe.
About the Journal
ISBN:

0163-7479

Publication Schedule:

Fall, Winter, Spring

Pages per Volume:

800

Year Founded:

1964

Primary Readership:

International
Law
Law Firms
Legal
Libraries
National
Professional
Scholarly
Ordering Information
Purchase a subscription and recent issues
Back Issues
Exclusive Back Issues Provider:
William S. Hein & Co. Inc.
2350 North Forest Road
Getzville, New York 14068 U.S.A.
(800) 828-7571 or (716) 882-2600
www.wshein.com | www.heinonline.org
Officers
Editor-in-Chief (2022-2023): Grayson Myers
Publications Manager (2022-2023): Ayah Housini
Business Manager (2022-2023): Kamryn McPike
Submissions Editor (2022-2023): Kate Gibson
Symposium Chair (2022-2023): Olivia Hagey
Communications Directors (2022-2023): Mackenzie Salter & Leah Butterfield
Development Director (2022-2023): Savannah Francis
Alumni Relations Director (2022-2023): Gaby Wheatley