The Review of Litigation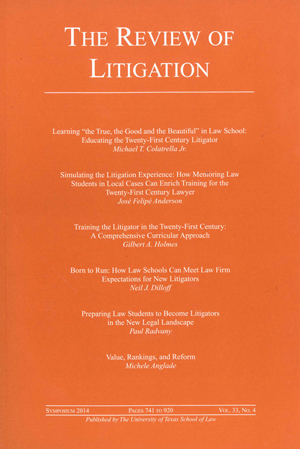 TROL
seeks to advance legal scholarship through feature articles, essays, and notes relevant to a national and international audience of legal scholars and practitioners. As the first journal devoted exclusively to the topics related to trial and appellate advocacy,
TROL
publishes papers on evidentiary, procedural, and substantive issues.
TROL
addresses the needs of both academia and the practicing attorney with a pragmatic examination of current litigation issues.
Journal homepage:
www.thereviewoflitigation.org/
About the Journal
ISBN:

0734-4015

Publication Schedule:

Winter, Spring, Summer, Fall (Symposium)

Primary Readership:

Constitutional Law
Law
Law Firms
Legal
Legislation
Libraries
National
Professional
Scholarly
Ordering Information
Purchase a subscription and recent issues
Back Issues
Exclusive Back Issues Provider:
William S. Hein
24 East Ferry Street
Buffalo, New York 14209 U.S.A.
(800) 828-7571 or (716) 882-2600
Officers
Editor in Chief (2019-2020): Ted Hocter
Managing Editor (2019-2020): Madison Haueisen
Chief Articles Editor (2019-2020): Rachael Jensen
Chief Symposium Editor (2019-2020): Ramya Sundaram
Chief Notes Editor (2019-2020): Amy Gordon
Chief Research Editor (2019-2020): Darrick Monson
Chief Online Editor (2019-2020): Jay Bowlby
Development Editor (2019-2020): Alison Techman
Administrative Editor (2019-2020): Darius Cade
Coordinating Editor (2019-2020): Grant Gibson
Articles Editor (2019-2020): William Cozzens
Articles Editor (2019-2020): Barrett Hollingsworth
Articles Editor (2019-2020): Olivia Landry
Research Editor (2019-2020): Robert Kaltenbach
Research Editor (2019-2020): Sara Lampert
Research Editor (2019-2020): Michael Mazidi
Notes Editor (2019-2020): Matthew Niss
Notes Editor (2019-2020): Thomas Reklaitis
Notes Editor (2019-2020): Blake Ringer
Submissions Editor (2019-2020): Cameron Kelly
Submissions Editor (2019-2020): Robert Quinn
Submissions Editor (2019-2020): Katie Shaffer
Online Editor (2019-2020): David Bujarski