Course Description: Children's Rights Clinic 
Taught by Lori Duke and Leslie Strauch
6 credits (pass/fail) — offered Fall, Spring
The Clinic is open to students who have completed their first two semesters.
---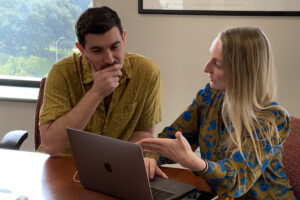 Students in the Children's Rights Clinic represent allegedly abused or neglected children in Travis County as their attorney ad litem. Students can expect to conduct research, to prepare cases, and to "sit first chair" at court hearings.
Each student attorney will be assigned a mix of newly filed cases and other cases in various stages of development. Students will have multiple opportunities to appear in court during the semester. Some students will have the opportunity to participate in a bench trial or a jury trial. Students are likely to participate in mediation. In representing clients, students meet with a wide variety of persons, including medical and mental health professionals, teachers, foster parents, caseworkers and social workers, attorneys, layperson CASA volunteers who may serve as guardians, and police officers.
The class meets once a week to focus on substantive law, procedure, and ethics, as well as child welfare policy. In addition to the classroom component, each student should expect to average about 10 hours per week on clinic related work. Court hearings are generally held on Tuesday mornings. Students are required to visit their juvenile clients. Sometimes these client visits require travel outside of Travis County.
There are no prerequisites for the course. Students, however, must meet Texas requirements for the participation of qualified law students in the trial of cases under rules promulgated by the Texas Supreme Court. The course is pass/fail. There is no paper or final exam.