Almost everything in the Advocacy Program is open to second- and third-year law students. Whether a student is interested in focusing on advocacy through courses and extracurricular activities, or is simply looking to get their feet wet, the Advocacy Program offers something for everyone.
Classes
From traditional theory and courtroom skills to Aristotle and neuroscience, the Advocacy Program courses cover a wide range of current issues and trends in the legal industry. All courses, large and small, provide small group work with instructors. In these settings, students are afforded unusual opportunities such as voir dire practiced before a jury panel made of community members, opening and closing statements performed before focus groups, real depositions taken and transcribed by court reporters, and motions argued at the courthouse before a state or federal court judge.
Interscholastic Mock Trial & Moot Court Program
The Advocacy Program sponsors several interscholastic mock trial and moot court teams. Each year, law schools from across the nation compete against each other in interscholastic mock trial and moot court competitions covering a vast array of issues. Texas Law competition teams have recently won over a dozen mock trial and moot court competitions, including national victories at the 2022 Georgetown White Collar Criminal Competition and the 2023 Judge John R. Brown Admiralty Moot Court Competition, and regional championships at the TYLA National Trial Competition in 2022 and the Phillip C. Jessup International Moot Court in 2023.
Free Workshops
Each year, the Advocacy Program offers free workshops to Texas Law students. The first four weeks of the school year we offer the Fall Litigation Institute where we bring instructors in to teach the fundamentals of trial advocacy in a three-hour workshop each Friday afternoon, including free lunch. In the spring, we offer a Public Speaking Workshop specifically for 1Ls as they head into 1L moot court and job interviews. Get more information from Law Mail or by filling out our contact info form.
Board of Advocates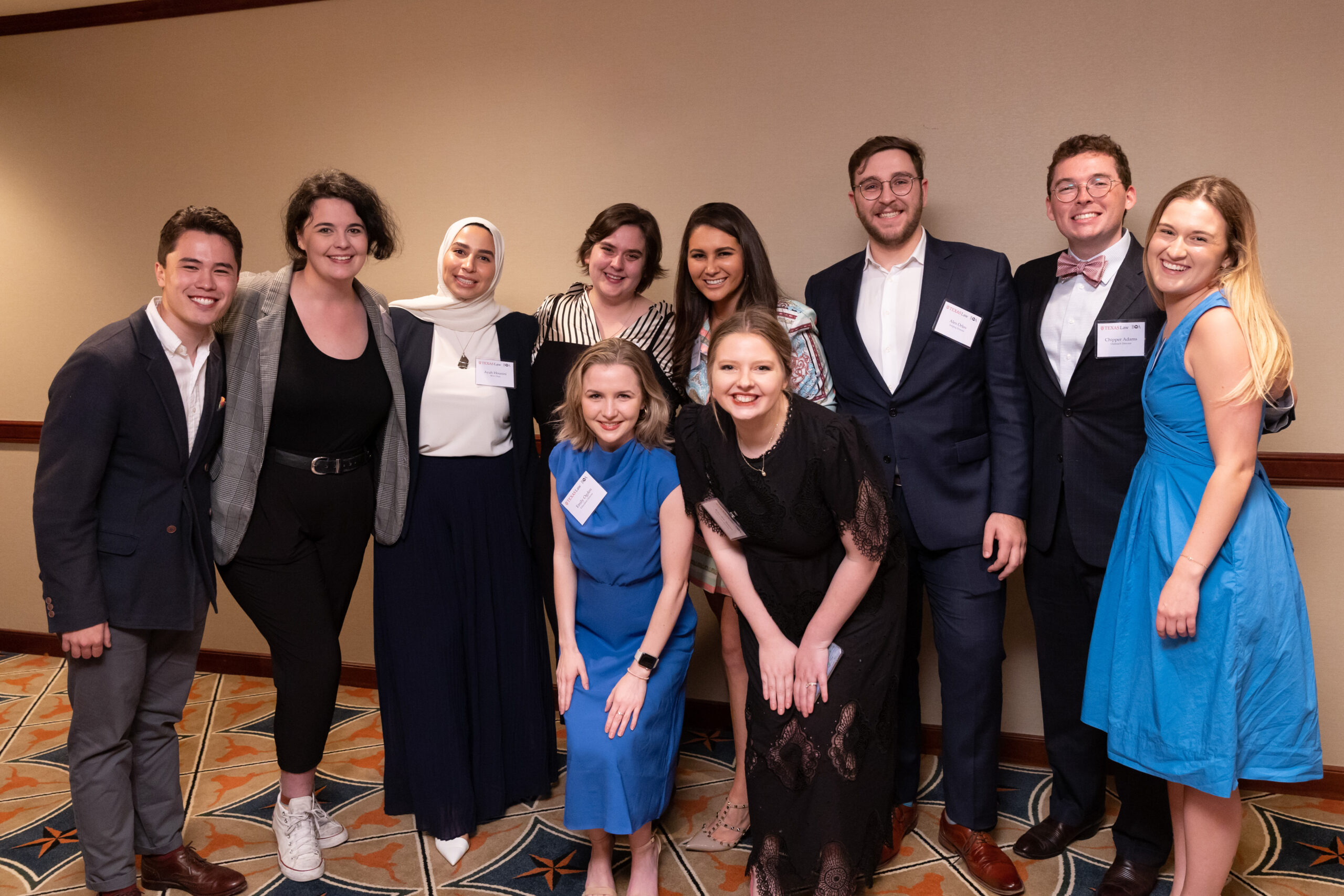 The Board of Advocates is a student-run honorary advocacy organization composed of the best student advocates at Texas Law. The BOA promotes the development of all law students' practical skills, in both oral and written advocacy, through practice and participation in mock trial, moot court, and other competitions. The BOA organizes all intramural advocacy competitions at the law school (except for the 1L moot court which is run by the Legal Research and Writing Program); BOA competitions are open to all law students. The BOA also hosts several lunchtime networking and educational events where practicing lawyers and judges come to campus to discuss advocacy-related careers. At the end of the spring semester, the BOA also hosts a prestigious awards banquet to honor the students who have excelled in advocacy during the year, to present advocacy scholarships to students who have earned them, and to thank the many attorneys and judges who have given their time to our students.
All students interested in competing or developing advocacy skills are welcome to join the BOA. Sign up for "Board of Advocates" on Law Mail to get the latest updates on the BOA. Contact information for the Board of Advocates is on the Student Organizations page.