Course Information
Course Description: Housing Policy Clinic
Taught by Heather K. Way
4 credits (pass/fail) — offered Fall only
The Clinic is open to students who have completed their first two semesters
The Housing Policy Clinic provides students with the opportunity to work on hands-on policy projects that systemically advance low-income persons' access to affordable, just, and secure housing.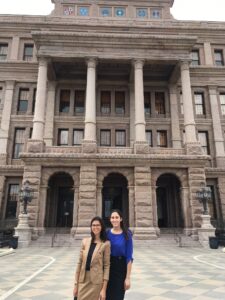 Projects
Students work on addressing cutting-edge housing policy issues in close collaboration with clients and stakeholders, including housing advocacy organizations, government officials, and community organizations. Students meet regularly with these stakeholders along with the clinic director. All of the Clinic's projects involve research and writing, such as creating policy briefs, research reports, op-eds, model laws, press releases, and regulatory guidance. Projects also involve oral communications, such as delivering testimony before government bodies and presentations. Clinic work may include some travel.
Classroom
The Clinic meets three times a week to discuss current and emerging housing law and policy issues and hear from guest speakers actively working in the housing policy and housing justice space. On class days with assigned readings, students are expected to complete readings prior to class and come to class prepared to discuss them and raise questions. In the classroom, we also focus on skill development through hands-on exercises to support the Clinic's housing policy projects. Classes include time to work in teams on clinic projects, although students should expect to spend additional time on their projects outside of the classroom.
Outcomes
Students participating in the Housing Policy Clinic can expect the following:
Deep engagement in the housing policy landscape
Challenging, fun, and meaningful projects
Development of a broad range of policymaking skills, including:

Issue spotting policymaking opportunities
Translating research findings into actionable and impactful policies
Creative problem solving
Policy analysis
Policy advocacy
Oral and written communications (see above "Projects" section for examples of specific types of communication products)
Students should expect to spend a total of 12-15 hours per week in the Clinic, including class time. Students who have completed the Clinic may apply to participate as advanced clinic students for the spring semester. There are no prerequisites for this Clinic, but an application is required. To apply for the Clinic, please submit the online application.
For more information, contact Professor Heather Way at hway@law.utexas.edu.