Texas Journal of Oil, Gas, and Energy Law celebrates five remarkable years
The Texas Journal of Oil, Gas, and Energy Law, a student-edited journal devoted to promoting scholarship in the legal energy field, launched five years ago. The youngest of the Law School's twelve journals, it was an immediate success. The Journal's ambitious mandate has always been to serve practitioners as well as academics, and it has attracted support from scholars, law firms with energy clients, and energy companies themselves.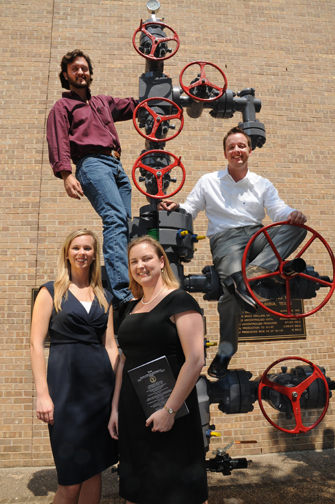 UT Law is the perfect home for such an enterprise. It is well known that the University of Texas is supported in part by a public endowment that derives income from the sale of oil, gas, and other assets held on land in West Texas. It is perhaps less well known that the Law School has been teaching energy law in some form or another for most of its 127-year history. An early example is the dissemination of A Model Oil and Gas Contract, written in 1919 by Professor George C. Butte, the stated goals of which were to achieve "perfect legality," "clearness of meaning," and "fairness to both landowner and oil operator." In this century, UT Law is a national leader in energy law, noted for continuing innovations such as the first-ever course in wind law, taught by Professor Ernest Smith, the Rex G. Baker Centennial Chair in Natural Resources Law, in 2008; the recently established Center for Global Energy, International Arbitration, and Environmental Law, which will train lawyers to navigate the legal terrain between these fields; and, of course, the Texas Journal of Oil, Gas, and Energy Law, the only student-run and -edited legal journal focused on energy law in the country.
And yet, despite the Law School's storied history in energy law, when the Journal's founding editor in chief, Nicholas Franklin, '07, was a first-year student, there were no specific programs for students interested in the field. So he got to work. "In 2004 we established the Texas Oil and Gas Law Society to invite practitioners to come speak to students," Franklin said. "Our first speaker was Kent Hance, '68, who, among many other accomplishments, served as Texas Railroad Commissioner and is now chancellor of the Texas Tech University System. It was clear from the beginning that there was a great deal of interest in this area of the law. I decided a student-edited journal would be an ideal next step if we could pull it off. Brandon [Brandon Seale, '08, editor in chief of Volume 2] and Cynthia [Cynthia Redwine, '07, managing editor of Volume 1] agreed—and with a great deal of help, we did it." Starting a new journal at UT Law is daunting. Students must present a fully developed business plan, project revenue streams, identify a subscriber base, and have a clear sense of how to solicit both good writing and strong faculty support. But Franklin and his cohorts knew they had interested students, and from there things fell into place.
"The reality is that the Journal would not have happened without Professors Ernest Smith and John Dzienkowski, then-Dean Bill Powers, then-Assistant Dean of Communications Allegra Young, and student publications business manager Paul Goldman," Franklin said. "Each of them put their own credibility on the line for us when we had none of our own. I will always be grateful."
Smith remembers the project's inception: "I have to admit, when the students first approached me about starting a new journal, I was a little dubious," he said. "But I have been astounded at how well this has been done. Part of the reason is the focus on articles and notes that are useful for practitioners—they relate to practical issues that lawyers in the field encounter." "We've always measured ourselves with the yardstick of relevance," said Seale. "Though each issue contains an academic and a policy article, we have always placed particular emphasis on our practitioner article and our Current Events section, the latter of which is the best source for worldwide and statewide developments in energy law." Sixty students worked together to create Volume 1, which was published in 2006. That year also saw the first annual Oil, Gas, and Energy Law Symposium and the creation of the Ernest E. Smith Lifetime Achievement Award.
In addition to publishing two issues every year, the Journal hosts an annual Symposium to bring leaders in the energy field together to discuss the issues of the day. The first Symposium featured then-Federal Energy Regulatory Commissioner Suedeen G. Kelly. Speakers from past years include Dick Watt, past president of the Oil & Gas Section of the State Bar of Texas; Mike Godfrey, former general counsel of the University of Texas System; and Commissioner Jerry Patterson of the Texas General Land Office. This year, Chairman Victor Carrillo of the Railroad Commission of Texas delivered an energy sector update.
Bestowing the Ernest E. Smith Lifetime Achievement Award is an important part of the annual Symposium. This prestigious award honors practitioners who have participated in the advancement of natural resources law, policy, or scholarship. Recipients have included Timothy J. Unger, '74, partner at Andrews Kurth in Houston; Robert C. Bledsoe, '55, founding partner of Cotton Bledsoe Tighe & Dawson in Midland; Duke R. Ligon, '69, former senior vice president and general counsel for Devon Energy Corporation in Oklahoma City; former Exxon General Counsel C. Kenneth Roberts, '51; and the late Frank Douglass, '58, founding partner of Scott, Douglass & McConnico in Austin.
In alignment with their focus on practitioners, Journal students and alumni are committed to creating continuing education and networking opportunities in the energy sector. Students benefit from monthly roundtable luncheons and an annual career panel with energy attorneys. CLE credits are available as part of the annual Symposium, and social events are planned throughout the year. Each June, for example, the Journal hosts a summer gathering of energy law practitioners in Houston; these events are not exclusive to Journal alumni—or even UT Law alumni—and draw attendees from across the field.
"We have always had events in Austin," said Danielle Mangrum, '10, editor in chief of Volume 5. "But Houston is the energy hub. The great thing about the summer gathering is that it brings practitioners from a variety of different organizations together with students. I think practitioners are sometimes surprised at how much student interest there is in energy law as a practice area. Ultimately, we would like to expand and have events like this in other cities as well, such as Dallas and Fort Worth." Additional initiatives are on the horizon. Incoming editor in chief Chad Smith, '11, is creating an energy blog that will be a part of the Journal's website—www.tjogel.org.
"The blog will give law students, professors, and attorneys an opportunity to discuss issues in oil, gas, and energy law," Smith said. "A lot of Journal students are interested in writing about energy law but don't want to commit to a full fifty-page article. This is an avenue for them to do that." Pursuing their mission to promote scholarship in the energy legal field, and in honor of their fifth anniversary, the first five editors in chief joined together to create the Texas Energy Law Association—http://texasenergylaw.org/—or TELA, for short. Becky Diffen, '09, editor in chief of Volume 4, is a TELA founder.
"TELA's primary focus is to act as an alumni organization and an advisory and support resource for the Journal," Diffen explained. "We intend to work to establish scholarships and funding for internships, increase alumni participation in the Journal, and create professional opportunities for Journal members and alumni—and through these initiatives promote scholarship in the area of energy law."
Diffen is authoring an article with Smith on wind energy law in the soon-to-be-released spring issue. "There is very little wind law now on the books," Smith said. "Wind energy law is today where oil and gas law was at the beginning of the twentieth century. But this is a practice area poised for explosive growth, particularly here in Texas, which is the largest producer of wind energy in the Western Hemisphere. "It's great to see young people interested in a practice area that is—I hate to say it, but it's true—graying a bit. But with the upsurge of new technologies, the emerging interest in renewables, and the need to develop resources in a sustainable way, these students and recent graduates are going to shape the future in ways we can't yet imagine." —Kirston Fortune