Professor Karen Engle receives Fulbright Specialist Grant
The United States Department of State and the J. William Fulbright Foreign Scholarship Board have selected University of Texas School of Law Professor Karen L. Engle to receive a Fulbright Specialist grant for a project proposed by the Universidad de Los Andes in Bogotá, Colombia.
Engle will spend just over two weeks (August 11–26, 2010) in Bogotá consulting on academic writing with students in the university's doctoral program and presenting lectures to law students on gender and international criminal justice. In addition, Engle will present a public lecture on her forthcoming book, The Elusive Promise of Indigenous Development: Rights, Culture, Strategy (Duke University Press, August 2010), with a focus on those chapters on Afro-descendant land rights in Colombia.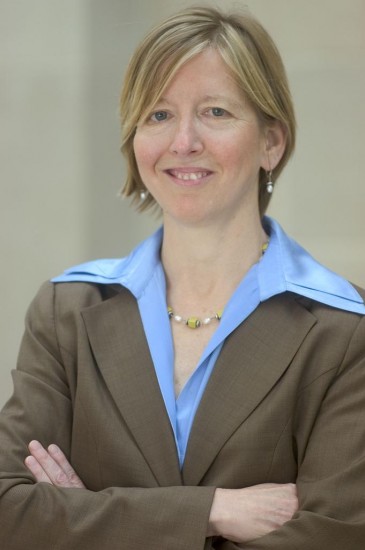 Engle's lecture will be followed by commentary from several Colombian professors, including Professor Helena Alviar, who is director of the graduate program in law at the Universidad de Los Andes and who submitted the successful application for the Fulbright award to bring Engle to Colombia. "This visit provides a unique opportunity for our doctoral students to work closely with an academic who has produced legal writing that has significantly contributed to the field of international law," Alviar said. "In addition, it will give our students, faculty, and the legal community a chance to learn about Professor Engle's recent work, as well as to explore joint research projects and possible future academic exchanges between Los Andes and the University of Texas."
Engle is the Cecil D. Redford Professor in Law at the Law School and founding director of the Bernard and Audre Rapoport Center for Human Rights and Justice. She is also an affiliated faculty member of the University of Texas's Teresa Lozano Long Institute of Latin American Studies and the Center for Gender and Women's Studies. She teaches courses and specialized seminars in public international law, international human rights law and employment discrimination.
Engle writes and lectures extensively on international human rights law. She received a Bellagio Residency Fellowship from the Rockefeller Foundation in 2009 to work on a new book on gender and international criminal law.
Engle is one of a number of United States faculty and professionals who will travel abroad this year through the Fulbright Specialist Program. The Fulbright Specialist Program, created in 2000 to complement the traditional Fulbright Scholar Program, provides short-term (two to six weeks) academic opportunities to United States faculty and professionals to support curricular and faculty development and institutional planning at post-secondary academic institutions around the world.
Contact: Laura Castro, UT Law Communications Office, 512-232-1229, lcastro@law.utexas.edu.