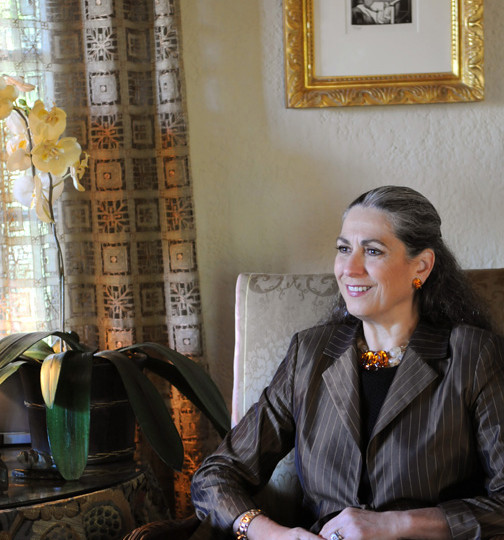 Woman of the Year
Maria Luisa "Lulu" Flores, '80, is the youngest of nine children born to an attorney, who also served as a county elected official, and a homemaker and shop manager from Laredo. After thirty years of practicing law as a state employee, legislative aide, and private practitioner, Flores was honored this September as National Latina Lawyer of the year by the Hispanic National Bar Association. The award recognizes Flores's work as president of the National Women's Political Caucus, her service as a longtime employee of the State Bar and Railroad Commission, and above all, her longstanding commitment to public interest work and community engagement, including her leadership positions in state and local bar associations.
Flores's story begins in Laredo, and despite the long road she's traveled since then, she remains close to her family roots. Her father, Francisco, was a highly regarded attorney, and was also an early organizing member of LULAC (League of United Latin American Citizens), the seminal Latino civil rights organization. Ironically, when he attended the organizational meetings he had not yet actually obtained his U.S. citizenship. He was naturalized around the same time he took the bar exam. After his election and throughout his twenty years as county tax assessor-collector, he maintained his private law practice, open nights and weekends, continuing to help local people with everyday legal matters.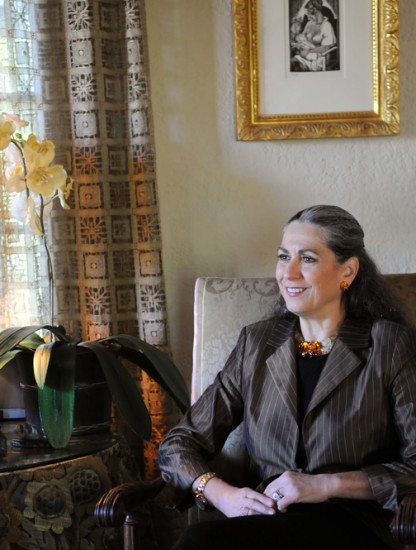 Flores was born into a world of rapidly evolving opportunity. Her all-girls Catholic high school merged with its partner all-boys school, St. Joseph's, just before her junior year, in time for her to become the first-ever female student council president of the newly co-ed St. Joseph's . "Frankly, the women did quite well in that election," Flores said, laughing. "We ran in a slate and were well-organized, so we only had one male on the council that year, in a secretary position." She also lobbied the school to form a girl's basketball team, of which Flores became the team's co-captain.
Despite her obvious leadership potential, Flores's family lacked the money to send her to a four-year college, so she enrolled in Laredo Junior College (now Laredo Community College) and took a part-time job in a dress shop. After two years, she graduated as co-valedictorian and received a "big scholarship" of five hundred dollars from the University of Texas, which allowed her to follow her dreams to Austin.
"Early on, when I was a kid, I decided I wanted to be a lawyer," Flores said. "I watched a lot of Perry Mason and spent a lot of time in my father's office. I was always sticking up for the underdog on the playground, and arguing my way through school. My oldest brother (Francisco Jr., '67) had gone to UT Law. I aspired from then on to go to UT and become a lawyer, and to go into politics from there."
After graduating from UT-Austin with high honors, Flores received an academic scholarship to the Law School and enrolled in 1977. She found the academic standards challenging, but once again she rose to the occasion. She looked to her older sister Angie, '78, then a third-year student at the Law School, for guidance. "There weren't too many women, and not a lot of Hispanic women, so it was good to have her as someone who could help me navigate," Flores said.
Flores's sister would also inspire her next step, a job in the Texas House of Representatives with Irma Rangel, the first-ever Mexican-American woman to serve in the body. Flores replaced Angie as Rangel's chief of staff for the 1979 session, and found herself simultaneously attending her second year of law school and running an in-session legislative office. She took one class on lunch break, and another in the evening.
"That was very difficult, going to school on your lunch hour," Flores said. It wasn't the first time that Flores had worked overtime to find success, however, and this time the reward was even more meaningful. Thanks in part to Flores's efforts, the legislature passed a bill that created the temporary protective orders still used today in cases of domestic violence and, for the first time in Texas history, provided state funding for domestic violence shelters.
After law school, Flores's plans for the future changed abruptly when her father died, just a few days short of his retirement from his government job. "The irony was that we had his funeral the day we should have been having his big retirement party," Flores said. She attempted to take over his practice in Laredo, but soon decided that it wasn't for her. Before long, she was back in Austin, resuming her position as chief of staff again with Rangel, then taking a job as legislative director with the State Bar of Texas, and later serving as assistant director for governmental affairs/alternative fuels policy at the Texas Railroad Commission.
By the early 1990s, Flores decided that it was time to test her dream of running for political office. She has since run three times in all, the last time losing in a run-off by just over a hundred votes. Rather than get discouraged, she became more actively involved with the National Women's Political Caucus (NWPC), a national nonprofit organization that aims to increase the number of progressive, pro-choice women in national, state, and local office.
Flores is now in her second term as president of the NWPC. During her tenure, the NWPC has been involved in races all over the country, providing financial and logistical support to candidates. NWPC is also part of a coalition of women's organizations that combats sexism in media coverage of female candidates and politicians through a program called "Name It, Change It." "It's okay to challenge women on the issues, but to call women by disrespectful or pejorative terms I think is damaging," Flores said.
Flores's biggest campaign with NWPC, of course, was Hillary Clinton's historic pursuit of the Democratic nomination for president. Again, the outcome was bittersweet. "We endorsed Hillary early and got to work a lot on that campaign," Flores said. "We didn't prevail, but we made, as she said, eighteen million cracks in the ceiling." Flores is happy with Barack Obama, but she admits that she would have loved to help elect the first female president. "At least now I know there'll be others," she said.
These days, Flores is of counsel with HendlerLaw, a national plaintiffs' trial firm focusing on cases involving clients who have been injured due to exposure to asbestos and other toxic chemicals. However, she continues to spend much of her time on the NWPC and other boards around the city and the state, including the UT Center for Women and Gender Studies and Austin's Mexic-Arte Museum.
Flores is thrilled that the Hispanic National Bar Association chose her for its annual award—not just for the prestige it confers, but also for the way her selection reflects the changing values of the legal profession, one that is still making room for people like Lulu Flores. " Now," she said, "lawyers view policy work as more and more mainstream, but back in the day it wasn't viewed the same way as other legal work. Having them recognize the public-service work and the other types of work that I've done is inspiring. I grew up that way. My dad was always involved in local politics and giving back to the community. That was a big part of the way that I was raised. Having that acknowledged was really important."—Mike Agresta