Pro Bono Program Assists Clients in Rio Grande Valley
Dozens of students, faculty, staff and alumni spent the last week of winter break on The University of Texas School of Law's fifth Pro Bono in January trip to the Texas Rio Grande Valley. Representatives from UT Law and partner organizations provided legal assistance at no cost to approximately 200 clients in underserved communities.
Thirty nine students carpooled from Austin to Pharr, Texas to participate in various volunteer projects and legal clinics for a comprehensive and firsthand education on issues affecting local residents, including the impact of immigration laws. New this year was a visit to the McAllen Border Patrol Station for a U.S. Customs and Border Protection presentation and tour of the detention facility. Students must apply each year to go on the trip due to limited funding and capacity.
"It was by far and away the best part of my winter break," said Ashley Croswell, a 1L originally from Southern California. She called the trip "motivating" and something she wants to do every year of law school if possible.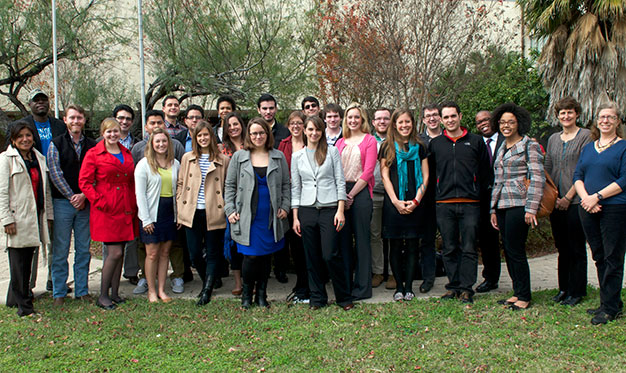 First-year students and upperclassmen teamed up with the common goal of putting their education into action to benefit people in need. For many of the 1Ls, like Croswell, it was their first opportunity to get hands-on legal experience and work with clients. After taking property law her first semester, Croswell was excited to directly apply what she learned in class to writing wills for low income property owners at the two wills clinics in Pharr and Brownsville.
The students' presence is like "a breath of fresh air," said Kelsey Snapp, '12, an attorney with Texas RioGrande Legal Aid, who helped organize the wills clinics. "Unfortunately down in the Valley there aren't a lot of resources," he said. The annual Pro Bono in January trip "makes us feel that down in the Valley, we're not forgotten. People realize the needs and issues down here and are willing to help out."
Alondra Gonzalez, a high school sophomore living in the Valley, was helped by volunteers at one of the Deferred Action for Childhood Arrivals (DACA) clinics held at IDEA Public Schools in San Juan.
"Everything I do, college is on my mind," Gonzalez said. The assistance she received on her DACA application meant her dream of someday becoming a plastic surgeon or psychiatrist was closer to becoming a reality.
"This is going to help me apply to colleges," she said. "I will be able to get more scholarships and that will help me save money. I will be able to travel to another place."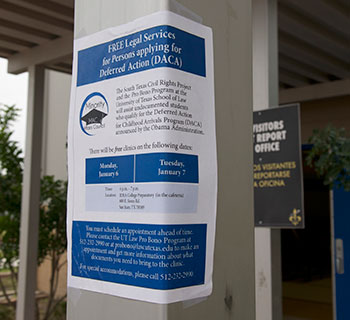 Immigration attorney and UT Law alumna Susannah Volpe, '11, has gone on the Pro Bono in January trip twice now as an alumna. "I am very thankful to the Pro Bono Program at UT Law for providing such a bounty of pro bono opportunities. Both as a student, and now as a practicing lawyer, the Pro Bono Program continues to create opportunities for me to use my legal skills to positively impact the lives of individual clients."
The Pro Bono in January trip, organized by the UT Law Pro Bono Program, was covered by local news touting the impact of UT Law in the Valley. Olga Medina, a 3L, told KVEO TV news about one group of students who volunteered at the South Texas Civil Rights Project office in Alamo translating documents and looking over petitions for women filing for legal immigration status under the Violence Against Women Act (VAWA). Another group of students worked with the South Texas Pro Bono Asylum Representation Project (ProBAR) to assist immigration detainees. Students also observed a Hidalgo County judge's probate court docket and made visits to federal judges in McAllen and Brownsville. The Pro Bono Program is a project of the William Wayne Justice Center for Public Interest Law.
"The clients and the students benefitted from the work done on the trip and for some, the experience was even transformative," said Tina Fernandez, director of the Pro Bono Program. "This trip is one of the highlights of my year because students learn so much about the needs of others and their own ability to make a difference in people's lives."
Pro Bono in January 2014 by the Numbers:
100 DACA applications completed
133 Wills drafted
8 South Texas ProBAR clients served
14 VAWA petitions processed
1,800+ Pro bono hours accumulated by students
Related Content
List of Current Pro Bono Projects and Opportunities at UT Law
More About Pro Bono in January
2013 Longhorn Network video about Pro Bono at UT
— Samantha Youngblood