In Memoriam: Prof. Hans Baade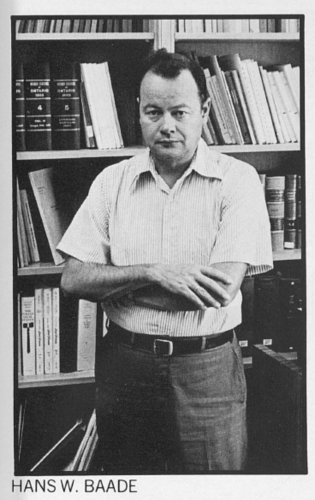 The School of Law reports with sadness the passing of Hans Wolfgang Baade, an emeritus member of the faculty and holder of the Hugh Lamar Stone Chair in Civil Law.
Professor Baade was born in Berlin in 1929, and was raised in Germany and in Turkey.  He received his A.B. from Syracuse University, a doctorate from the University of Kiel, and an LL.B. from Duke Law School, where he also began his teaching career. 
Professor Baade moved to The University of Texas in 1971.  He became a leading scholar of comparative law, famous at the University and abroad for the breadth and depth of his erudition.  He was the author or editor of nine books and over 100 articles and reviews.  He was also a much-loved teacher and colleague. 
"Hans was in the mold of a European legal scholar. His knowledge was encyclopedic–not just American law, but Roman law and German law, history, and politics.  He seemed not to have forgotten anything he once learned," noted longtime colleague and friend, David Anderson.
Professor Baade retired from full-time service in 2001.  At that time, his colleague Basil Markesinis commented:  "By providing Hans with the kind of stable and supportive environment which it has given generously to so many scholars of distinction, [the School of Law] gained the services of a man whom nature, racial background, and political adversity had turned into a polymath, an accomplished linguist and a workaholic of unusual proportions."
Professor Baade is survived by his widow Anne, his elder son James (of London, England), his younger son Hans Alastair (of Austin) and daughter-in-law Eva, and their two children, his grandsons Alan and Miles.
A Memorial Service will take place at 7 PM on Thursday, September 22nd, at Weed-Corley-Fish Funeral Home, 3125 North Lamar Boulevard, Austin 78705.
One can read more about the extraordinary life and times of Hans Baade in his official obituary here, and in the tribute written by Sir Basil Markesinis, from which the quote above was taken.
UPDATE: Hans Baade was remembered and celebrated by his family and colleagues at the law school on Nov. 28, 2016. You can view a recording of that event here.