Randall H. Erben '81 and Daniel T. Hodge '04 Honored with Presidential Citations
Two Texas Law alumni, Randall H. Erben '81 and Daniel T. Hodge '04, were recognized with Presidential Citations by the University of Texas at Austin President Gregory L. Fenves for their notable support of the university.
"Our alumni's talent for bolstering this great university never ceases to amaze me, and these two graduates are prime examples," remarked Dean Ward Farnsworth upon learning of Erben and Hodge's Presidential Citations.  "I am so very proud of all that Randall and Daniel have done to not only help today's Longhorns, but to ensure UT continues to be a tremendous force for transforming lives far into the future."
The Presidential Citation is awarded to individuals who have made extraordinary contributions to the university's mission of transforming lives while exemplifying UT's most highly esteemed values. Along with Erben and Hodge, Jack P. Randall and Cal E. Varner each received the university's Presidential Citations during a ceremony Friday, April 26.
"The University of Texas does not confer honorary degrees. Instead, we present the Presidential Citation to members of our community who have made exceptional contributions," President Fenves said. "This year, I am honored to award citations to four remarkable individuals. Each has provided truly exceptional service to UT and worked selflessly to ensure that The University of Texas is a university of the first class — now and forever."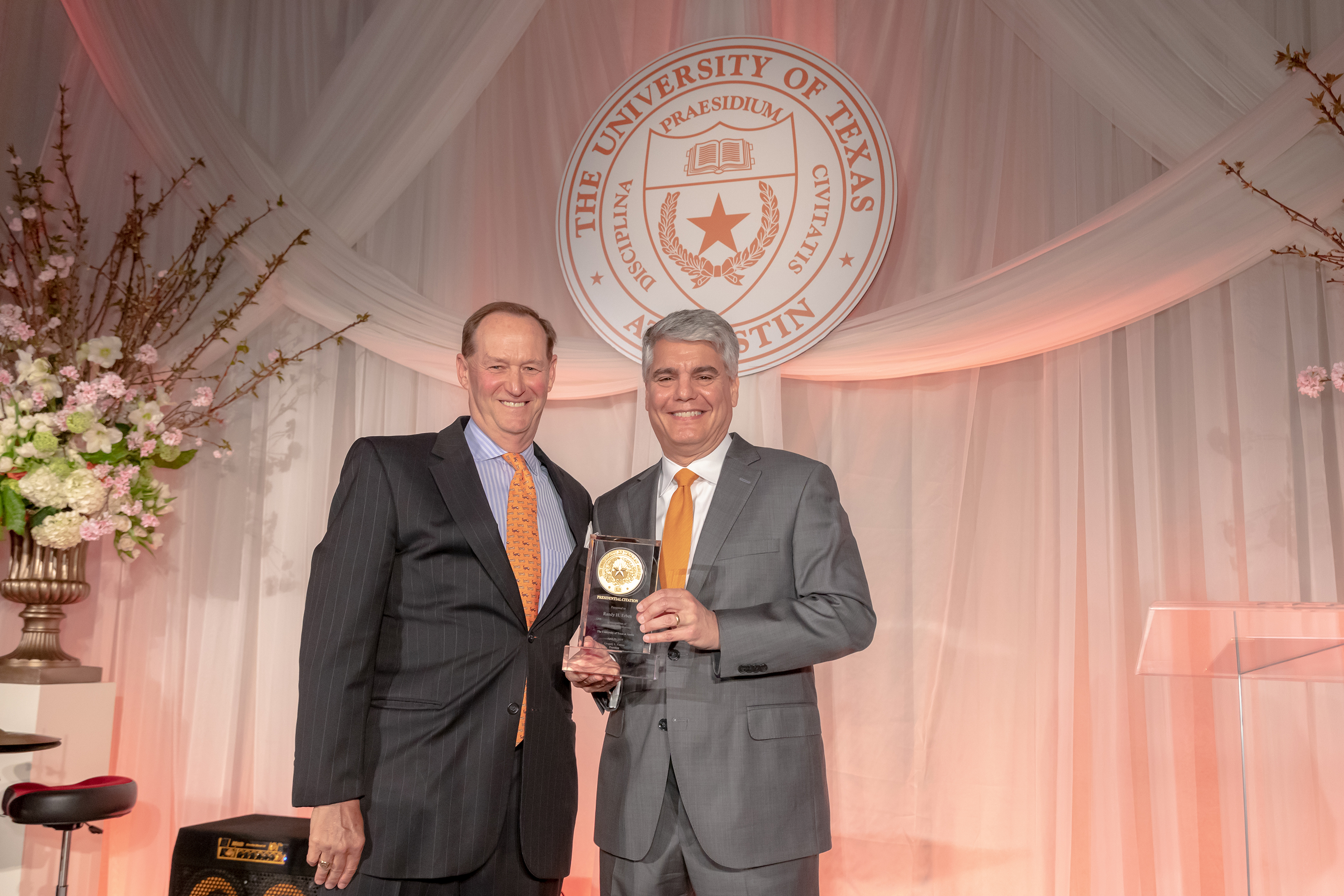 Randall H. Erben is an adjunct professor at Texas Law and works at the law firm of Erben & Yarbrough. Erben's legal career began with the San Antonio law firm of Foster, Lewis, Langley, Gardner & Banack, where he attained partner status in 1986. He then entered public service, serving as Texas' assistant secretary of state, director of the Texas Office of State-Federal Relations, and acting assistant secretary of Housing and Urban Development under President George H.W. Bush.
Erben co-founded Erben & Yarbrough in 1993. In 2015, Erben served as legislative director for Texas Gov. Greg Abbott. He was appointed to the Texas Ethics Commission by House Speaker Joe Straus in 2017 for a term expiring in 2021. He also serves on the boards of directors of the Texas Exes and The University of Texas Development Board.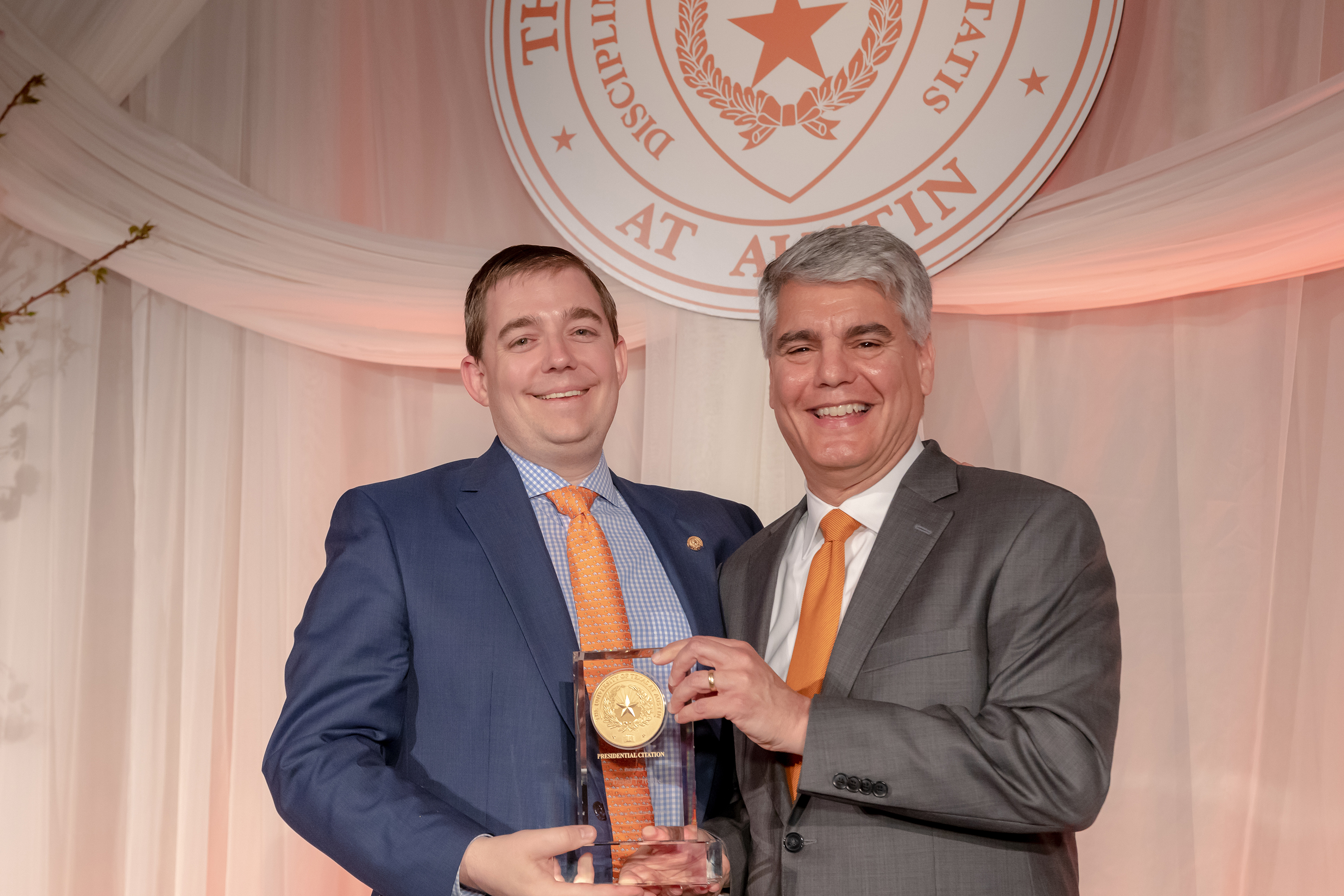 Daniel T. Hodge is a former first assistant attorney general and chief of staff to the governor of Texas. He began his professional career on Gov. Greg Abbott's first campaign for Texas attorney general in 2001. In 2010, he was appointed first assistant attorney general. After Abbott was elected governor in 2014, Hodge was charged with overseeing the gubernatorial transition and was named chief of staff to the governor.
In 2017, he was named an Outstanding Young Alumnus by the School of Law's Alumni Association and an Outstanding Young Texas Ex. He is the founder of a strategic and public affairs consulting firm, DTH Strategies LLC, and is an advisory director at the Bank of Austin.
You can read the full UT News article here.
A list of previous Presidential Citation recipients is available on the president's website.