Ashlie Alaman '09 – 'A Heart for Helping People'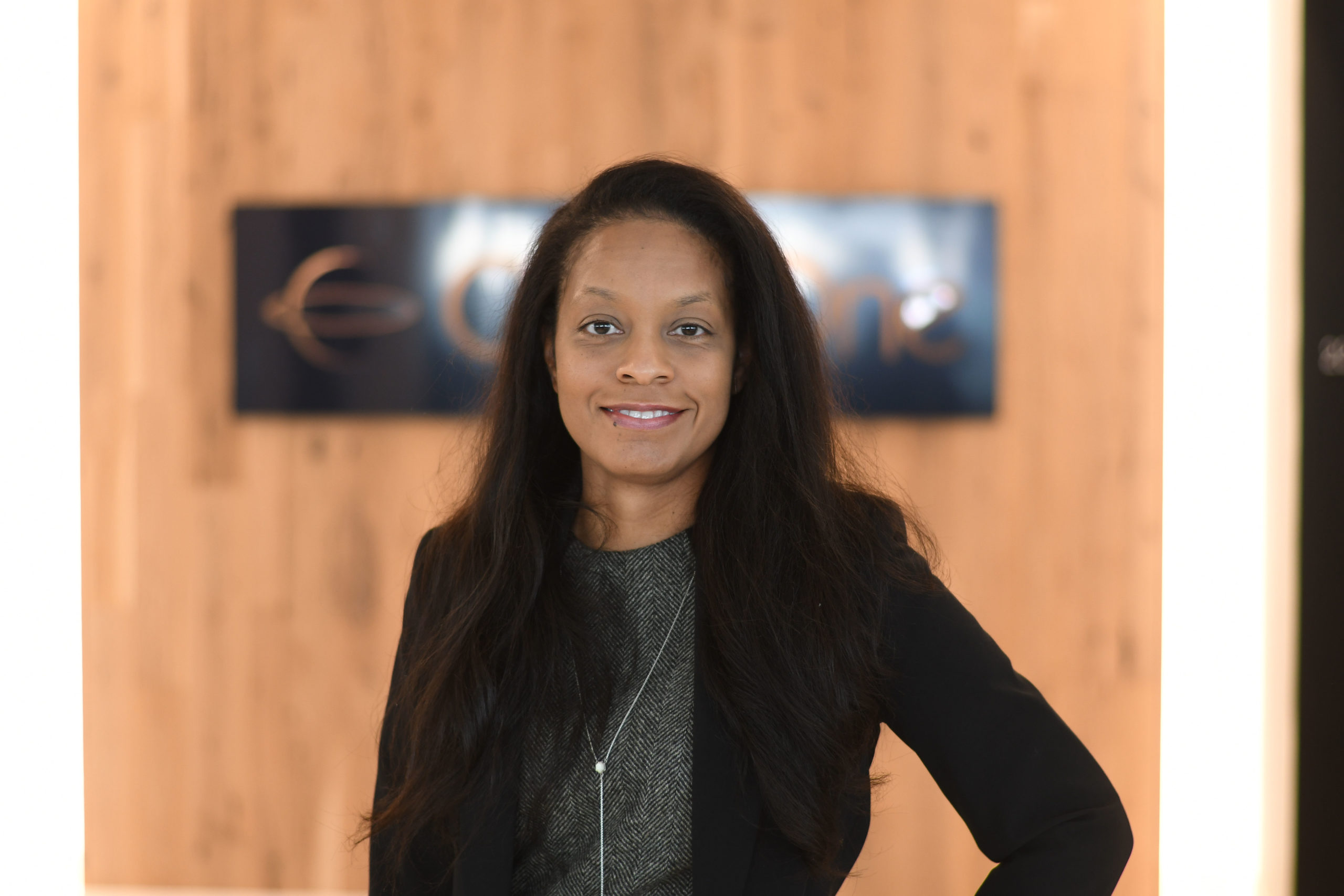 Ashlie Alaman graduated from Texas Law in '09 and has spent most of her career providing aid to those in need through pro bono work. Alaman was a finalist for the American Bar Association's 2019 DFW Pro Bono/Public Service Award.
Below is an article highlighting Alaman's work, published with permission from The Texas Lawbook.
CYRUSONE'S ASHLIE ALAMAN- 'A HEART FOR HELPING PEOPLE'
By Mark Curriden 
Originally published on January 23, 2020
Ashlie Alaman was working the front desk at the LaQuinta Inn in Dallas in 2005 when a guest said that he heard that she wanted to be a lawyer.

"They invited me to watch the medical practice trial and showed me their war room," she says. "I was really fascinated."

The case settled and the lawyers checked out of the hotel and went home. A few weeks later, a Federal Express box arrived at the hotel for her. Inside were 13 $100 bills and a note.

"Go take the LSAT."

"I had the good sense to go do it," she says. "This lawyer really helped change my life."

Alaman went to law school and is now the senior counsel at CyrusOne, a real estate investment trust that focuses on carrier-neutral data centers. She negotiates high-dollar construction and procurement agreements and manages the risks associated with the construction of the data centers.

"Having someone give me the money and believe in me made me realize that I needed to give back," she says.

"I knew I wanted to be in an industry that focused on real estate, but I wanted to be able to be seen as a revenue generator – not just a cost center."

No one can argue that she is not giving back – in fact, she gave back this past weekend.

Last Thursday, Alaman led a four-day mission trip to Reynosa, Mexico, which is described by law enforcement as one of the most dangerous towns on the border. She and seven other women from her church delivered food and clothes to 400 migrants waiting and hoping for asylum in the U.S.

During the past year, Alaman has worked with the Dallas Volunteer Attorneys Program to help a pro se client get a divorce, collected thousands of diapers and baby wipes for immigrants who have settled in Dallas and helped others extend their visa and receive permanent residency status.

Then there's the case of the student from Ghana studying petroleum engineering. He wanted to seek U.S. residency, but his American wife was abusive and holding his immigration status as leverage against him. Alaman helped him get a divorce and then convinced the U.S. Citizenship and Immigration Services that the Violence Against Women Act also applies to men in protecting victims of abuse from being deported.

"Ashlie is passionate and committed to the protection of immigrants' safety and rights," says Barnes & Thornburg partner Tamara Baggett.

The Association of Corporate Counsel's DFW Chapter and The Texas Lawbook are honored to have Alaman as a finalist for the 2019 DFW Pro Bono/Public Service Award.

The 2019 DFW Outstanding Corporate Counsel Award finalists will be honored and the winners announced Jan. 30 at the George W. Bush Institute.

"Ashlie truly has a heart for helping people in whatever way she can," says Baggett, who nominated Alaman for the award. "She loves the practice of law most of all for the opportunity it gives her to help those who are in need."

Lawyers who work regularly with Alaman say they are in awe of her commitment to public service.

"Then there is her tireless work with Human Rights Initiative in helping indigent immigrants go through the complicated and convoluted immigration system," says Michelle Alonzo, a shareholder at Cowles & Thompson. "The attention to detail and time that she spends to ensure she is counseling her pro bono clients properly leaves me in awe.

"But her time doesn't stop there. This woman is active on boards and with her church, too," says Alonzo, who practices immigration and employment law. "She gives so much of herself that I only hope that those that receive this gift truly understand the sacrifice and heart that is behind it all."

Alaman was born and raised in Dallas. Her mother worked for American Airlines for 34 years as a ticket counter agent. Her father worked for Federal Express.

"My mom always said I'd be a lawyer or teacher because I liked to talk and tell my older brother what to do," she says.

Alaman studied political science at Southern Methodist University. She graduated from the University of Texas School of Law in 2009 and then spent three years practicing environmental due diligence and assessing risks for clients in M&A transactions.

"There was no plan to go in-house, but I find that many opportunities for me are not preplanned but are opportunities that just pop up," she says.

In 2012, Energy Future Holdings hired Alaman as its corporate in-house counsel handling real estate, landfills, water and pipelines: "Anything that touches the ground," she says.

Alaman was extremely active in EFH's pro bono efforts.

In 2016, for example, she worked with the Clemency Project, which helps federal inmates reduce their prison sentences because of changes in federal sentencing laws. She spent two days a week working with the nonprofit Gateway of Grace, which helps teach English to refugee families.

After six years at the energy giant which had become Vistra Energy as a result of a corporate restructuring, Alaman started looking around.

"Vistra started closing coal plants and properties," she says. "I became concerned about my potential growth and my role going forward.

"I knew I wanted to be in an industry that focused on real estate, but I wanted to be able to be seen as a revenue generator – not just a cost center," she says.

That's when CyrusOne came calling. A publicly traded business with a $7.2 billion market cap, CyrusOne builds and operates data centers.

"Energy is at the heart of the business," she says. "Our data centers must have power."

Alaman's role starts by doing due diligence and strategy on properties where CyrusOne builds data centers. She then works as legal counsel for the construction team.

She is currently working on three domestic projects in the building stage, two in the purchase stage and about 20 international projects. And she recently added insurance to her portfolio.

"There are basically two camps of lawyers," she says. "There are those who hate being a lawyer. I'm in the other camp. I absolutely love being a lawyer. I get to help change people's lives."

Alaman says she is blessed to work at a company that allows her to do so much pro bono.

Her biggest pro bono accomplishment of 2019, she says, was securing a green card for a client, which grants lawful permanent residency, the right to be employed, travel outside the country and, most importantly, the full protection and benefit of U.S. laws.

"Ashlie regularly represents immigrants who are victims of violence, spending countless hours in the evenings and on weekends completing applications for immigration relief," says Baggett. "This [past] summer, when the laws were rapidly changing and a deadline was imposed [giving] certain immigrant applicants mere weeks to complete their applications, Ashlie answered the call."

In a three-week period, Alaman completed applications for immigration relief for two pro bono clients and their families. Then, she obtained the right for another client to remain temporarily while she successfully worked on getting the client's application for permanent residency.

Alaman is involved in several other public service projects, including:

She was heavily involved in the fundraising for Mission Oak Cliff's local food pantries, which operate out of four school campuses and the Cliff Temple Baptist Church and provide food, clothes, shelter, job training and English classes;
She led MOC's North Texas Giving Day Campaign for the last two years, helping it raise over $40,000;
She volunteers the second Tuesday of each month working with low-income pro se divorces through the Dallas Volunteer Attorney Program; and
She serves on the boards of HRI, the Dallas Bar Association's Community Service Fund and is an ex officio member of the Parkland Foundation's board.

"None of the above includes what Ashlie does just as a good friend and neighbor," Baggett says. "When two members of her church were faced with a visa issue and were trying to find a way to extend their visas or otherwise find a lawful way to remain in the U.S., Ashlie worked with their employer to secure an extension of their visas or an application for permanent residency."

Alaman and others say that the need for lawyers to do more pro bono is greatly needed. She says "meaningful incentives need to be created.

"In-house attorneys can incentivize outside counsel by inviting firms to form partnerships [as a part of] business development," she says. "Corporations and firms can incentivize their lawyers through bonus funds or contributions to their attorneys' favorite charities."

Alaman says a certain element of education also could help.

"Many people are scared of taking cases, believing they may have to go to court," she says. "The idea of a lawyer being scared of anything is difficult for me to comprehend. That said, in most of the cases I take, courtroom presence either is not involved or is entirely scripted."

Being scared leads us back to Reynosa, where hundreds and hundreds of refugees from Honduras, Venezuela and even Cuba are packed into shelters.

Alaman and her seven friends from the Cliff Temple Baptist Church boarded an American Airlines flight last Thursday evening to McAllen. A man from the Texas Baptist Fellowship's River Ministry picked them up at the West Texas airport and drove them 16 miles to Reynosa.

FYI, Reynosa is no River Oaks or Highland Park. Two drug cartels battle for control of the city because it is one of the most lucrative drug routes into the U.S. There were more than 250 murders and thousands of kidnappings in Reynosa last year. Dallas, which has three times the population, had 210 murders in 2019.

During the past two months, Mexican soldiers in Reynosa were shot by the cartel, two Reynosa police officers were injured, a doctor was murdered crossing the border bridge, and a father of a three-year-old boy from New Jersey was kidnapped and tortured until his wife, who works in a bakery, could pay a $3,000 ransom.

In other words, there are serious risks.

"I am leading this trip, so I definitely feel a little responsible for everyone's safety," Alaman says. "I've tried to put a few rules in place that hopefully the women will follow to ensure their own safety."

The refugees in the shelter where Alaman visited were from Guatemala, Honduras, El Salvador, Venezuela, Cuba and a lot from Africa, including the Congo, Cameroon, Mozambique and Ghana.

Alaman and the women led a Bible study in the morning and then they served lunch and dinner to the refugees.

"We donated four sewing machines and a bunch of fabric. We mended clothes and made shower curtains to give them some privacy. For the kids, we bought card games, Connect 4 and Jenga, to hopefully give their minds a break from everything that's going on."

Alaman says she and the women provided another surprise.

"The shelter normally only has rice and beans to serve for lunch, but I went to my Facebook network and asked if anyone could donate funds to provide meat while we were there," she says. "I needed $300 but ended up getting upwards of $600. So, they had meat all four days."

She says she the migrants love pizza or hot dogs.

"The more American, the more they like it," she says.

Click here for the original article.